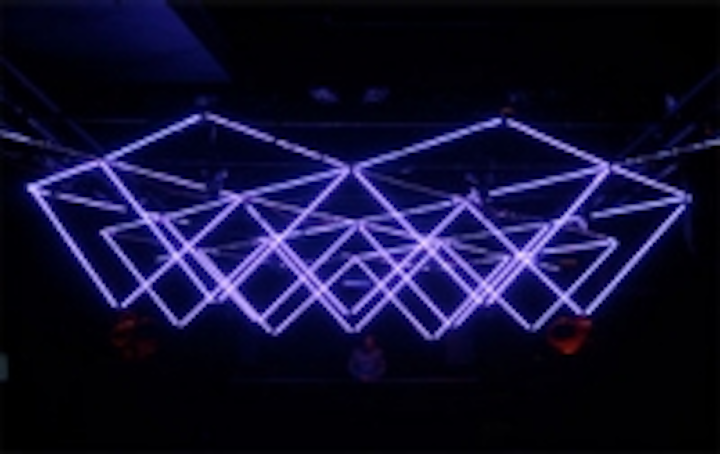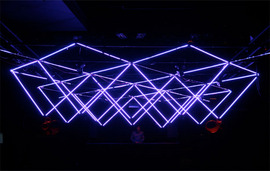 Date Announced: 20 Oct 2011
During the Amsterdam Dance Event in Club AIR, for the world's first time, the new DiGi LED strips are presented. Both technically and creatively a masterpiece! The design of the lighting causes a true 3D experience and makes a visit to AIR more than worth it.
The new strip is unique in its kind because it uses a new small SMD LED as a replacement of the popular 5050 RGB SMD LED. The LED is smaller so the LEDs can be placed closer to each other and the light output is also higher. InventDesign had the flexible LED strip released on a black PCB so it can be hidden in the backdrop of clubs and theaters and therefore only the effect of the LED lights is visible. The strip runs on 24V so the maximum strip length is longer than when using a 12V strip. For this project, InventDesign used 145cm aluminum profiles that are finished in black too.
The DiGi LED strip is characterized by the individual (per segment) control. In this case, each segment of 8.5 cm has six RGB LED's, these segments are individually controllable. InventDesign developed a special DMX LED controller that can controle nearly 15 meters of DiGi LED. This controller has a grayscale of 256 so colors fade into one another very smoothly.
ADE
This week the Amsterdam Dance Event (ADE) takes place. ADE is known as one of the major music conferences and the world's biggest club festival, with over 130,000 visitors. At Club AIR, the club with international allure, world's number 1 DJ Afrojack will perform just like other great DJ's such as Frankie Knuckles and James Zabiela.
About InventDesign
InventDesign is a young and ambitious company that enthusiastically plunges into the world of creative LED lighting. The constant search for innovative LED products and the experience with control methods such as DMX and Art-Net makes us innovators in the creative world of LED lighting.
The new DiGi Strip is from now on InventDesign from stock. For more information see www.inventdesign.nl
Contact
Stefan Verhoef InventDesign +31 20 8200 170 Amsterdam, The Netherlands
E-mail:info@inventdesign.nl
Web Site:www.inventdesign.nl