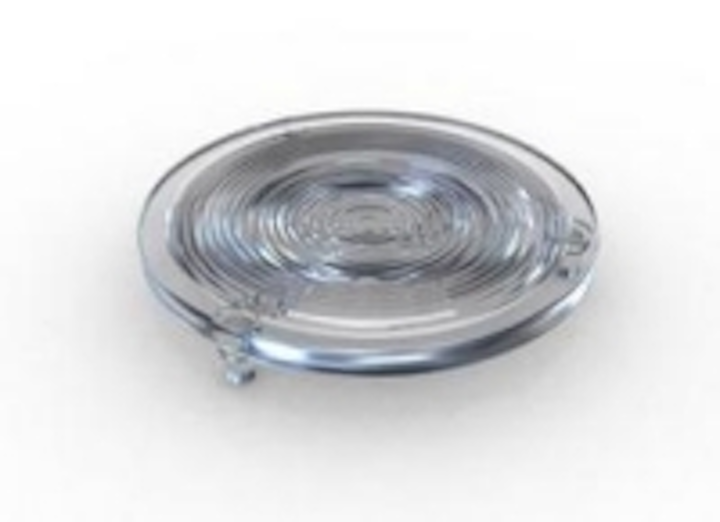 Date Announced: 03 Oct 2011
Since 1985, Khatod has developed many optical solutions based on Fresnel Technology.
Our designers and engineers have created some of the most innovative products by merging this old technology with the most advanced scientific methods and technologies.
2011 marks for Khatod an important step forward in the development of a new series of Fresnel Optics. Many years of research and development in our Labs, together with a continuous cooperation with premier producers of high quality polymers, specific for their optical and technical properties, have led to the creation of new Fresnel lenses, whose lighting efficiency is very close to the conventional optics based on TIR design.
High Quality Polymers
Advanced research; optical simulations and experimentations; specific software for thermoplastic injection moulding; state-of-the-art computing methods for optical simulation; in-house creation of the tooling; injecting machines custom made specifically for optical use; robotized systems for the moulding process; laser lapping and polishing systems; have made possible the realization of this new special series of Fresnel lenses.
All our processes are in house. Therefore our quality control as well as the time to market, are under our full control. This is the best guarantee to ensure product quality, performance and reliability.
The employment of the NJC Technology, that first Khatod used in the manufacturing of secondary optics for Power LEDs, makes these new Fresnels superior lenses.
Khatod Fresnels are made of two off axis Fresnel lenses fixed together in one piece, through an only moulding process, by using the NJC Technology.
As in any Fresnel, also in the PL1174 Series, the lens surface is made of concentric grooves which allow to reduce the mass and volume of material that is required to realize the typical curved surface of conventional lenses.
Moreover, the new PL1174 Series is up to 70% reduced in height compared to the conventional TIR lenses.
From the LED top, our Fresnel Lens height ranges from 13 mm in the Narrow version (12°) to 5 mm in the Super-Wide version (70°).
Khatod Fresnels allow a uniform light flux , avoid any glare effect, and perform as a real Fluxlens. They perfectly meet the requirements from a market increasingly oriented to the new Power LEDs of latest generation. Power LEDs have achieved significant light emissions that are expected to increase considerably in future. Khatod knows this very well, and its Fresnel optics are creating new avenues for the most cutting-edge applications using these new LEDs.
Features:
- New Fresnel Lens; MR16 Standard, 50 mm diameter
- Up to 70% Height Reduction , compared to the conventional TIR lenses
- Height ranges from 13 mm in the Narrow version (12°) to 5 mm in the Super-Wide version (70°),
measured from the LED top
- Operating temperature -40 to +120°
- Special manufacturing process by using NJC Technology
- Special optical design for a total anti-glare effect
- Superior optical engineering for a perfect uniform light distribution
- Made of new special PC for high optical performance
- New innovative design
- UV protected and guaranteed for outdoor applications
- Complying with UL94 Specifications
Benefits:
- Excellent uniform luminous flux
- High lighting efficiency
- High optical performance
- Anti-glare effect
- Working also at high temperatures
- Non-yellowing effect
- No vibration problems
- Easy fixing onto the PCB
Contact
Via Monfalcone, 41 20092 Cinisello Balsamo (Milan), Italy Tel: +39 02 66013695 Fax: +39 02 66013500
E-mail:m.rossi@khatod.com
Web Site:www.khatod.com