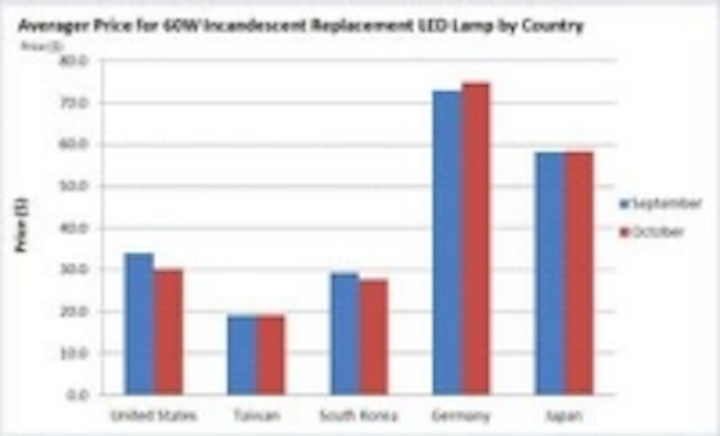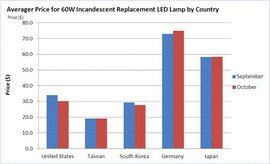 Date Announced: 18 Oct 2011
Austin, Texas - IMS Research has launched a Global Monthly LED Lamp Retail Price Tracker to monitor and provide insight into the rapidly growing and changing LED lamp market. With the phasing out of incandescent lamps and the dislike that consumers have with compact fluorescent lamps (CFLs), LED replacement lamps have an enormous opportunity as prices fall further.
According to IMS Research SVP of Displays, LEDs and Lighting Ross Young, "The number of LED lamps becoming available to consumers is rapidly accelerating. This report represents the most cost effective way for lighting related companies to monitor the evolution of LED lamp prices, specifications and other product trends. By having analysts in six countries and speaking six different languages, IMS Research is in a unique position to track the evolution of LED lamp prices both in-store and online."
According to the latest analysis from IMS Research, in October 2011, the global average retail price for 60W incandescent LED replacement lamps was $36, up from $34 in the previous month. Global changes in price were mostly due to fluctuations in currency values. That being said, the average price for 60W replacement LED lamps in the US decreased mainly due to the 38% drop in the price of the Philips Ambient 60W replacement lamp from $40 to $25. This change is extremely important as 60W incandescent lamps are the most widely installed lamp in the world today. In the residential sector in North America alone, there are more than 2 billion of these lamps installed.
IMS Research also found a significant variation in the price of these lamps by region. Germany has the most expensive lamps, priced at $70, while in Taiwan; equivalent lamps are priced at $19.
According to IMS Research Lighting Market Analyst Philip Smallwood, "The LED lamp market is going to evolve at a breakneck pace in the coming years. New brands, improvements in the technology, consumer awareness and government regulations are all driving the demand for these lamps. With price being one of the most important purchasing decision factors for consumers and a healthy oversupply in the LED space as quantified in our Quarterly LED Supply/Demand Report, it will be exciting to see how quickly prices drop around the world."
During this research, it was also found that a lack of product standards has led to a large amount of replacement lamps being mislabeled or misrepresented. By comparing advertised replacement types with actual lumen output, IMS Research found that more than 20% of all LED lamps were mislabeled and did not meet the minimum lumen requirements to be considered as replacements.
The report includes data on:
· Over 325 lamp models
· 40 brands
· 10 countries
· 15 retail outlets
· 25 lamp shapes
· 10 lamp bases
· Lumens/Watt
· Lumens/$
· Color Temperature
· Color Rendering Index
· Beam Spread
· Warranty
· Advertised vs. actual lamp replacement type
The report is priced around $3000 for an annual subscription. For more information on the lamp and luminaire market, please visit http://ledmarketresearch.com or contact Philip.Smallwood@imsresearch.com or call (512) 302-1977.
About the Monthly Global LED Lamp Retail Price Tracker
The price tracker provides model number, store, price, Watts, lumens, lumens/watt, lumens/$, shape, base, advertised replacement type, actual replacement type, color temperature, CRI, advertised life, beam spread, and warranty offered for 25 lamp shapes, including, A, G, PAR and MR. Monthly updates will be provided to subscribers, listing price in US $Dollars. New models will be added as they become available on the market. There are currently more than 325 different lamp models listed in 10 different countries (Australia, Canada, China, Germany, Japan, Mexico, South Korea, Taiwan, the UK and US) 40 different brands in 15 different retail outlets.
About IMS Research
IMS Research is a leading independent supplier of market research and consultancy to the global electronics industry, offering syndicated market studies, custom research and consultancy services. Clients include most of the household names in the industry. IMS Research has offices in Europe, the US, China, Taiwan, South Korea, and Japan. To find out more, contact IMS Research: enquiries@imsresearch.com; +1 (512) 303-1977; www.imsresearch.com
Contact
+1 (512) 303-1977
E-mail:enquiries@imsresearch.com
Web Site:www.imsresearch.com