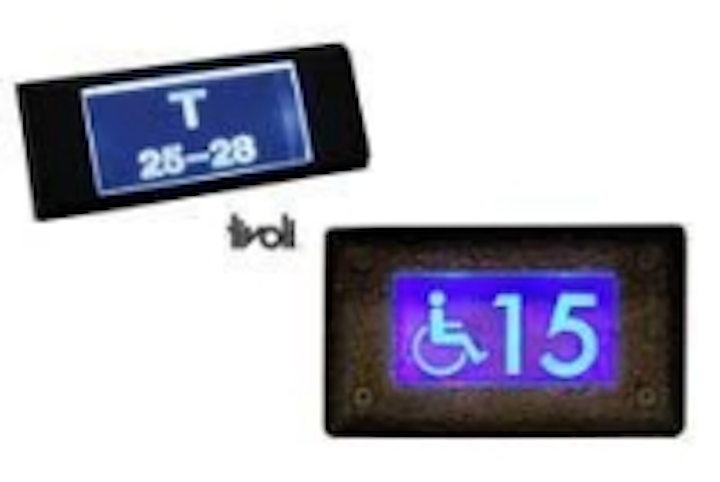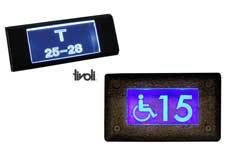 Date Announced: 03 Oct 2011
Versatile LED product delivers two identification lighting solutions.
Tivoli, the original innovator of linear LED solutions is pleased to introduce the Monogram LED Seat Light & Row indicator delivering a versatile LED row illumination solution. Available as a seat or floor mounted row indicator, this compact fixture provides edge-lit, non-intrusive illumination of letters and numbers.
The Monogram Seat & Row Indicator illuminates multiple lines of alphanumeric text, handicap symbols, custom graphics and assorted fonts in up to two rows. It is available in a standard selection of six LED colors with custom colors available upon request. Carefully designed to withstand high traffic areas, the Monogram Row Indicator features a textured, non-slip black finish and is impervious to water with a moisture proof seal.
This compact, edge lit fixture securely assembles easily to the seat or floor and is resistant to damage and tampering. It fits stationary or pivot arms, hard or fabric surface mount, right or left sided angled and also flush mounts providing a variety of mounting options. With two 0.72W LEDs per unit powered by 12V DC Class II power supply and an average lamp life of 40 – 100K hours, the Monogram Seat & Row Indicator provides a virtually maintenance free illumination solution for seat and row identification.
The Monogram Seat & Row Indicator can be seen in the Tivoli exhibit at the Motion Picture Industry's annual convention, SHOWEAST in Miami, Florida on October 24-27, 2011.
Features:
•Compact fixture securely assembles to seat for resistance to damage and tampering
•Multiple lines of alphanumeric text possible with wide window for additional seat/row graphics (up to 2 rows)
•Multiple mounting options
•Suitable and easily installed for both new construction and renovation
•2 LEDS per unit
•Six LED Color choices (custom colors available)
•Average Lamp Life: Red or Yellow (100,000 hours), blue, green, white or warm white (40,000 hours)
•Virtually maintenance free
•Design is impervious to water and includes moisture proof seal
As the first manufacturer to introduce indicator type LEDs into tubing, aisle and step lighting products, Tivoli, LLC continues to lead the market in emerging LED linear lighting solutions in the commercial, theatrical and specification market.
For more information, visit www.tivolilighting.com.
ABOUT TIVOLI
Tivoli is the original innovator in LED based linear lighting products, with over 40 years experience in low voltage and LED based linear lighting products.
When Color Matters --Tivoli is the choice.
Uniquely focused on 'the right light' – color temperature and output for low ambient cove and niche applications.
Most other commercial manufacturers in US are focused on higher output led illumination. Tivoli is focused on low wattage, highly energy efficient, linear led fixtures for accent cove and niche lighting applications. We specialize in small source applications that create the sparkle to delineate a project.
Using our expertise with color mixing LEDs for theater lighting we have created incandescent color equivalents and even improvement to incandescent using led color mixes.
As the market leader in emerging LED linear lighting, we offer a complete line of architectural, signage and auditorium linear LED based lighting products. Our products are flexible, adaptable energy-saving LED-based linear lighting products for broad architectural / commercial applications, both indoors and out. Tivoli's architecturally significant designs have been providing visible delineation or concealed illumination effects for over forty years.
Lighting is our business, color is our concern.
Contact
Tivoli
E-mail:ilovit@tivolilighting.com
Web Site:www.tivolilighting.com