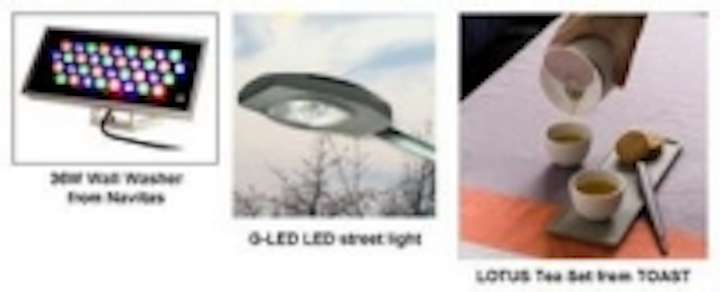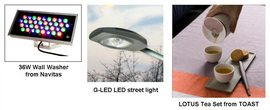 Date Announced: 21 Oct 2011
Put the dates 27th to 28th of October in your diary! With limited spaces and the time fast approaching for the "Taiwan LED Lighting Exhibition," the most exciting event to be brought to the UK lighting and LED industry this year, this is an experience not to be missed.
The Taiwan Trade Centre, along with the Taiwan Government are holding this creative exhibition at the "GuSu Gallery" in Notting Hill Gate, casting a fresh look upon the cutting-edge innovation of Taiwan's LED lighting products.
These are just a selection of some of the latest state-of-the-art, fashionable and practical LED products from Taiwan, the second largest LED manufacturing country in the world in terms of output and revenue, which we will showcase at the event:
i) 36W Wall Washer from Navitas will be featured. 36 LEDs display stunning colour effects as they can change colour via multi-functioned DMX remote controller, making this Wall Washer a perfect choice for application in a commercial building, architecture field, stage, gallery, museum, hotel, landscape etc (see Image).
ii) Yantouch JellyWake mood lamp will also be displayed for its high-end colour changing function, including 16 million colours generated by bright RGB LEDs which can be adjusted by a proximity sensor. This feature is combined with its function as a "sunrise" wake lamp, perfect for sufferers of Seasonal Affective Disorder (SAD).
iii) Ocean inspired Coral Light table lamp presented by Qisda will convey how their LED lighting products can provide your table with a creative touch.
iv) In more architectural terms, G-Led's featured LED street light's lower power consumption and environmentally friendly features will put forth the efficiency of LED lighting in the green energy market (See Image).
v) Lumineco Technology's wall washer lighting series will show off its lightweight, waterproof and long-life features. Its lighting angle can be freely adjusted and is extremely environmentally friendly, not omitting any noxious gases or radiation.
In order to enrich the diverse atmosphere of the setting, the event will also boast a wealth of innovative Taiwanese home ware previously showcased at 100% Design London this September.
Ranging from beautifully hand-crafted lotus-inspired tea sets and origami inspired plates from companies such as "TOAST" to stylish glass tea sets from "Lin's Ceramics Studio", Zen tea cups from "think if design," and cutting-edge cutlery from "The One Images Co. Ltd", we will put forth the most high-end, creative home ware on the Taiwanese market.
These original elements, when combined with ornamental Taiwanese orchids provided by V-Flora that will festoon the venue and sparkle in the light of the LED products on display, will leave you with a lasting impression and experience of the multi-faceted application of LED lighting in UK markets (see Image - LOTUS Tea Set from TOAST).
Fashioned by the event's special design team, the exhibition aims to emphasise to the UK the usage of LED lighting as an integral part of green energy by showcasing the high-quality of Taiwanese LED lighting and its ability to suit UK based demands. Walls will be stylishly adorned with wooden pallets and lit with multi-coloured LED wall-washers and T8's, promoting recyclable and renewable energy and recalling both the vibrancy and green nature of Taiwanese culture.
An exclusive invitation-only opening ceremony for buyers and journalists will be held on the first day of the exhibition, next Thursday 27th October 2011, during which we will invite visitors to experience the lights being officially turned on to mark the start of the event.
Once the links between Taiwan and the UK have been symbolically lit, the ceremony will give you the chance to meet and network with company representatives of the products exhibited, and to report on the unique application of Taiwanese LED lighting when combined and complimented with different high-end Taiwanese elements.
Champagne and delicious Taiwanese snacks provided by Taipec will be available for you to indulge in while you soak up the buzzing atmosphere, giving you a real feel for Taiwan's culture and technological progression.
Supported by LEDs Magazine, the largest professional B2B LED industry magazine in the world, the following day of the exhibition will be open to the public. Brochures and LED Magazine copies will be available throughout the exhibition for anyone interested in finding out more about the event's exhibitors, products, sponsors, and the LED lighting industry.
For more information and to register for the event, please visit the following web page:
http://london.taiwantrade.com.tw/event/detail.jsp?id=1583&lang=en_US
Contact
Taiwan Trade Centre
E-mail:lauras@taitra.org.tw
Web Site:london.taiwantrade.com.tw/event/detail.jsp?id=1583&lang=en_US