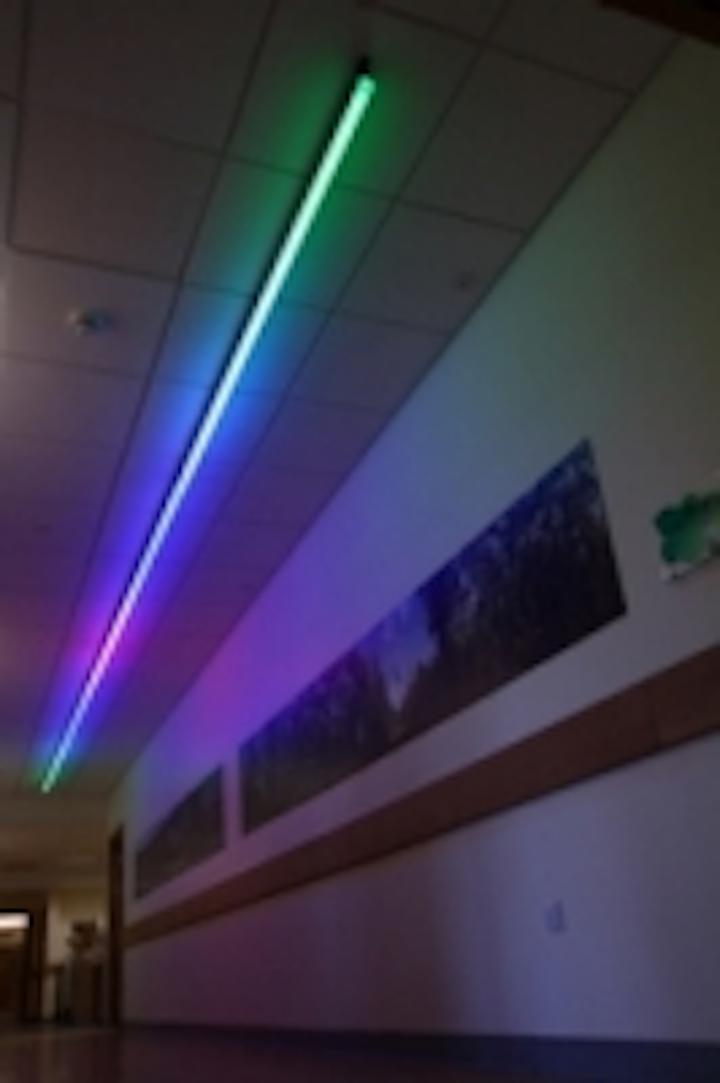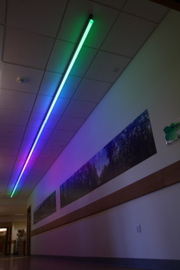 Date Announced: 18 Oct 2011
Architainment Lighting Ltd has supplied, commissioned and programmed the LED technology for a brand new outpatients and paediatric ward recently completed at Salisbury District Hospital for Salisbury NHS Foundation Trust Wiltshire.
In selecting the lighting for the new children's ward, hospital staff Capital Projects Manager, Sue Biddle, and Art Care's Penny Robbins, who led the Steering Group, consulted with Philips Lighting Business Development Manager, Darren Marsh, Architect Julian Davies of Devereux Architects, and WSP Consulting Engineers. Their discussions led them to Architainment Lighting in search of an engaging LED solution.
Architainment Lighting supplied a selection of Philips Color Kinetics fixtures, including the iColor Tile FX, iColor Accent Powercore, and iColor MR g2, which were then installed by Wessex Building Services. Three units of iColor Tile FX were fitted to the ceilings in three of the ward's Day Assessment Unit consultation rooms. Powered by Chromasic technology, the tile is a 2ft x 2ft panel made up of 144 individually addressable, tri-colour LED nodes that can be programmed to display creative lighting, animation and medium-resolution video. Purposefully selected for the quiet consultation rooms, the tiles are situated directly above the patient bed, aiming to calm and engage the children during what may be a distressing time for them. The tile is programmed to display either static RGB light, which saturate the room in an assortment of colours, or fade through a series of multicoloured effects that make the eye dance.
In addition to lighting the consultation rooms, four 8ft units of iColor Accent Powercore were installed end to end in order to make a 32ft long LED strip fitted along the ceiling of the ward's reception and therapy corridor area. Architainment Lighting's Technical Services Engineer, Phil Grice, programmed eight different effects, all of which have been designed to ensure the feature is a focal point in these communal areas. Selected by pressing one simple button on a master switch, the effects include flickering spots, rainbow stripes and fast moving light running from one end to the other.
Architainment Lighting also supplied 92 units of Philips Color Kinetics iColor MR g2s, which were installed throughout the ward bathrooms and corridors, soaking communal areas in a variety of colours, and all easily activated by sensors.
More than 2000 children have used the new paediatric facilities since its opening three months ago, and feedback received from parents and patients, on the lighting specifically, has been incredibly positive. Commenting on the new ward, Sue Biddle said: "The new Children's Unit is a credit to all who took part in its creation. Through all their hard work we now have an exceptional unit of which, children, their parents and staff have commented on being spacious, positive, reassuring and comfortable with the atmosphere having a calming and distracting influence for the children."
Contact
For Further information please contact: Holly Winman PR and Marketing Coordinator T: 01494 471340
E-mail:holly.winman@architainment.co.uk
Web Site:www.architainment.co.uk