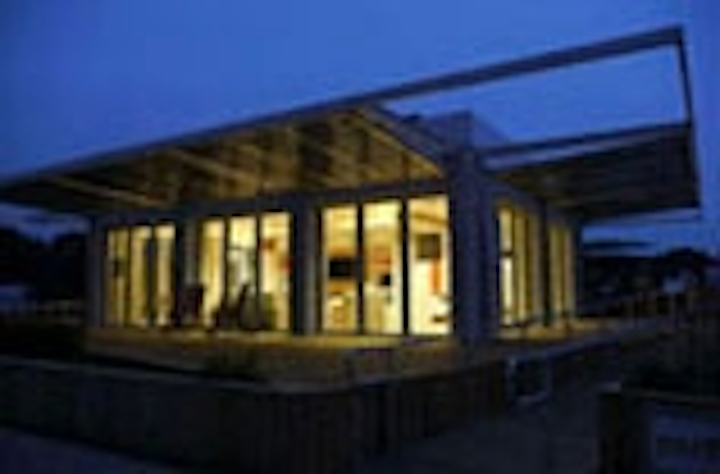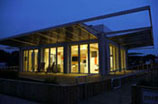 Date Announced: 26 Oct 2011
Peachtree City, GA – Cooper Lighting, an industry leader committed to delivering innovative products and driving transformational technology in the lighting industry, recently provided Halo 4-inch and 6-inch LED recessed downlights to Florida International University's (FIU) Solar Decathlon team. The energy-efficient products are included in FIU's Perform[D]ance House design concept featured in this year's Solar Decathlon in West Potomac Park, Washington, DC.
Tasked with designing and building an innovative and efficient solar home, the team quickly settled on features like a rainwater collection system and northward facing glass doors. No less important, they also needed to effectively and efficiently light the space. With the help of Cooper Lighting, the team selected Halo H7 LED Downlights and Halo H4 LED Downlights to illuminate all interior spaces and keep overall energy costs down.
"Our goal with the lighting was to choose a product that offered a neutral color temperature to match the white ceiling, walls, panels and cabinetry around the house," said Orlando Leone of FIU's Solar Decathlon team. "And since the competition focuses on developing a final product that uses minimal energy, we needed an extremely efficient solution. The Halo lighting fixtures that Cooper provided were a perfect fit and helped to provide the exact look and efficiency rating we hoped to achieve."
Ideal for a wide range of applications, the Halo LED recessed downlights offer several benefits including long-life (50,000 hours), high efficacy and an energy savings of about 78 percent when compared to a traditional 65-watt incandescent light bulb. The fixtures are available in a variety of styles and finishes and offer users a choice of four color temperature options. The LED downlights are ideal for both new construction projects or as an energy-efficient solution to retrofit existing compatible recessed downlight housings.
"As a company, we have been promoting green, efficient solutions for a long time and were pleased when the FIU Solar Decathlon team selected our Halo LED downlighting products," said Mark Eubanks, President of Cooper Lighting. "We congratulate the FIU team and all of those participating in this year's Solar Decathlon and hope that the homes engineered at the event may someday become reality."
Cooper Lighting offers a range of indoor and outdoor LED lighting products and corresponding accessories, all of which are specifically designed to minimize energy consumption and maximize cost savings. For additional information, visit www.cooperlighting.com.
About Cooper Lighting
Cooper Lighting, a subsidiary of Cooper Industries plc (NYSE: CBE), is the leading provider of world-class lighting fixtures and controls to commercial, industrial, retail, institutional, residential and utility markets. As lighting technologies have advanced over the years, Cooper Lighting has been at the forefront of the industry in helping businesses and communities leverage the latest technologies to improve efficiency, reduce costs and enrich the quality of the environment. For more information, visit www.cooperlighting.com.
About Cooper Industries
Cooper Industries plc (NYSE: CBE) is a global electrical products manufacturer with 2010 revenues of $5.1 billion. Founded in 1833, Cooper's sustained success is attributable to a constant focus on innovation, evolving business practices while maintaining the highest ethical standards and meeting customer needs. The Company has seven operating divisions with leading market positions and world-class products and brands including: Bussmann electrical and electronic fuses; Crouse-Hinds and CEAG explosion-proof electrical equipment; Halo and Metalux lighting fixtures; and Kyle and McGraw-Edison power systems products. With this broad range of products, Cooper is uniquely positioned for several long-term growth trends including the global infrastructure build-out, the need to improve the reliability and productivity of the electric grid, the demand for higher energy-efficient products and the need for improved electrical safety. In 2010 fifty-nine percent of total sales were to customers in the industrial and utility end-markets and thirty-nine percent of total sales were to customers outside the United States. Cooper has manufacturing facilities in 23 countries as of 2011. For more information, visit the website at www.cooperindustries.com.
Contact
Karin Martin, Karin Martin Communications (630) 513-8625
E-mail:Kmartin41@aol.com