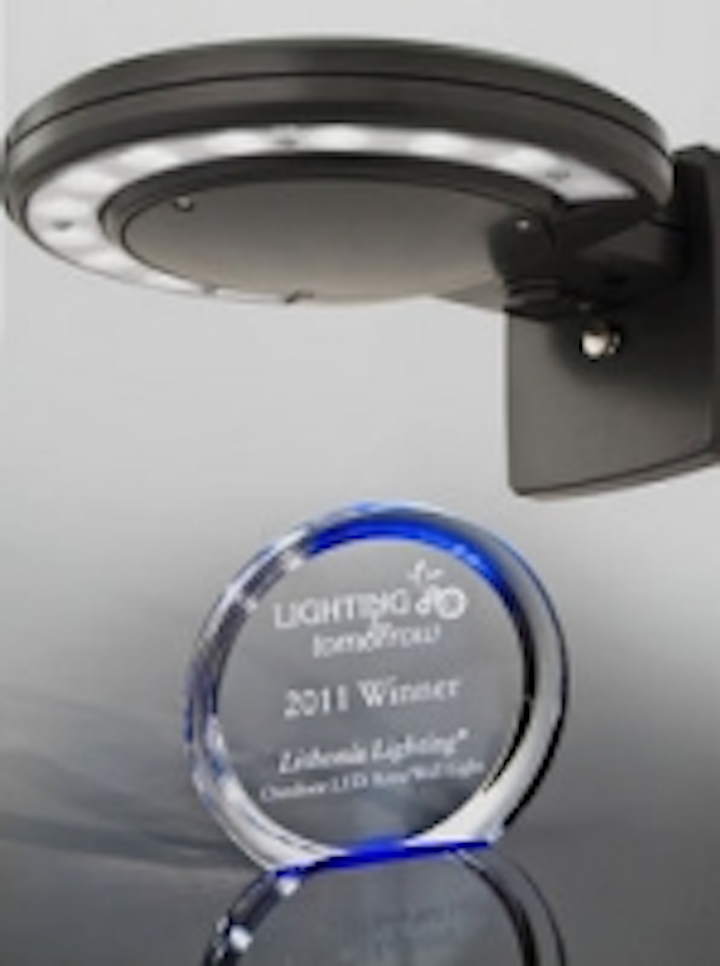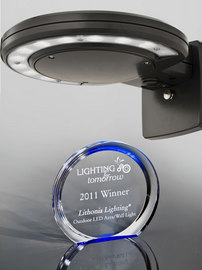 Date Announced: 11 Oct 2011
Atlanta – Acuity Brands, Inc. (NYSE:AYI), a market leader in innovative energy-efficient lighting, controls and daylighting solutions, announced that its new Lithonia Lighting® OLAW23 LED Area/Wall Light was honored as a recipient of a Lighting for Tomorrow Award at the annual American Lighting Association ("ALA") Conference. Sponsored by the ALA, the Consortium for Energy Efficiency ("CEE") and the Underwriters Laboratories, Inc. ("UL"), the Lighting for Tomorrow competition annually challenges manufacturers to continuously improve their LED luminaire designs and recognizes the best-designed, most energy-efficient LED luminaires for residential applications. With award criteria including color appearance and rendering, illuminance, efficiency, aesthetics and style, the Lithonia Lighting OLAW23 LED Area/Wall Light was judged against 52 luminaire products from 22 manufacturers. The Lithonia Lighting product was one of six winning LED luminaires.
The versatile Lithonia Lighting OLAW23 LED Area/Wall Light provides up to 50,000 hours of virtually maintenance-free illumination for outdoor use in residential and commercial applications. The fixture, with its sturdy, weather-resistant aluminum housing and bronze finish, is ideal for many outdoor spaces requiring stylish, reliable security lighting. Its clear, protective polycarbonate lens shields the optical components from moisture, dirt and other contaminants, and an adjustable photocell provides additional energy savings by automatically turning the luminaire on at dusk and off at dawn. The OLAW23 LED Area/Wall Light can be wall-mounted, or arm-mounted (mounting arm sold separately), and is UL Listed for use in wet locations and comes with a limited five-year warranty.
Previous Lithonia Lighting products receiving Lighting for Tomorrow Awards include the indoor Izoro product family (2008), the indoor Neo-Steele, Craftson and Westin product families (with an Honorable mention for the Kingsley product family) (2006), and the indoor Ferros product family (2005).
"We are again honored to be a recipient of this prestigious award," said David Zizzi, Acuity Brands Lighting Vice President, Decorative and Residential Products. "LED light sources provide opportunities to introduce unique and contemporary luminaire form factors and the Lithonia Lighting Decorative and Residential team is known for consistently creating high-performing, aesthetically pleasing fixtures that meet demanding customer requirements," continued Zizzi.
All award winners and competition details are showcased in an awards brochure and on the Lighting for Tomorrow website. For more information, visit http://www.lightingfortomorrow.com/.
The Lithonia Lighting OLAW23 LED Area/Wall Light is available nationally through Acuity Brands' Lithonia Lighting sales representatives and authorized distributors. For more information about the Lithonia Lighting OLAW23 LED Area/Wall Light, visit Lithonia Lighting online a http://www.lithonia.com.
About Acuity Brands
Acuity Brands, Inc. is a North American market leader and one of the world's leading providers of luminaires, lighting control systems and related products and services with fiscal year 2011 net sales of $1.8 billion. The Company's lighting and system control product lines include Lithonia Lighting®, Holophane®, Peerless®, Mark Architectural Lighting™, Hydrel®, American Electric Lighting®, Gotham®, Carandini®, RELOC®, Antique Street Lamps™, Tersen®, Winona® Lighting, Syner gy® Lighting Controls, Sensor Switch®, Lighting Control & Design™, Dark to Light®, ROAM®, Sunoptics®, acculamp™ and Healthcare Lighting®. Headquartered in Atlanta, Georgia, Acuity Brands employs ap proximately 6,000 associates and has operations throughout North America, Europe and Asia.
Contact
Jennifer Manocchio – Public Relations 910-772-1688
E-mail:jennifer@sweeneypr.com
Web Site:www.lithonia.com