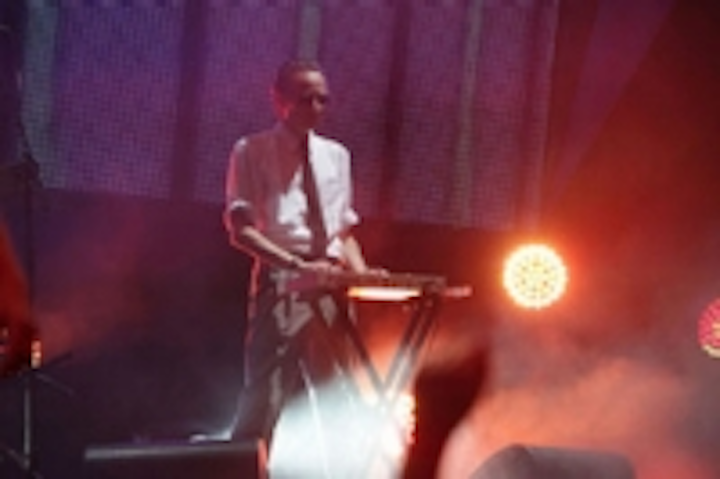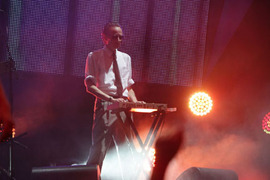 Date Announced: 21 Dec 2011
Leading New Zealand lighting designer Ben Cooper utilised 24 Robe ROBIN 600 LEDWash moving light fixtures – amongst others – for the 2011 Vodafone New Zealand Music Awards (VNZMAs), which honoured the very best of established and emerging talent spanning a diversity of genres.
The high profile event – produced by J and A Productions for the Recording Industry Association of New Zealand (RIANZ) - was staged in the Vector Arena in Auckland. It is the largest and highest profile Awards show in the country. This 46th edition of the VNZMAs featured live performances from a host of stars including Brooke Fraser, The Naked and Famous, Ladi6, Six60, Tiki Taane and Avalanche City and legendary Kiwi band Supergroove. It was telecast live on national Channel FOUR.
Cooper was lighting it for the second year, bringing a fresh and innovative style to the visuality, with all the lighting equipment supplied by Auckland based rental company, Spot-Light Systems Limited.
Cooper is also the owner of Spot-Light Systems, which specialises in supplying international music tours and events and has a long history of involvement in the local music scene. The company has actually been involved with the lighting and/or design of the VNZMAs event for nearly two decades!
This year's set, designed by Robin Rawstone, contained multiple video elements and LED screen surfaces, which were raised off the ground to allow artist entrances / exits and rolling risers to be pushed on and offstage at the back for quick changeovers. Cooper, Rawstone and production manager Peter Grumley worked closely to evolve a unique, interesting aesthetic for the fast paced show, and to ensure that all the lighting, set and digital scenic elements worked in harmony.
The LEDWashes were specifically positioned to provide back and 'black hole' fillers beneath the LED screens for certain camera shots.
The fixtures were configured in 37-channel mode with all the LEDs individually addressed, allowing the creation of lots of funky and kaleidoscopic patterns on the rings – one of the special features of Robe's LEDWash series. This is brilliant for eye and camera candy effects.
The LEDWashes are a relatively new edition to Spot-Light's rental stock. The first batch was purchased in May, and that was followed up by more just prior to the event, as they were pleased with the performance and scope of the units. The Robes were supplied by Robe's very proactive Australia / New Zealand distributor, ULA.
Cooper had used LEDWashes only once before spec'ing them onto the NZMAs - which was in a completely different context –a charity gig in a hotel ballroom for front light. However, this was enough for him to realise the potential!
He jumped at the chance to used them on the Awards, "I like trying out new and exciting technology, so this was the perfect chance," he explains, emphasising that lights positioned in the 'back-of-camera' are absolutely crucial, he needed fixtures with real power, punch and impact to fulfil the role ... hence choosing the LEDWash 600s.
"They were awesome!!" he declares, "Extremely bright and delivered exactly what was required, plus the flexibility to run them in zones and programme so many different shapes and effects was amazing ".
He adding that as a new product to Spot-Light's inventory, they are all still at the start of their creative learning curves with the LEDWash 600, a process in which he and his staff are very much looking forward to engaging.
The LEDWashes and the rest of the lights for the 2011 VNZMAs were controlled via three Avolites Pearls running Expert Titan software running and the latest Touch Screen Wings, and the show was programmed and run by Cooper and Chris Browne.
Spot-Light's LEDWashes are also out on two Coca Cola 'Christmas In The Park' shows, which will have a combined audience of approximately 250,000 and are shown on national TV during December.
Contact
For more press info. on Robe Lighting, please contact Louise Stickland on +44 (0)1865 202679/+44 (0)7831 329888 or Email 'louise@loosplat.com'. For more product and general info, check www.robe.cz or call + 420 571 751 510.
E-mail:louise@loosplat.com
Web Site:www.robe.cz