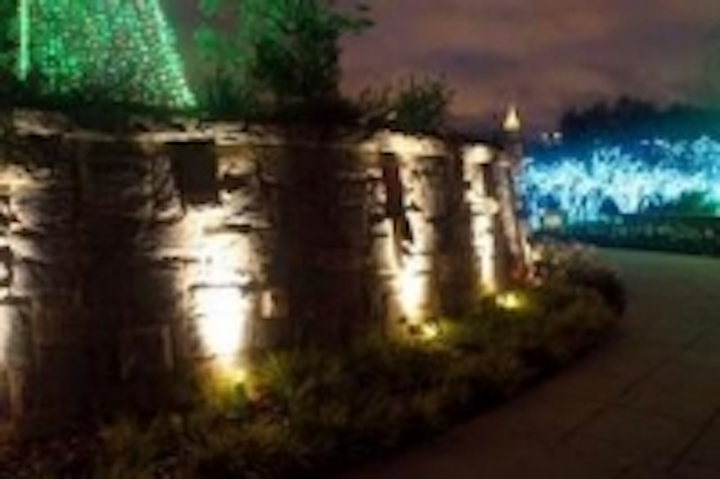 Date Announced: 16 Dec 2011
Peachtree City, GA – Cooper Lighting, an industry leader committed to delivering innovative products and driving transformational technology in the lighting industry, is helping to brighten Atlanta's Botanical Garden this holiday season by sponsoring the inaugural Garden Lights, Holiday Nights show, which runs through January 7. Cooper Lighting's Lumière LED landscape lighting luminaires are featured in and around the major attractions in the Garden that is illuminated with more than one million lights.
Destined to become an annual holiday tradition for visitors, Garden Lights, Holiday Nights showcases enormous botanical-inspired light displays throughout the 30-acre Midtown garden. The light show, designed by Tres Fromme of Studio Outside and Ted Ferreira of CD+M Lighting Design Group, allows guests to stroll through a seemingly endless forest of lights and features several attractions including giant snowflakes, fleeting bumblebees and a large "praying Santa mantis" among the plant collections.
"As a company rooted in the Atlanta region, we are thrilled to be a part of this great holiday special event," said Mark Eubanks, president of Cooper Lighting. "Not only will our Lumière products help highlight the breathtaking Garden, but thanks to efficient LED technology, will keep overall energy costs down. We look forward to strolling through the Garden this holiday season and hope many others in the Atlanta region have the opportunity to stop by this unique lighting display."
Although new Cooper Lighting Lumière LED Sanibel 301, Cambia 230 and Cambria 206 fixtures are featured in this show for the first time, Lumière has been a mainstay at the Garden for the past several years. As such, designers employed the equipment to highlight specimen trees and a 20-foot tall poinsettia display located in the Fuqua Orchid Atrium. Accessorized with theatrical gels, Lumière helps to paint the living collections in a tapestry of colors in several key areas such as Cascade Gardens, the Alston Overlook, the Edible Gardens and the Magnolia Valley. With the permanent lighting turned off during the run of the show, this equipment also highlights Palms and other trees, shrubs, beautiful hand-cut stone walls and entry signage at the front gate.
"Garden Lights, Holiday Nights is a wonderful blend of light, music, botany and art," said Ted Ferreira, principal of CD+M Lighting Design Group, lighting designer and a sponsor of the event. "Even in early stages of the design, we knew that Cooper Lighting would be a great partner for this unique project. Having worked with Lumière's product designers for nearly 20 years, I was well aware of the adaptability, durability and quality of optics their equipment provides and I think it does a spectacular job of highlighting key parts of the show."
In addition to providing superior light output, Cooper Lighting's Lumière LED luminaires are designed to minimize energy consumption and maximum cost savings. Consuming only 10-watts and designed to last at least 50,000 hours, the Lumière LED fixtures use up to 80 percent less electricity when compared to a typical 50-watt MR16 halogen-sourced products which last approximately 5,000 hours. The versatile Lumière LED luminaires are also available in a wide range of offerings including in-ground, accent, flood, pathway, step, wall and sign lighting applications to satisfy every landscape and architectural accent lighting need.
"Cooper's Lumière landscape lighting helps highlight the spirit and mission of the garden, drawing attention to our living collections in outdoor transition areas and special indoor displays," said Cathleen Hunt, the exhibitions manager for the Atlanta Botanical Garden. "The landscape lighting allows the show to flow throughout the Garden while helping us to meet our commitment to ongoing sustainability efforts."
Cooper Lighting offers a range of indoor and outdoor LED lighting products and corresponding accessories. For additional information, visit www.cooperlighting.com.
About Cooper Lighting
Cooper Lighting, a subsidiary of Cooper Industries plc (NYSE: CBE), is the leading provider of world-class lighting fixtures and controls to commercial, industrial, retail, institutional, residential and utility markets. As lighting technologies have advanced over the years, Cooper Lighting has been at the forefront of the industry in helping businesses and communities leverage the latest technologies to improve efficiency, reduce costs and enrich the quality of the environment. For more information, visit www.cooperlighting.com.
About Cooper Industries
Cooper Industries plc (NYSE: CBE) is a global electrical products manufacturer with 2010 revenues of $5.1 billion. Founded in 1833, Cooper's sustained success is attributable to a constant focus on innovation, evolving business practices while maintaining the highest ethical standards and meeting customer needs. The Company has seven operating divisions with leading market positions and world-class products and brands including: Bussmann electrical and electronic fuses; Crouse-Hinds and CEAG explosion-proof electrical equipment; Halo and Metalux lighting fixtures; and Kyle and McGraw-Edison power systems products. With this broad range of products, Cooper is uniquely positioned for several long-term growth trends including the global infrastructure build-out, the need to improve the reliability and productivity of the electric grid, the demand for higher energy-efficient products and the need for improved electrical safety. In 2010 fifty-nine percent of total sales were to customers in the industrial and utility end-markets and thirty-nine percent of total sales were to customers outside the United States. Cooper has manufacturing facilities in 23 countries as of 2011. For more information, visit the website at www.cooperindustries.com.
Contact
Karin Martin, Karin Martin Communications (630) 513-8625
E-mail:Kmartin41@aol.com