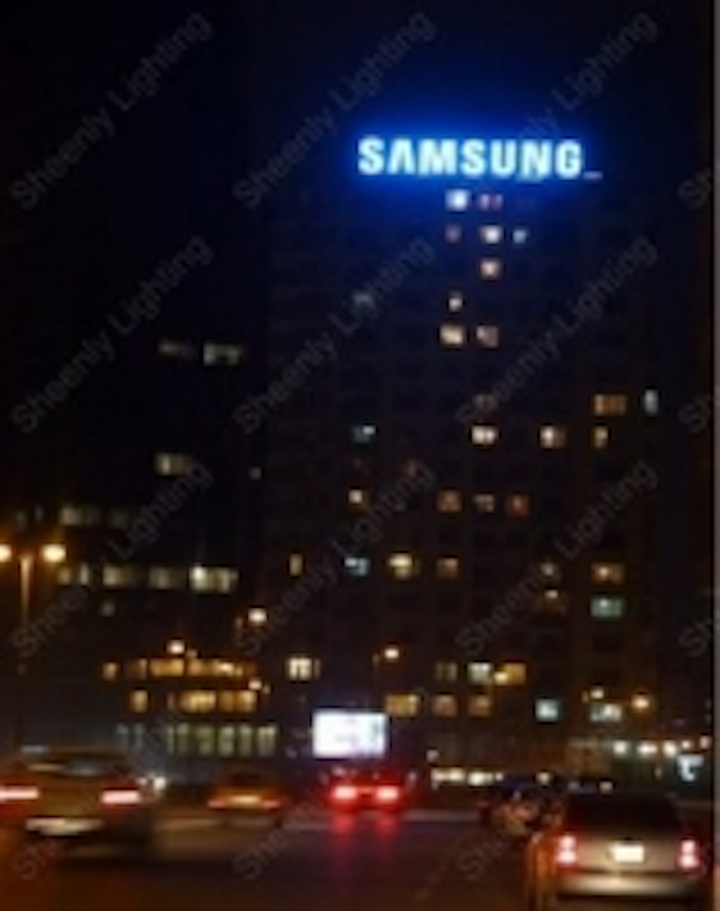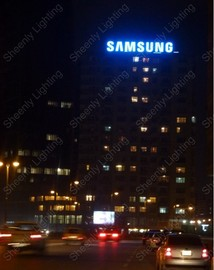 Date Announced: 09 Dec 2011
Baku, Azerbaijan – recently there is part of green energy project accomplished assist by Sheenly lighting in Baku, Azerbaijan. World famous company Samsung office in Baku changed lighting source of the sign on top of building. These 12000 pieces LED modules investment just a start of Samsung energy saving project, in the up coming months, will be more LED lighting invested into this project.
In the completed first part of project used Sheenly extremely high brightness 5050 Quadro-LED modules for the sign on top of Samsung Building. Intizam, the director of 'MillenAD' MMC explains why he chooses this module 'It is so easy to replace old tradition lights, just by using the gel codes. The Quadro-LED output is more impressive than we expected, based on the technical data. More importantly, the light output of the more saturated colors is excellent' Intizam says, 'In the up coming months, we will still cooperate with Sheenly Lighting. I specially like to use Sheenly panel light to replace tradition indoor light in the Samsung Building.'
Jim Wang sales and marketing director for Sheenly lighting said, 'We are delighted that both parties are satisfied with this cooperation. As we dedicate to provide good quality and best service to our customers. In the past, most of our customers are from west European countries, now we are entering the market of Azerbaijan, it represents our products can be well accepted by different markets all over the world'
About Sheenly lighting Co., Ltd
Sheenly Lighting Co. Ltd is a LED lighting company dedicated on research and development of sustainable solid state lighting products & solutions. Successfully cooperate with Bayer, IKEA, H&M, American Development Group, etc. In response, Sheenly is pleased to take up the challenge to design and provide innovative lighting solutions that are Energy-efficient, Eco-friendly, Economic and at the same time, Stylish
About Sheenly lighting products
Sheenly lighting never stops inventing new products. After 50w 4200lumen panel light, Sheenly launched two unordinary products: 40w panel and eco-era downlight.
Sheenly 40w panel use the same technology with 50w panel, but the cost much lower. After one month promotion, 40w panel received very well feedback from customer of the price and quality.
Sheenly Eco-era downlight, unique design downlight 23w replace 90w HID/CDM/CMH light. It is the only one in market.
Contact
Dean Wang Add:No.88 Zhuyuan Road,Minhang District, Shanghai 201112,China Phone:+86 021 64113138/613 Fax:+86 021 64113138/632
E-mail:dean.wang@sheenly.com
Web Site:www.sheenly.com