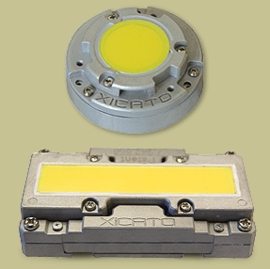 Date Announced: 05 Dec 2011
Xicato introduces a 3500K Correlated Color Temperature (CCT) option to its range of LED modules. 3500K is the predominant color temperature for ambient lighting in North America and is increasingly popular in other markets.
The new color will be offered in all Xicato flux packages starting at 1000 lm and above and allows lighting designers an option to match 3500K accent and ambient layers.
Other accent source options such as halogen and metal halide are not generally available in 3500K CCT and present challenging problems such as short life and poor efficacy (halogen), or color shift and inability to control (metal halide). Now designers have an optimum overall specification of color quality, high efficiency, long life, stable color point and seamless controls integration.
The 1000-lm Artist Series Xicato Spot Module at 3500K represents the first accent light source with halogen-like color rendering properties (CRI, 95+ with R9, 96 typical). It can be used by designers to match fluorescent sources.
Full information is available on www.xicato.com.
About Xicato
Xicato is a Solid State Lighting company founded by seasoned industry professionals, with offices located in Silicon Valley, California (HQ), London and Tokyo.
Xicato develops, manufactures and globally markets LED modules that simply are functional replacements for traditional lamp technologies, offering all the life and energy-saving advantages of LEDs with no light-technical or aesthetic compromises. Xicato provides industry leading specifications via an open approach with a global circle of leading end-users, specifiers and luminaire manufacturers. Xicato is committed to address the whole broad sphere of the general illumination world, taking on segment by segment with its focus on continuous innovation.
Xicato believes that lighting plays a valuable role in the creation of places for people. We highly recommend the use of a qualified lighting designer from one of the following organizations:
PLDA Professional Lighting Designers Association - www.pld-a.org
IALD International Association of Lighting Designers - www.iald.org
Contact
For more information on Xicato contact: Roger Sexton on +44 7525715497 (EU) - roger.sexton@xicato.com Noboru Kaito on +81 50 5534 3168 (Japan) - noboru.kaito@xicato.com Ron Steen on +1 847 525 5048 (US) - ron.steen@xicato.com San Jose Office +1 866 223 8395 (US) For press images contact: Jane Kingsley, JKS Communications. - j@jkscomms.co.uk
E-mail:roger.sexton@xicato.com
Web Site:www.xicato.com