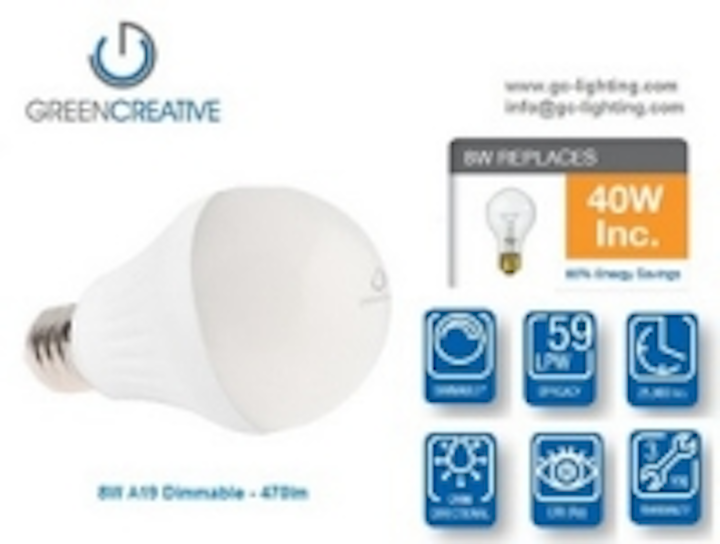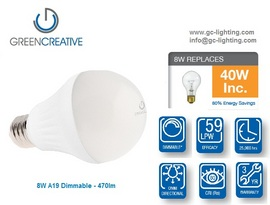 Date Announced: 06 Dec 2011
SAN FRANCISCO, CA, December 6th 2011, GREEN CREATIVE LLC, the specification grade LED lighting manufacturer announces the availability of its new 8W A19 dimmable LED lamp.
This new addition to the GREEN CREATIVE product line is an ultra-efficient alternative to incandescent and CFL lamps at 470lm in Warm White. The product is fully dimmable, with instant start, no hazardous material and a long lifetime. Now is the time to make the switch to the GREEN CREATIVE A19 LED solution!
Product features:
• Very high efficacy 59 lumen per watt in Warm White
• Smooth dimming with most existing dimmers
• Instant ON and compatible with motion sensors
• Comfortable diffused light
• Warm White and Natural White color temperature
• Long lifetime 25,000 hours
All GREEN CREATIVE products are UL listed, FCC compliant, and backed by a 3 year warranty, making it the best choice for your retrofit project. The products are available through GREEN CREATIVE distributors nationwide as well as directly from the company. For more information on where to purchase the products near you or how to become a distributor, please contact us at: info@gc-lighting.com
Datasheet and detailed information about this product available at: http://www.gc-lighting.com/products/a19/
About GREEN CREATIVE LLC
GREEN CREATIVE is a major solid state lighting development sourcing and manufacturing company specialized in providing high quality LED lighting products. The company is committed to provide only relevant high performance products that have been rigorously engineered, manufactured and tested for the demanding commercial market. More information about GREEN CREATIVE is available at http://www.gc-lighting.com
Contact
GREEN CREATIVE LLC Unit 100 - 577 Shotwell St San Francisco, CA 94110, U.S.A. Tel: +1 (415) 992 5977
E-mail:info@gc-lighting.com
Web Site:www.gc-lighting.com/