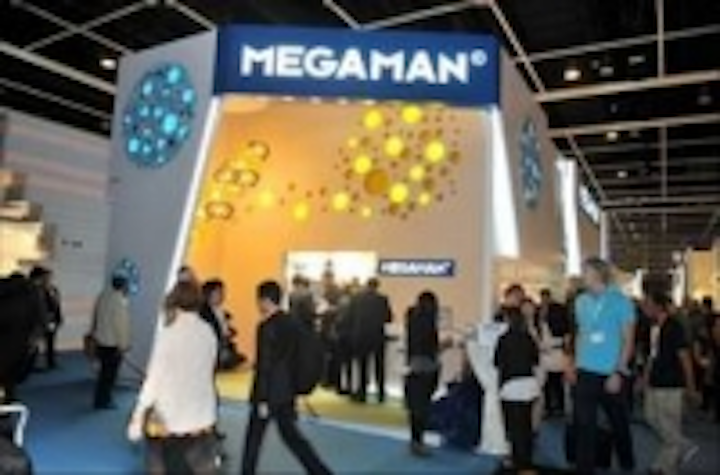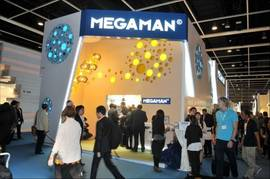 Date Announced: 01 Dec 2011
Megaman, a globally recognized energy-efficient lighting brand, was established nearly 20 years ago. The company presented a range of its latest LED lighting solutions to visitors and the media during the Hong Kong International Lighting Fair 2011.
This year, Megaman launched a series of new products to augment the LED series, presented a premiere technology of 330-degree even-lighting distribution and shared tips on the selection of high-quality LED lamps.
Lee Wing Tak, Chief Executive Officer of Neonlite Electronic & Lighting (HK) Ltd.; Fred Bass, Managing Director of Neonlite International Ltd.; Howard Ng and Matthew Chu, Marketing Director and Senior Marketing Manager of Megaman (HK) Electrical & Lighting Ltd.; and Rebeea Yeung, a well-known artist joined the product launch ceremony. Megaman products on display included the LED Classic, LED Candle and LED MR16 Reflector Series, which enables designers and architects to create different lighting moods for homes and office buildings.
Megaman LED Classic
Thanks to the unique patented heat sink design, the Megaman LED Classic minimizes heat sink material for a sleek classic shape with a compact housing -- a true 60W incandescent equivalent that delivers high lumen output of 810 lm in 11W with 330-degree even light distribution, making it ideal for general lighting and decorative lighting applications. Its linear dimming function provides unhindered discreet lighting design and control to suit every mood.
Megaman LED Candle
Sleek outlook makes perfect replacement for incandescent candles
Designed to replace incandescent candles, the LED Candle has a glamourous outlook and lighting performance that greatly reduces electricity and maintenance costs. It resembles a point light source, where the light-emitting position is similar to that of the filament in an incandescent candle. The incandescent-like sparkling light effects add a special glittery glow to the crystals of chandeliers, bringing out their aesthetic appeal and making the LED Candle perfect for decorating and illuminating a wide variety of commercial establishments as well as for enhancing social occasions at home. The LED Candle offers smooth dimming with a brightness range from 10% to 100% via a normal dimmer switch. With a press of the button, the lighting can be adjusted to provide the perfect illumination for any activity.
Megaman LED MR16 Reflector
The LED MR16 Reflector lamps are driven by halogen transformers and offer excellent lighting performance, heat dissipation and lumen maintenance thanks to the company's patented Thermal Conductive Highway™ (TCH) technology. Designed for use in standard MR16 applications, the 8W LED MR16 Reflector is compact, with a GU5.3-compatible lamp cap and beam angles of 24 degrees and 36 degrees for high-quality accent lighting, and light output up to 1700cd. The LED MR16 Reflector is an ideal alternative to a 50W halogen. Different from the common lens-style LED lamps in the market, the LED MR16 makes use of a reflector design that provides a smarter appearance and better beam angle control.
"As a world-leading brand in energy-efficient lighting, Megaman incorporates eco-elements into every stage of the product life cycle. This year, we introduce the advanced technology of 330-degree even lighting distribution, which takes LED lighting a big step forward and further facilitates the development of new technologies in the LED lighting industry", said Mr. Bass.
About MEGAMAN®
MEGAMAN® is a global brand in high-performance, energy-efficient lighting and an innovative leader in LED and CFL lamp design, with technology targeting the best eco-lighting solutions. MEGAMAN® products are widely distributed throughout the world, including Europe, Asia Pacific, Middle East, Africa and South America, covering more than 90 countries. By setting environmental management as one of the company's highest priorities, MEGAMAN® is focusing on eco-friendly environmental processes from initial design, to manufacturing, research and development, and the disposal and recycling of its products.
Contact
Blanca Ho Neonlite Electronic & Lighting (HK) Ltd. – MEGAMAN® Tel: (852) 2378 0074 Fax: (852) 2758 5957
E-mail:blanca@neonlite.com.hk
Web Site:www.megaman.cc