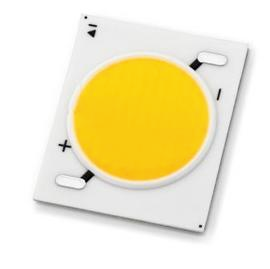 Date Announced: 14 Dec 2011
Hamburg – The 50W Mega Zeni models from Sharp maintain the same compact dimensions and high CRI values, yet with considerably greater luminous fluxes. These have a luminous efficiency of between 3590 and 4770 lm, a light output of up to 100 lm/W in standard operating mode and a long service life of 40,000 hours at an operating temperature of up to 90°C. The new Mega Zeni modules are designed for a forward voltage of 50V and a forward current of 950 mA, but can also be operated with a standard power source of 1050mA. Other important features include: R9 values of over 85 with CRI values of over 90, MacAdam 3-step Ellipse binning, as well as good colour consistency and colour stability values over time under realistic operating conditions (hot lumen).
The 50W LED array launched by Sharp can thus replace traditional HID lamps in the same performance class. Compared to halogen lamps, the service life of 40,000 h of the LED array is notably longer and has a much lower decrease in brightness over time.
The serial and parallel array of the LED matrix ensures fail-proof operation while offering the lowest possible thermal emission. The flat surface of the ceramic plate and the soldering points already in place make it possible to attach the modules to a suitable heat sink without too much effort or additional connecting material, thus guaranteeing excellent heat dissipation. The electrical wiring also leads to lower thermal stress of the single LEDs, because the heat is evenly distributed and dissipated across the entire surface of the matrix. The round light emitting surface (LES) consists of a total of 160 LEDs, sub-divided into ten parallel-connected rows of sixteen. In the Mega Zeni series, this LES is fitted evenly with LEDs up to the edge, through which the optical design of a lamp can be considerably simplified. The formation of multiple shadows can be avoided, and at the same time it is easier to focus the optics (lens, reflector) on just one light emitting surface. The slim design of the new Mega Zeni, measuring just 24 x 20 x 1.8 millimetres, together with its small LES, also increases design flexibility, as it is possible to produce smaller optics and ultimately smaller lamps.
The colour temperature of the new white light LED lighting components ranges from 2700 to 4000 Kelvin. The CRI values and colour temperatures of the Mega Zeni LED modules correspond to the requirements of the international Energy Star programme. They can be used in new LED lighting systems as well as in places where traditional light sources were previously used.
Altogether, the new 50W Mega Zeni LED arrays are characterised by a high quality of light and high performance in a compact form. This makes them suitable for illumination of both streets and objects, as well as for indoor applications that include spot lighting and recessed ceiling light fixtures, etc.
Availability
Initial samples are available with colour temperatures of 3000 and 4000K. These can now be ordered from Sharp sales offices and distribution partners across Europe.
About Sharp Microelectronics Europe
Sharp Microelectronics Europe, Hamburg, Germany, is a divisional company of Sharp Electronics (Europe) GmbH, which is a subsidiary of Sharp Corporation, Osaka, Japan. Sharp is a worldwide developer of core digital technologies shaping the next generation of electronic applications and products. With a portfolio of more than 2,000 components in the ranges of TFT LCDs in screen sizes up to 108 inches, high brightness white and colour LEDs, optoelectronics, CCD and CMOS camera sensors, photovoltaic components, RF-, IC- und LSI-components as well as advanced packaging and integration skills Sharp Microelectronics Europe offers groundbreaking solutions in particular for applications in automotive electronics, mobile / communications technology, industrial automation, TV- and consumer electronics, e-signage and LED based lighting technology. Sharp is dedicated to the improvement of people's lives and environmental protection through the use of advanced technologies. Technology and product development at Sharp is strongly determined by innovation, quality, usability and saving of resources.
Contact
Ralf Schäfer Phone: +49 (040)/2376-2487 Fax: +49 (0)40/2376-15-2487
E-mail:sme.press@sharp.eu
Web Site:www.sharpleds.eu