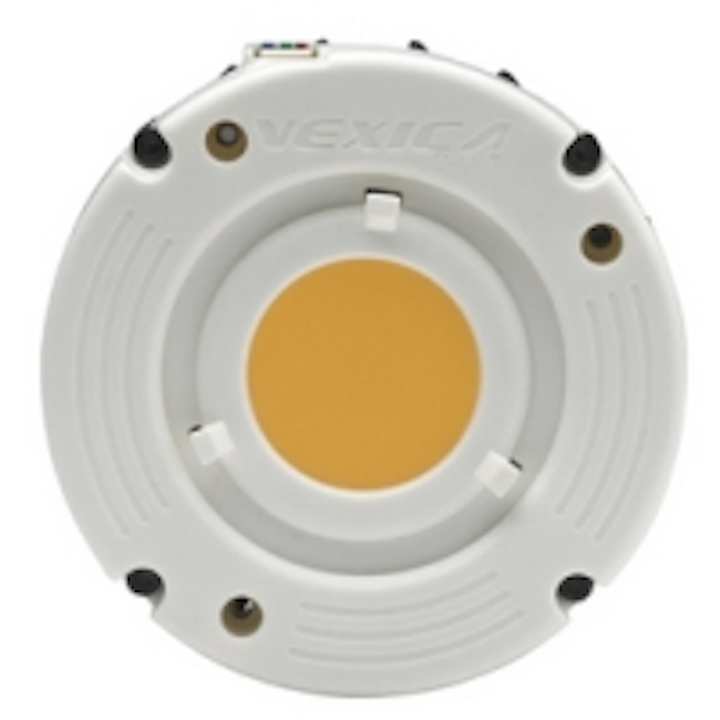 Date Announced: 02 Dec 2011
Vexica Technology Limited is a UK based LED lighting solutions specialist. We are solution providers and suppliers to the lighting industry and specialise in customized lighting solutions and the integration of LEDs into luminaires. We have a comprehensive range of standard solutions including PCB light engines and components covering a wide variety of applications.
Vexica has launched its first OEM LED light engine module called Lumaera. The module has the following key features:
- On-board triac mains dimming driver
- 95 mm diameter OEM heat sink
- Optional silent active heat-sink cooling
- 111 mm twist and clip-on reflector
- Remote phosphor colour conversion for high CRI options
- 1200-lm and 2000-lm options (high versions due Q2 2012)
The Lumaera OEM LED module with its internal triac mains dimmable driver offers manufacturers unparalleled ease of integration of LED technology. Offered in 1200-lm and 2000-lm packages, this new LED module has an interface for a twist and clip AR111 form factor reflector, allowing easy selection and changes of optical distribution patterns without the need for specialist tools. The Lumaera LED module product gives OEM manufacturers versatile LED solutions without the associated research and development costs, allowing them to easily offer cost effective luminaires and afford their clients considerable savings on both energy and maintenance. 
Unrivalled light output is achieved using the latest LED technology and Vexica's highly efficient TRIAC dimming integrated driver. High CRI options are available providing rendering indexes over 90 achieved via Vexica's proprietary mixing chamber and Intematix remote phosphor technologies. Vexica are pioneers in the integration of the newly released CREE XT-E LEDs specifically tuned for use with remote phosphor systems. Additionally a white LED version is also available using the Seoul Semiconductor Z5P LED where customers demand a lower cost version but still need high levels of efficiency. Alternatively we can incorporate your LED of choice if you have an affinity or preference for a certain brand. Our LED driver design delivers smooth mains dimming via TRIAC control systems with high efficiency. For ease of installation and wiring, a push fit mains connector is integrated as part of the module with cable clamping. Vexica have also designed a die cast aluminium heat-sink with optional silent active cooling specifically for the Lumaera to allow OEMs complete peace of mind when it comes to the all-important issue of thermal management. The products are available as a complete kit including module, heat-sink and reflector or as individual components.
Contact
+44 (0) 113 2434813
E-mail:sales@vexica.com
Web Site:www.vexica.com