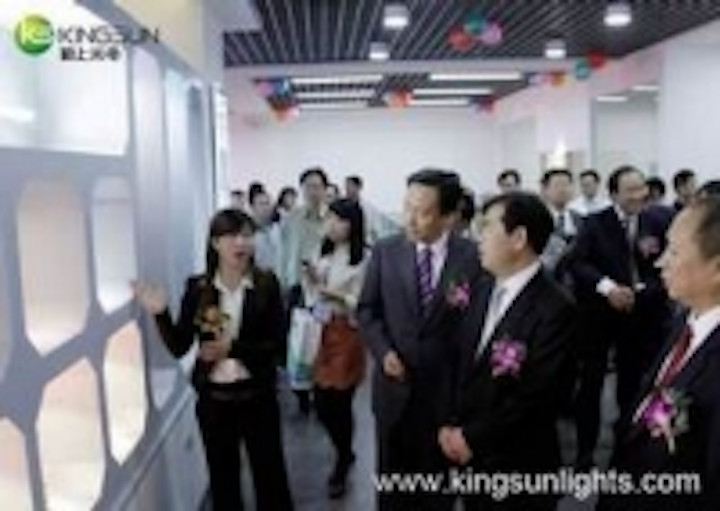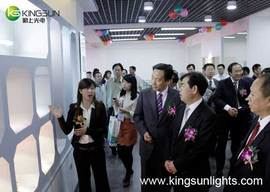 Date Announced: 29 Dec 2011
After launching "PLAN A+" for indoor LED lighting products and "PLAN B" for LED outdoor lighting products, Kinsun promptly initiated "One hundred Cities, One thousands Shops" plan, planning to establish one thousands "light experience centers" in about one hundred cities in china, which will greatly promote the popularity of LED lighting products.
In Nov. 16, 2011, the first stage project of Guangzhou International Commodity Fair & Trade City--Guangzhou Optical Valley went into operation in Panyu, Deputy mayor of Guangzhou Gan Xin and other leaders attended the opening ceremony, meanwhile, Kingsun Light Experience Centre marched into Guangzhou Optical Valley.
It is reported that Guangzhou Optical Valley covers an area of 252 acres , housing construction area of 266 thousand square meters with more than 1 billion RMB investment. With the orientation of platform of LED and lighting faire and trade, it will gather LED and lighting complete industry chain, dedicated in becoming the global largest LED and lighting fair and trade platform, meanwhile, lead to the upgrading of LED industry.
Some famous brand lighting enterprises, such as Osram, Philips, SFT Lighting, NeoNeon, gathered in Guangzhou Optical Valley, which became a hit in opening ceremony. Representatives from more than 20 enterprises including Kingsun signed in Integrity Declaration. Bank Of China, Construction bank and other banks provide these enterprises with a totally 4.3 billion RMB credit line, showing the trust and support for Guangzhou Optical Valley. It is reported that Guangzhou Optical Valley has been listed into lighting products preferential purchasing base and is applying to become Guangdong led and lighting commodity international purchasing center.
Kingsun Light Experience Centre with 400 square meters marched into A2 fair strongly. With the help of large international platform Guangzhou Optical Valley, kingsun will integrate relative high quality resources, seize market fist chance, develop international and national markets through many channels, realize the dream of Lightening up the world with KINGSUN brand and its lighting products.
Contact
Ms Jessie Chow Commercial Executive +86-769-83395678 ext 8096 International Business Department Kingsun Optoelectronic Co., Ltd.
E-mail:ks_sales15@kingsun-china.com
Web Site:www.kingsunlights.com