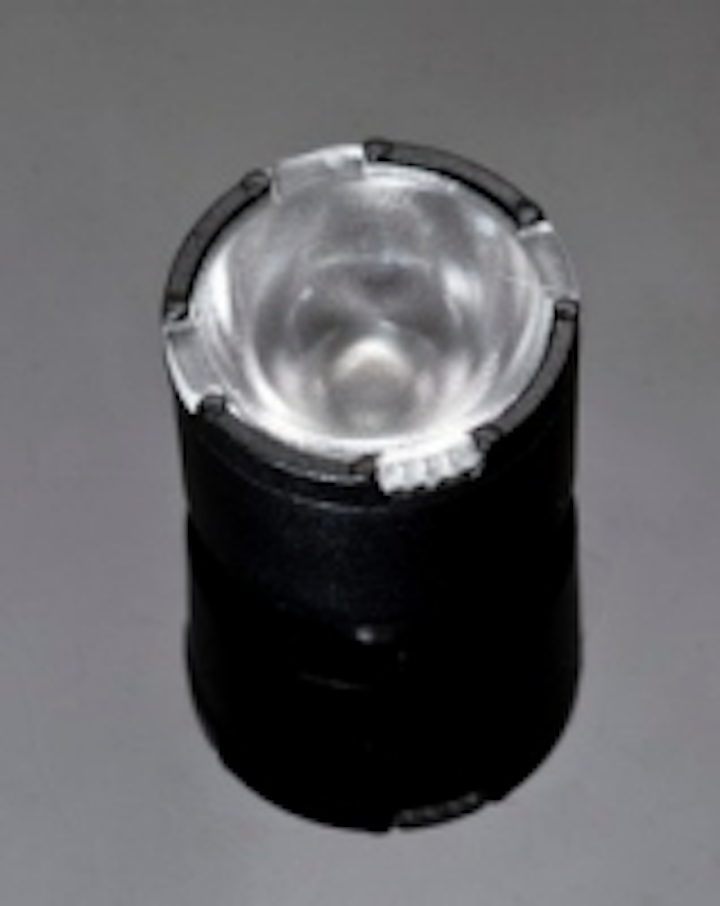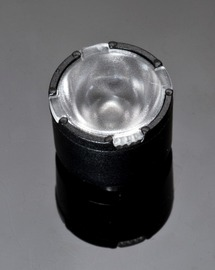 Date Announced: 20 Dec 2011
LEDiL, in collaboration with OSRAM Opto Semiconductors announces the availability of several secondary optics that efficiently couple infrared energy from Osram's new IR OSLON BLACK Series SFH 4715S Nanostack emitter. The wide-range of lensing options available from LEDiL enables Osram's new IR emitter to be deployed in a number of applications, such as infrared illumination for CCTV cameras, machine-vision and vehicle-recognition systems and night-vision devices. The IR OSLON SFH 4715S is today's smallest infrared LED with more than one Watt optical power.
The SFH 4715S boasts high-power in a compact size (3.95mm square by 2.41mm tall) and LEDiL offers equally compact LISA2 Series lenses, which are 9.9mm in diameter and just 7mm tall. LISA2 is available in six different beam angles – as narrow 12⁰ FWHM. When the design benefits primarily from the outstanding power available in the SFH 4715S package, LEDiL's 38mm diameter by 28.5mm tall IRIS Series lens is available with an ultra-narrow beam angle of 5.2⁰ FWHM. Applications that demand both high-power transmission and compact size are well-served by LEDiL's TINA and TINA2 Series, 16.1mm diameter by 10mm tall TIR optics, with high efficiency and multiple beam patterns as tight as 11.5⁰. LEDiL's 21.6mm square LAURA Series and 21.6mm diameter LR2 Series are also qualified for use with the Osram SFH 4715S emitter, along with the 3-position CUTE-3 Series lens.
Each of the qualified optics (excluding CUTE-3) is provided as a lens and holder combination. The holder ensures proper lens location in the X, Y and Z axes relative to the focal point of the SFH 4715S emitter and integral mounting pins are molded into each holder for easy and precise location on the PCB. CUTE-3 Series contains three mounting pins that locate the each of the three lenses over the respective emitter. Most of the holders are provided with pre-installed automotive-grade polyurethane foam mounting tape for easy and reliable installation.
LEDiL precision-molds its lens holders from high-impact polycarbonate material, rated for operation up to 105⁰C. The optical-grade PMMA LEDiL uses to precision-mold each lens is specially formulated for superior UV resistance over normal UV-protected PC and offers outstanding performance even in exterior applications and is rated for use up to 100⁰C.
Equipment designers have the choice of tight beam focus, deployment of multiple emitters per PCB, or wide and oval beam patterns with the combination of OSRAM emitter and LEDiL optics. Purchasing departments are also provided several procurement choices, as LEDiL and OSRAM Opto Semiconductors partner with a number of authorized distributors world-wide.
ABOUT LEDiL Oy
A member of Osram's LED Light for you network, LEDiL is the world's only true specialist in the field of secondary optics for high-power and lighting-class LEDs, LEDiL has been producing precision-engineered optics and reflectors since 2002 and now boasts nearly 1000 standard products optimized for use with LEDs produced by the world's prominent LED manufacturers. Custom solutions are also commonly developed with minimal end-user tooling investment required. With production in Finland and China and a global network of authorized distributors, LEDiL's products are market-competitive and readily available. For more information, including a high-resolution photograph, contact: Robert Derringer at bob.derringer@ledil.com.
ABOUT OSRAM OPTO SEMICONDUCTORS
OSRAM AG (Munich, Germany) is a wholly-owned subsidiary of Siemens AG and one of the two leading light manufacturers in the world. Its subsidiary, OSRAM Opto Semiconductors GmbH in Regensburg (Germany), offers its customers solutions based on semiconductor technology for lighting, sensor and visualization applications. OSRAM Opto Semiconductors has production sites in Regensburg (Germany) and Penang (Malaysia). Its headquarters for North America is in Sunnyvale (USA), and for Asia in Hong Kong. OSRAM Opto Semiconductors also has sales offices throughout the world. For more information go to www.osram-os.com.
Contact
Robert Derringer +1.908.216.2377
E-mail:bob.derringer@ledil.com
Web Site:www.ledil.com