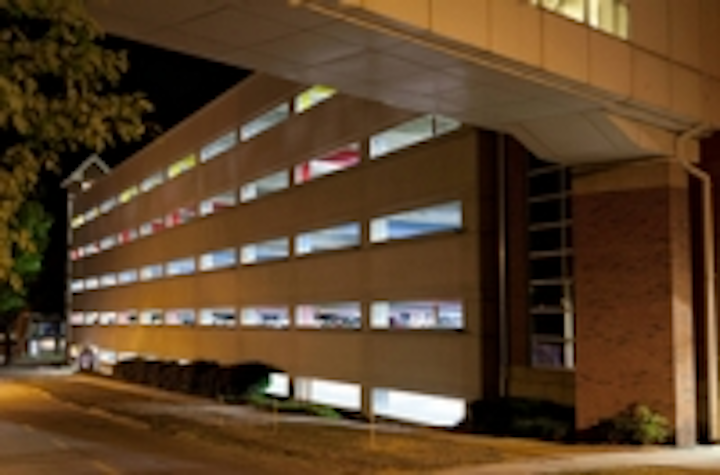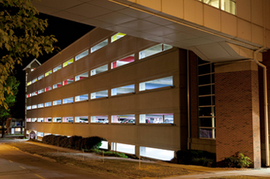 Date Announced: 05 Dec 2011
For more than a century, Advocate BroMenn Medical Center in Normal, IL, has been in the business of adding days to the lives of its patients. These days, the hospital is even extending the life of its parking garage lighting, with help from local utility company, Ameren Illinois, ActOnEnergy® program and CREE® LED luminaires.
Like most parking garages, the six-deck garage serving Advocate BroMenn is lit around-the-clock for safety reasons. This heavy energy usage makes it an area ripe for efficiency improvements. "The lighting in our parking garage operates 24 hours a day, seven days a week," says Dwight Hill, Director of Facilities Management. "To make matters worse, our metal halide lighting was expensive to operate and maintain, so I saw an opportunity for a lighting upgrade."
To make the most of that opportunity, Hill turned to a powerful combination: high-efficiency BetaLED lighting technology and the ActOnEnergy program.
The estimated annual energy savings of 325,000 kilowatt-hours helped justify the project's $180,000 costs. Nearly $23,000 in cash incentives from the ActOnEnergy program sealed the deal and shaved six months off the project's payback period. Hill applauds the ActOnEnergy program and credits Springfield Electric, an ActOnEnergy program ally, as a helpful resource throughout the process.
With the help of Springfield Electric Advocate BroMenn replaced more than 250 metal halide (MH) fixtures with 304 Series™ luminaires in early 2011. The upgrade reduced energy consumption from 205W per fixture to 71W per luminaire, an estimated 65 percent reduction in energy!
As an added benefit, the CREE® luminaires produce a more attractive, natural light and superior uniformity than the previous metal halide (MH) lighting solution. The LED lighting provides near-maintenance free, reliable performance in even the most extreme conditions. As Hill says, "They perform well in extremely cold temperatures and the quality of light is better – it's a whiter light."
Equally attractive is the effect the LEDs will have on the hospital's bottom line. The kilowatt savings alone will translate into dollar savings of roughly $32,000 every year. Plus, the long-lasting LED lighting will save more than $13,000 every year in reduced maintenance costs. "We were replacing our metal halide bulbs as often as twice a year," says Hill. With more than a decade of expected near-maintenance free performance, the LED lighting will lighten the load on hospital maintenance staff.
"Everybody loves savings," says Hill. "I actually look forward to getting power bills now to see how much we've saved."
Benefits:
• 325,660 kilowatt-hours saved annually
• $32,000 annual reduction in energy costs
• Estimated 65 percent reduction in annual energy consumption
• $13,000 annual reduced maintenance costs
Contact
Christine Schultz Marketing Manager Cree, Inc. 800-236-6800
E-mail:Christine.Schultz@Cree.com
Web Site:www.BetaLED.com