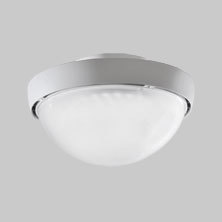 Date Announced: 07 Jun 2011
Gurnee, IL - Kenall Manufacturing, a leading provider of commercial lighting solutions, today announced the launch of TekDek LED luminaires and the SmartSense control system for use in parking structures. The Kenall TekDek series has been designed to reduce hazardous glare and light trespass, while providing desirable vertical illumination, visual comfort and uplight. Additionally, TekDek with SmartSense provides an accelerated return on investment with a possible payback of less than two years, or better with utility rebates and federal tax incentives.
The TekDek luminaires utilize a lensed design with unique, patent pending heat sink technology to keep the LED drivers and components cool, extending component life. TekDek's highly desirable uplighting component eliminates the problematic 'cave effect' visible in many of today's parking garages. TekDek is available in seven different optical distribution patterns, providing a wide range of photometric options. Also available in any of nine different LED engines with three different LED color temperature and three different power ratings for each, TekDek is capable of delivering up to 9084 lumens at 81 lumens per watt.
Ideal for retrofit installations, TekDek provides a highly effective replacement option for dated, less energy efficient lighting fixtures. Kenall's revolutionary new SmartSense control system combines the intelligent use of daylight and occupancy sensing, enabling light levels within the garage to dim down to 50% or greater during unoccupied periods and/or in response to adequate ambient daylight. Because the SmartSense control system utilizes an 'all on' advanced placement of light rather than the cascading effect of most other control systems, vehicle and pedestrian safety are greatly enhanced. The system utilizes 0-10 volt dimming, is self-commissioned with the push of a button, and indicates when LED end of life (L70) has been reached. With a comparatively low cost of entry, SmartSense not only represents a compelling return on investment but also tremendous energy conservation and a reduction in carbon footprint.
TekDek's unique combination of features, highly desirable in the parking garage environment but unavailable until now, makes Kenall the most intelligent choice for parking garage illumination in today's marketplace.
For additional information on Kenall's new TekDek and SmartSense products, contact us by phone at (847) 360-8200.
About Kenall Manufacturing
Kenall Manufacturing, located in Gurnee, IL, produces and supports high quality and durable lighting solutions for the most demanding environments. Since its inception in 1963, Kenall has been known for superior quality, exceptional value, and durable solutions, and it is proud to provide sealed lighting for containment or clean spaces, security lighting for detention facilities, and specialized healthcare and transportation applications. Kenall products are manufactured in the USA and meet the guidelines established under the Buy American Act and the North American Free Trade Agreement.
Contact
Joanne Cummins Phone: (847) 263-6067
E-mail:jcummins@kenall.com
Web Site:www.kenall.com