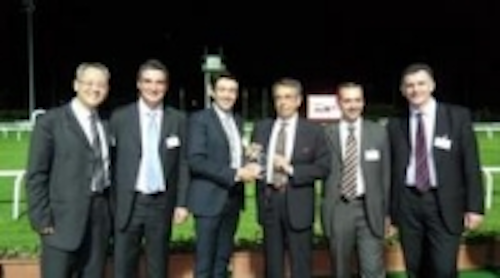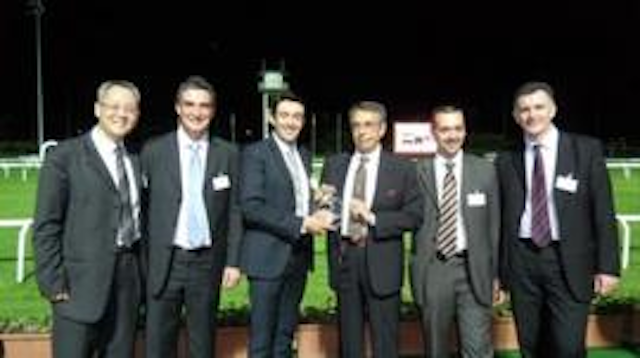 Date Announced: 20 Jun 2011
Seoul Semiconductor (SSC), one of the world's leading providers and innovators in the LED technology, is the winner of the Assodel Awards 2011 in the category of LED. The award of the Italian Association for electronics suppliers (Associazione Nazionale Fornitori di Elettronica), an important European industry event, was presented on June 17th, 2011 at the Gala Assodel in San Siro, Italy.
"We are very proud of this official recognition from our Italian partners, this confirms our business strategy to focus on customers and customer satisfaction", says Manuel Zarauza, Managing Director of Seoul Semiconductor, who accepted the award. "A fair cooperation with manufacturers, distributors and partners is and remains the basis of our everyday work. That's why we focus on our core business, in particular the development and manufacturing of high-performance and innovative LEDs."
Presentation of the 9th Assodel award
Since 2003 the Assodel award has been given annually to manufacturers in the electronics industry who are honored for their excellent quality in collaboration and distribution. The award is presented in nine regular categories of active components, passive components, connectors, electromechanics, LED, visualization, RF & wireless, power and instrumentation. Additionally, there's an award for lifetime achievement. This year, the winners are based on reviews of the electronics industry, mainly distributors, but companies from the field of design or construction were taken into account as well. Seven criteria have to be met including technical, commercial and logistics support, but also communication, quality of products and business relationship as well as distribution policy.
Picture from left to right:
Min-Su Son – SSC – Sales & Marketing Manager / Southern Europe
Guido Grimaldi – Acsel – Line Manager Seoul Semi
Manuel Zarauza – SSC – General Manager
Renzo Leva – Acsel – President
Carlo Romiti – SSC – Sales Manager Italy
Domenico Ballari – Acsel – Managing Director
About Seoul Semiconductor
According to the 2011 LED market reports issued by IMS Research in the U.K. and Strategies Unlimited in the U.S., SEOUL SEMICONDUCTOR is the world's fourth largest LED supplier, holding more than 6,000 patents. The company owns a wide range of LED technology and production capacity in areas such as deep UV LEDs and non-polar LEDs, as well as Acriche, the worlds first commercially-produced AC LED. Based in Seoul, South Korea and with a large global presence, the manufacturer builds high-quality LED products and sells them through 40 overseas branches (including three local corporations) and 150 domestic agencies and distributors.
Contact
Irene Jellissen Marketing Manager Europe Seoul Semiconductor Europe GmbH
E-mail:info@seoul-semicon.de
Web Site:www.seoulsemicon.com