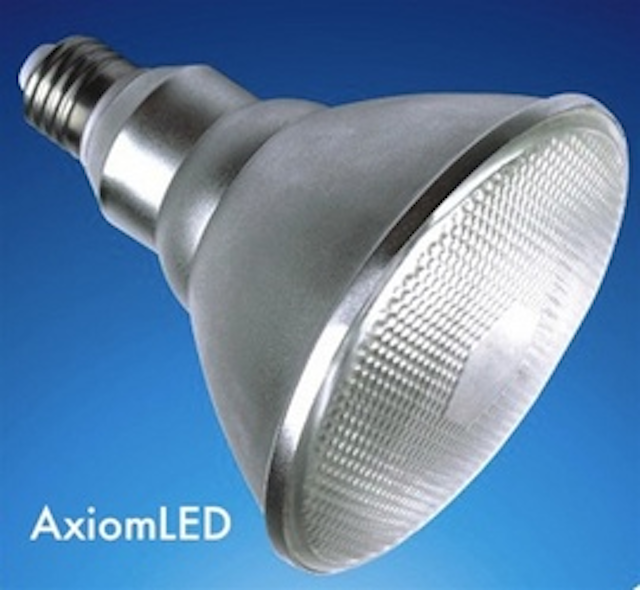 Date Announced: 28 Jun 2011
Las Vegas, NV -- AxiomLED has announced the introduction of a new PAR38 LED Lamp.
The company announced that the new version is brighter, more energy efficient, and even lower cost.
"It is on our company mission to make LED light offerings that are comparable to the lights that they are replacing," commented Manuel Lynch, CEO of AxiomLED.
"We have already shown we can do this with neon, and we recently did it with fluorescent, and now we are doing it with incandescent."
The new AP10W27V120 is a 10 Watt PAR38 lamp with 900-1000 lumen output in 2700K warm white with a Color Rendering Index of 86 or better.
The lamp is priced at $15 on the company's online store, but Lynch says the price in volume is expected to be $12.
The AxiomLED departs from the company's custom PAR38 housing to a conventional housing that looks and feels identical to any PAR38 lamp.
The 120 VAC input light bulb uses Nichia of Japan LEDs with LM80 data showing lifetime in excess of 30,000 hours.
The lamp can be used in damp or wet locations and is IP68 rated. It is designed for use on USA 120 Volt, 60Hz electrical systems only.
Contact
Manuel Lynch
E-mail:mlynch@axiomled.com
Web Site:store.axiomled.com/ProductDetails.asp?ProductCode=AP10W27V120