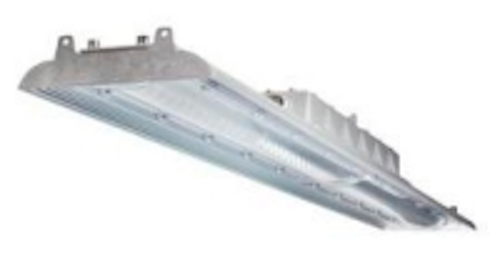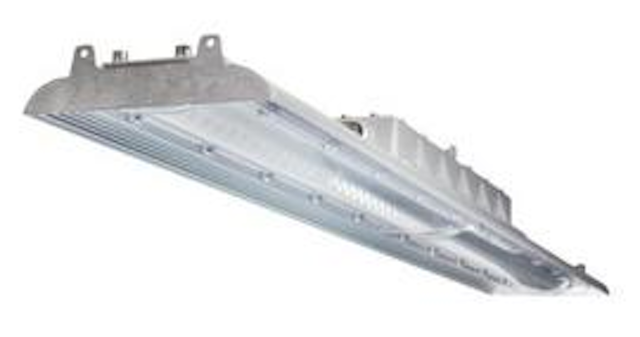 Date Announced: 16 Jun 2011
Farmingdale, NJ – Dialight (LSE:DIA.L), an innovative global leader in LED lighting technology, today announced the launch and immediate availability of its new SafeSite® Series LED Linear Fixture for industrial and hazardous locations. Designed specifically to replace linear fluorescent lighting fixtures, the new SafeSite Linear is the industry's only complete Class I, Div 1 LED fixture with a superior design that offers multiple mounting options and ease of installation with existing wiring.
Delivering 64 lumens per watt, the SafeSite Linear is certified for use in Class I Div 1, Groups C and D hazardous locations and operates on 100-277 VAC. Available in both 2-foot/3,200 lumen and 4-foot/6,400 lumen versions, the SafeSite Linear can slash maintenance costs versus traditional fluorescent lighting and offers a much lower total cost of ownership.
The new fixture offers a lighting power density of less than 1 watt per square foot and a power factor greater than .95 for improved energy efficiency. A Total Harmonic Distortion (THD) of less than 15 percent reduces radio frequency interference.
Backed by Dialight's industry-leading five-year Peace of Mind warranty, the SafeSite Linear Series is guaranteed to deliver years of reliable, continuous operation, eliminating the need for frequent bulb changes common with traditional fluorescents.
"The rugged, yet lightweight, solid state design of this product is evidence of our commitment to innovation that yields the most durable, long-lasting LED lighting solutions for harsh environments," said Roy Burton, Dialight's Group Chief Executive. "The fact that it is built right here in the U.S.A. at our Roxboro, North Carolina facility is an even greater advantage for stimulus-funded projects looking to take advantage of the Buy American Act."
With a CRI rating greater than 70, the SafeSite Linear provides cool white light at 6000K CCT, offering superior visibility compared to traditional HID. Dialight's Active Temperature Compensation technology safeguards against overheating and prevents failure under extreme conditions to provide an operating range of -40°F to +133°F. Precise optic system design directs light to the target illumination area, reducing light spill.
This linear fixture is the newest member of Dialight's SafeSite Series of rugged and reliable LED solutions that includes interior and exterior illumination products. Additional linear certifications pending include: ATEX Zone 1, IECEx, Class I Div 2 and general industrial (non-hazardous) locations.
SafeSite LED Linear hazardous location fixtures are available through Dialight's global network of authorized distributors. For more information, visit www.dialight.com.
About Dialight
Dialight (LSE: DIA.L) defines the current state of LED lighting technology with continuous innovations in light output, efficacy and reliability for their complete line of high-specification lighting fixtures specifically designed for industrial, commercial, hazardous location, transportation & infrastructure applications. These results are directly related to the company's ongoing commitment to advancing solid-state lighting products that vastly reduce maintenance, improve safety, ease disposal, and are more environmentally friendly – thereby helping to reduce CO2 emissions, the dominant GHG contributor to global warming. The company is headquartered in the UK with operations in the USA, UK, Denmark, Germany and Mexico. More information about the company, its LED products and solid-state lighting technologies can be found at www.dialight.com.
Contact
Megan McCue SSPR (609) 750-9140 - Direct (609) 750-9116 - Fax
E-mail:mmccue@sspr.com
Web Site:www.dialight.com