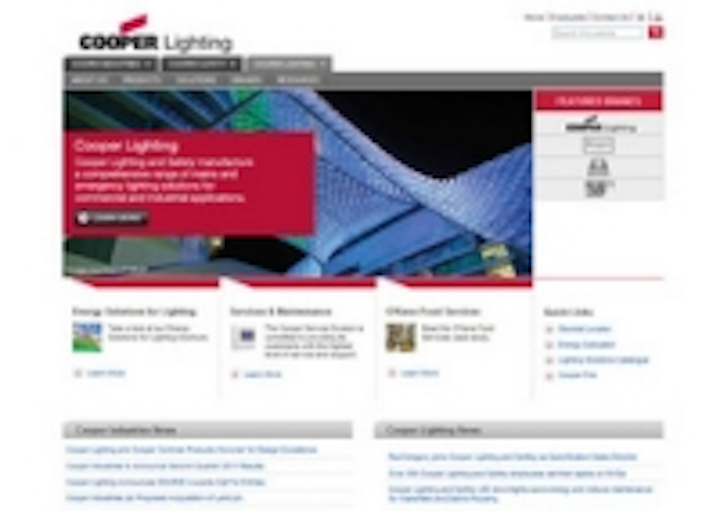 Date Announced: 29 Sep 2011
Cooper Lighting and Safety, an operating unit of Cooper Safety, has carried out a major upgrade of its website www.cooper-ls.com. In addition to a complete redesign which makes it easy to navigate, there are also several other useful new features to benefit from.
Those seeking information on the company's wide range of commercial and emergency lighting products now have two easy-to-use options. Choose between a digital page-turning version of the company's Lighting Solutions catalogue or simply click on an individual product image to view or download a PDF version of the catalogue's pages.
One of the other new features appearing on the website is a stockist finder facility. This will identify approved distributors of Cooper Lighting and Safety products in any chosen region. Also appearing for the first time is an energy calculator. This handy tool can be used to calculate the total cost of ownership of LED downlights compared to the traditional compact fluorescent alternatives. All of these great features are conveniently located on the home page under the Quick Links panel.
The Services and Maintenance section of the website has been significantly expanded to provide detailed information about the wide range of services available from Cooper Lighting and Safety. These include training, system installation, commissioning, certification, testing, maintenance and technical support.
The latest news from both Cooper Lighting and Safety and parent company Cooper Industries plc is now displayed on the home page, together with links to the websites of all other Cooper Industries divisions.
Contact
Tel: +44 (0)1302 303200
E-mail:info@cooper-ls.com
Web Site:www.cooper-ls.com