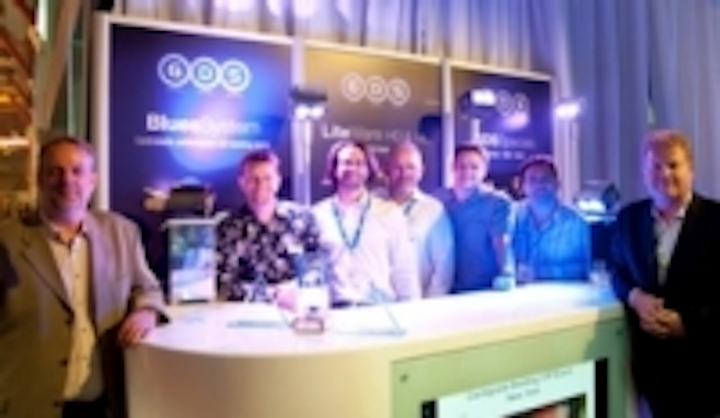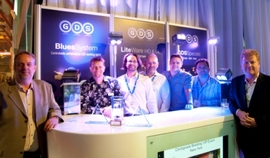 Date Announced: 19 Sep 2011
Multi-award winning UK manufacturer GDS has reported phenomenal success at this year's PLASA show held at the Earls Court Exhibition Centre. GDS reported a high footfall over the four day event with particular interest being paid to the newest addition to the highly successful LiteWare Range, LiteWare Satellite and the new ArcSystem, LED Auditorium Lighting System.
Sunday saw the eagerly awaited launch of the LiteWare Satellite, following a successful teaser ad campaign customers flocked to the GDS stand to see its latest offerings. LiteWare Satellite is the newest member of the LiteWare family and provides a completely flexible new way of thinking for battery based Luminaries, it incorporates a remote, fully adjustable head offering 360 degree pan and 180 degree tilt.
Monday and Tuesday continued to deliver success for GDS with ArcSystem winning an unprecedented three awards; the PLASA Award for Innovation, the special PLASA Sustainability Award and the Theatres Trust People's Choice Award for the second year running. PLASA's independent judging panel felt "the ArcSystem will have a significant impact on the carbon footprint of the buildings it is utilised in, and provides an elegant replacement house light system".
Matt Lloyd Managing Director GDS commented: "PLASA 2011 has been an enormous success for GDS, it is always a key show for us as this year was no different. The stand was extremely busy with a great mix of new and existing customers. We secured an increase in our global distribution and were delighted to receive three awards for our new LED auditorium lighting system ArcSystem."
He added: "GDS has undergone many exciting changes in the past few months with the appointments of Chris Patton as Head of US Operations, Nick Read as Head of Special Projects, the promotion of Andy Duffield to Sales Manager for EMEA and the launch of two new product ranges, PLASA has been a great forum for us to bring it all together."
GDS is a multi-award winning UK Manufacturer with a diverse range of technology-based products. Based in Bristol with offices in the US, GDS specialises in lighting and control solutions and has seven innovative brands in its product portfolio. In addition GDS has recently launched a special projects division offering a manufacturing solution for any one off application for entertainment, television, corporate and permanent installation.
Pictured: Ed Pagett - Chairman PLASA, Nick Read - Head of Special Projects GDS, Richard Cuthbert - Technical Director GDS, Andy Duffield - Sales Manager EMEA GDS, Chris Patton -Head of US Operations GDS, Matthew Lloyd - Managing Director GDS, Matthew Griffiths – CEO PLASA.
Contact
For more information visit www.gds.uk.com, or contact the sales team on 0117 3250063 - salesuk@gds.uk.com. For all US inquiries please contact salesus@gds.uk.com or the GDS US distributor ACT Lighting on +1 201 996 0884.
E-mail:salesuk@gds.uk.com
Web Site:www.gds.uk.com