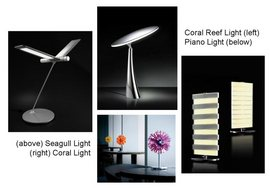 Date Announced: 22 Sep 2011
With more than 400 exhibitors, more than 100 of them being new to the event, this year's
100% Design
will showcase hundreds of interior design and architectural product launches from various emerging and established talent, offering innovation, inspiration, and originality.
At the show, which takes place at Earls Court, London, on September 22-25, 2011, there will be 12 exhibitors showcasing their designs from Taiwan. Led by Bright Ideas Design Co. Ltd., one of Taiwan's finest digital content development companies, visit
stand E38
for some of Taiwan's most creative designer homeware, and architectural and decorative lighting.
Products from two LED-lighting companies are highlighted below:
Yantouch Corporation
The award-winning "JellyFish" mood lamp has been designed to produce stunning colour effects. Single or combinations of colours can be selected from a spectrum of 16 million colours generated by bright RGB LEDs, which have touch control for your convenience. View images of the
Yantouch JellyFish
.
This environmentally-friendly, electricity saving lamp can be controlled much like a colour-changing jellyfish, meaning you can adjust the atmosphere of your world at any time according to your mood. A built-in LED gives out strong and sharp colour-transforming light, and is encased within a round domed transparent shell, lighting up your life much like a "JellyFish."
For more information on the company and its products, please visit:
www.yantouch.com
.
Qisa Corporation
The Qisda LED lamps – see image – have been awarded the Red Dot for innovative designs and unique functions, providing lighting fixtures that cater to both the aesthetic and functional needs of its consumers.
The Coral Light, an LED lighting fixture, is inspired by the exquisite corals in the ocean. Imitating how natural coral reflects rays of light through the living sea, the Coral Light creates a visually mesmerizing effect as it graces a table.
The Coral Reef Light, an LED table lamp, features an adjustable lighting platform, and is activated by a touch dimmer on the stand. Users can turn it on or change the lighting angle by simply tapping on the stand and playing with the lighting platform.
The Seagull Light takes the form of a flying seagull and functions similarly too. In response to the eco trend, the light adopts LED which consumes much less energy. It has two knobs on the main body, the front one for adjusting brightness and the back for adjusting lighting angles.
Inspired by the piano, the Piano Light, an LED lighting fixture, allows users to play the light as if they were playing the piano. Utilizing LED's low-temperature characteristic, which makes it possible to touch the product's surface without being burned, the Piano Light allows consumers to interact with the light.
For more information on the company and its products please visit:
www.qisda.com
.
Taiwan's Creativity, Culture, and Technology: All in one!
Taiwan's strength lies in combining high-end design with advanced technology, as can be seen in its recent developments in the LED industry.
Hence, in order to make the UK market more aware of Taiwan's creative potential through the latter's application in the LED industry and its lighting products, the Taiwan Trade Centre has decided to cooperate with 100% Design's Taiwan exhibitors, as well as several well-established Taiwan LED suppliers and worldwide media sponsors such as LEDs Magazine, the largest professional B2B LED industry magazine in the world, to present to the LED and creative industries a uniquely creative and high-tech event.
"
Taiwan LED Lighting Exhibition- Lighting up UK, Switch on to a brighter future!
" will take place on October 27 to 29 at GuSu Gallery, London west-end's only modern high-end Taiwanese art gallery.
For more information on the Taiwan Trade Centre's LED exhibition, and to register your interest, please visit our main event page or you can call us on 020-7638-4676. A formal invitation shall then be sent to registered guests by post.
Contact
Register for Taiwan Trade Centre's LED exhibition using the URL below. Tel. 020-7638-4676
Web Site:london.taiwantrade.com.tw/event/signup.jsp?id=1583&lang=en_US