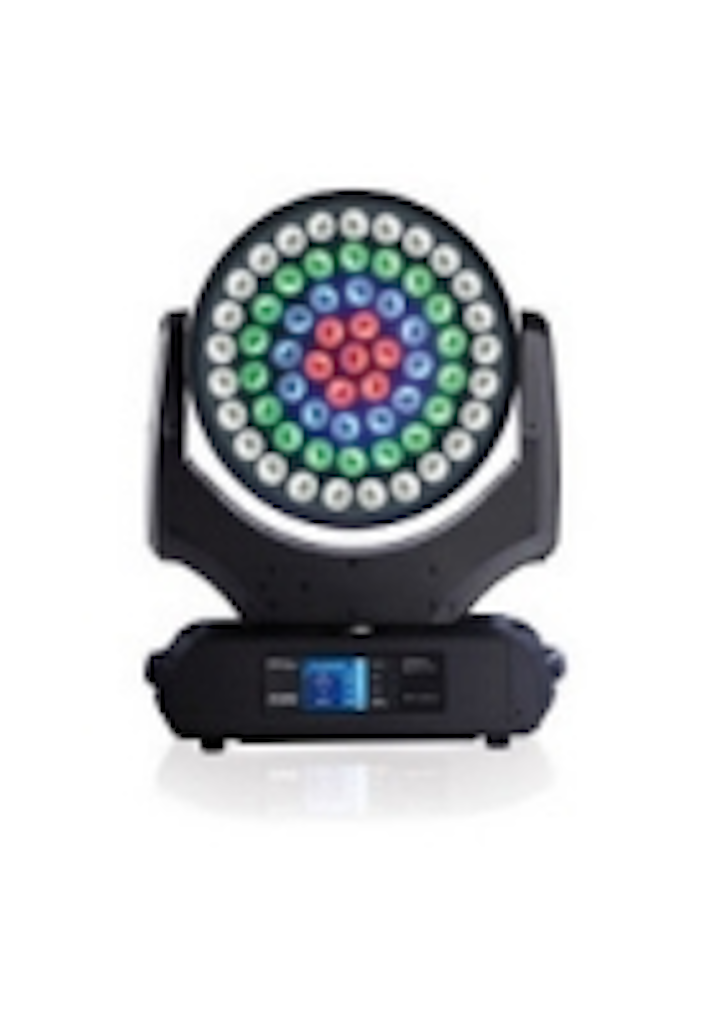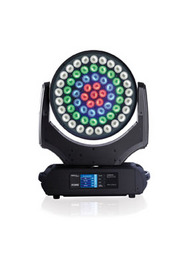 Date Announced: 02 Sep 2011
PLASA stand 1-F47
-- PLASA 2011 continues a hugely exciting year for the Czech Republic based manufacturer which launches two important and unique new LED products - the ROBIN 1200 LEDWash, and the ROBIN DLX Spot, and previews the upcoming ROBIN 'Sniper' - a mega-bright beam fixture.
All are in line with the company's ongoing "Think of the Future - Consider Nature" commitment to producing genuinely more sustainable and greener technology which takes up less truck space, reduces weight loading on trusses, is quicker and simpler to rig and draws significantly less power than conventional lightsources - without compromising on brightness, features or functionality.
Robe also highlights how it is streamlining its own production processes to reduce its carbon footprint and overall environmental impact.
"Think of the Future - Consider Nature" - Think Robe
Launches:
ROBIN 1200 LEDWash
The super-slim, mega-bright ROBIN 1200 LEDWash utilises the same multichip RGBW LEDs as Robe's Award-winning ROBIN 600 LEDWash and the smaller ROBIN 300 LEDWash, in an intensely bright package featuring 61 x LEDs in total, arranged in four concentric rings.
It is a truly multi-purpose luminaire, with the scope and dynamics to be used for the creation spectacular kaleidoscopic patterns and effects - through individual control of the four LED rings - as well as for washing large surfaces areas and objects with a really bright, completely even, high quality lightsource.
Advantages include fabulously smooth mixing, a full set of true whites, a wide selection of real and delicate pastels and a fully homogenised light engine with absolutely no shadows. A versatile 15 - 60 degree motorised zoom adds to the flexibility, together with fast strobing and a selection of pre-programmed pulse strobe effects, variable speed strobe and the possibility of zoning the individual strobe effects.
Other advantages include an LED life expectancy of 60,000 hours, low ongoing maintenance costs, light weight of 17Kgs and a power consumption of 620 VA at the maximum (typical power consumption is 320 VA), so low running costs as well, plus a substantial saving in studios and other temperature sensitive environments which generally need a lot of AC to make it comfortable.
A virtual colour wheel offers 237 colours including a full range of whites from 2700 - 8000°K, and emulation of classic tungsten behaviour including red effect and thermal delay at 2700 and 3200°K.
Supported protocols include DMX-512, RDM, ArtNet, MA Net and MA Net2 and wireless CRMX™ technology from Lumen Radio is included as standard.
The ROBIN 1200 LEDWash is the perfect complement to Robe's current LEDWash 300 and 600 series' and follows Robe's pioneering 'smaller-brighter-lighter' design model. It is ideal for all applications needing powerful and adaptable lightsources drawing less power.
ROBIN DLX Spot
The ROBIN DLX Spot is the world's first LED based spot moving head to utilise an RGBW LED light source, harnessing the full power and incredible dynamics of the technology.
The output - when in colours - is higher in intensity than a 575W discharge source unit, but with an average power consumption of just 260 Watts, following Robe's commitment to producing genuinely more energy efficient product lines.
Unlike conventional discharge lamp fixtures, the DLX doesn´t have a traditional CMY/CTO colour mixing module and a colour wheel to generate colours. All colours are produced by the new RGBW LED light engine, which provides fantastic colour mixing with wide selection of hues ranging from delicate pastels to rich saturates.
A special virtual colour wheel offers a selection of true whites from 2700°K to 8000°K and wide range of pre-programmed colours. In the halogen lamp mode which is predefined for whites at 2700°K and 3200°K, the dimmer channel imitates halogen lamp-like behaviour with red effect and thermal delay.
The 10 - 45 degree zoom adds another raft of possibilities and enhances the practicality of the fixture in all applications.
The impressive features list includes a static gobo wheel with 9 replaceable slot-and-lock dichroic and glass gobos plus open, and a rotating gobo wheel with 7 slots and open, which will accommodate dichroic and glass gobos. There is also a motorised iris and a 3-facet indexable prism which will rotate in both directions at different speeds. A separate variable frost effect gives additional diffusion options.
In physical height and size, it is close to the ROBIN 300/600 Spot/Wash/Beam series, and weighing just 21.7 Kgs, it is highly practical for situations where weight loading and rigging are an issue. Fixtures can be neatly flight-cased together to fit a modular truck pack.
The ROBIN DLX Spot will be perfect for all disciplines of lighting - concerts, touring, live events and all types of installations wanting powerful, carbon conscious solutions - bringing all the advantages of LED lighting - including long life, low maintenance and expedient power consumption.
Previewed for the first time: ROBIN SNIPER *
Previewed will be the amazing, intensely bright ROBIN Sniper. This is a new mega-bright beam fixture, producing a super-tight parallel 230 mm fat beam.
The fixture uses the same Philips Platinum 35 lamp as the ROBIN MMX Spot and Robe's hot-rodded optics - including dichroic glass reflector - produce a staggering 250.000 Lux at a 10 metre distance, 10,000 Lux at 50 metres or 100 Lux at 500 metres !!!
The Sniper is truly THE next generation of beam lights for use on big stages, at large events and in venues, stadiums or open spaces. It is replacing the old Xenon lamp based products with a power consumption of around 2 KW, and draws only 950W of power in total .... weighing just 25.5 Kgs.
Features include a CMY/CTO colour mixing system, a colour wheel with 7 replaceable "SLOT&LOCK" dichroic filters and open, a Static Gobo wheel containing 7 black and white gobos and open; a Rotating Gobo wheel offering 7 rotating, indexable, replaceable "Slot & Lock" dichroic and glass gobos plus open, an 8-facet rotating indexable prism, a separate variable frost effect and a separate, variable Dimmer/Shutter; a full range of dimmed strobe effects, the awesome electronic strobing "ZAP" effect and a fully motorized focus.
(*preliminary specification)
ROBIN MMX Spot
"Time For A New Vision" - Launched at Prolight+Sound, Frankfurt 2011, this amazing new fixture is the next generation of 1200W Spot fixtures and the first in a inventive new series of Robe moving lights designed to the smaller-brighter-lighter specification, more energy efficient and in keeping with the whole ROBIN (Robe Innovative Technology) ethos.
The MMX Spot is compact, lightweight and has a small base. The lightsource is the innovative Phillips high pressure MSR Platinum 35 lamp, and combined with a sophisticated optical system, the MMX Spot is the true equivalent of any current 1200W Spotlight moving head.
In some features, the MMX is as bright as a 1500W spotlight and simultaneously energy saving – consuming about 30% less power than the current 1200W products.
Its main features include a unique Dual Graphic Wheel (Patent pending) that can create the most stunning and intricate animation effects.
There are also two Rotating Gobo wheels, each with 7 SLOT & LOCK gobos + open, an extremely fast motorised iris and full CMY colour mixing, with variable CTO plus a colour wheel offering 7 dichroic filters + open.
The zoom range is a versatile 8.5 – 46.5 degrees and there is a 'hot-or-not' remote hot-spot control which can be tweaked to the desired look. A separate variable frost effect offers handy diffusion options and a 5 facet, rotating and indexable prism can be used for funky, mind-boggling moments.
The variable strobe effect is fully dimmable and the Robe's very popular electronic strobing 'ZAP' effect is also available
For all this power, flexibility and features, the MMX Spot weighs just 25.5 Kg, keeping up its green and multi-application credentials.
ROBIN 300 LEDWash
Following the massive success of the ROBIN 600 LEDWash, Robe's fastest ever selling product, came the 300 version which is even smaller and neater in construction, with all the fantastic features of the 600 at a highly competitive price.
The ROBIN 300 LEDWash is ideal for smaller installations of all types and places where space is at a premium, and heat is an issue as the efficient thermal cooling system ensures that heat emissions are minimal. Everyone will love the 8.2 Kg weight.
Made with the same Cree 10W multichip RGBW LEDs as the 1200 and 600 LEDWashes, it offers the same fabulous colour mixing and homogenisation qualities, plus true whites with a selection of pre-programmed colour temperatures (2700, 3200, 4200, 5600 & 8000K). There is also the option to simulate tungsten lamp behaviour when dimming and switching off, complete with 'red effect' and thermal delay.
A variable speed rainbow effect in both directions can be run on the LED rings and there is also a variable speed strobe effect,
ROBIN 600 PureWhite
The ROBIN 600 PureWhite is a white version of the LEDWash 600, specifically designed for applications like TV, theatres, exhibitions and conferences and anywhere needing a high quality, low powered white light with no hot spots and all the features and functionality of a moving light – like pan/tilt & zoom etc., and a fast 15 - 50 degree motorised zoom.
Three versions are available – cool white (CW) at 6500K, warm white (WW) at 3000K and Smart White (SW), which is variable from 2800 – 6300K. The LEDs are arranged in three concentric rings for full and even coverage.
The lightsources are 37 Cree MC-E LED multichips. The ROBIN 600 PureWhite has a fully homogenized light engine with no shadows or pixelation, producing a beautiful, smooth and rich '3D' quality of light throughout the full beam path. The combination of the Cree multichips and Robe's lens optimization enables perfect whites to be produced by the ROBIN 600 PureWhite series.
Used as a traditional white light source, the ROBIN 600 PureWhite has the potential to dramatically reduce heat output in studios, emitting virtually none due to its advanced cooling management.
Costs will be further slashed because less AC will be required to keep studios at comfortable working temperatures.
LED Ring control, dimming and other features and effects are all similar to Robe's Award winning ROBIN LEDWash 600 RGBW, making this a massively versatile ground breaking addition to Robe's ROBIN range.
(RUNIT) WTX
Robe's Universal Interface (RUNIT) WTX is a neat, very stable wireless solution for any network supporting Windows 7, 98, ME, 2000, XP, Vista, Server 2003 and Linux operating systems.
Its functions include as a USB/DMX convertor, to provide fixture software updates and for bringing RDM communication protocols into DMX 512 control systems to facilitate fixture status monitoring, personality setting and auto-patch. It is also a general interfacing between DMX and RDM networks.
CityLine 48
The latest Cree multichip LED technology is harnessed in these powerful LED battens with an unbeatably strong and uniform light output, suitable for all applications needing large areas washed with smooth and beautifully coloured light. Built in a durable aluminium housing with IP 65 rating with embedded power supply unit, the bright multichip LEDs are calculated to create ideal colour mixing in a single-point-source definable pixel pitch.
Quietly convection cooled, control protocols like DMX and RDM allow easy setup via the Control display screen, and daisy chaining of DMX and power lines is possible via Powercon connectors. An integrated universal mounting system enables the CityLine48 to be floor mounted or hung in any position on walls or trusses.
The standard beam angle is 24°, with 38 x 24° as optional. Other features include white balance adjustment, virtual colour wheel with pre-programmed colours including whites, a 4 digit LED display, 2 - 8 DMX control channels with RDM support and three user-editable programmes up to 68 steps each. It will work in stand alone mode, DMX and master/slave operation.
CityFlex 48
CityFlex 48 is a great innovation. Using the Cree RGBW multichip LED technology, these powerful customizable units with an unbeatably strong and uniform light output are suitable for any application. The unique design (patent pending) allows multiple lighting formats from one fixture - be it a compact floodlight format, traditional linear LED format or a variety of different angled options. The fixture´s incredible flexibility means previously unobtainable effects are now available ..... from a single unit.
Housed in a durable aluminium casting IP 65 rated, the CityFlex48 is fitted with bright multichip LEDs that create excellent colour mixing in single-point-of-source with definable pixel pitch. A universal mounting system gives multiple rigging options for floor, wall or on to trussing . A separate quiet convection cooled control unit running via DMX, RDM and other protocols allows easy setup via control display screens, while DMX and power lines can be daisy chained via Powercon connectors.
DigitalSpot 3500 DT
The new Robe DigitalSpot 3500DT is a more powerful, enhanced version of the very successful DigitalSpot 3000DT, retaining all the best loved features of the original unit, together with a host of new ones.
Combining the technologies of a moving light and video projector, Robe produces another powerful tool for their Digital Series.
Features include :
• BenQ MX 660 projector using TI® DLP® technology featuring:
• HDMI video input
• Contrast Ratio of 5000:1
• 3200 ANSI lumen light output
• Power off and on via DMX
• High quality easily readable VGA Menu display
• Options for DVI/VGA or SDI/ASI grabbing cards
• Composite video input via BNC connector
• CITP-MSEX protocol, allowing the preview of content thumbnails on DMX desks
• Keystone correction
Also on show at PLASA 2011
Also prominent on Robe's action-packed double-decker stand will be the ROBIN LEDWash 600, 'wonder light' that has broken all sales records for the company in the last year, and the full ranges of Robe's ROBIN 300 and 600 Series of discharge source luminaires - featuring Spot, Wash and Beam versions - along with Robe's innovative DT Series of Digital moving projectors.
The Robe Stand - Going Up In The World
Robe's stand 1-F47 is one of the largest of the exhibition. Additional space is gained this year via a spectacular upper deck, and the whole design features the usual Robe style and flair, complete with a fabulous lighting scheme by Nathan Wan from Robe UK.
For all its impact, lit with Robe's next generation of ROBIN moving light fixtures, the power consumption of the booth is a full 30% less than last year's - which was also substantially reduced from that of 2009!
Underlining Robe's "Think of the Future - Consider Nature" green initiative launched at last year's PLASA, the booth design has strong green elements, complemented with striking green carpets.
The increased size will allow Robe to welcome more visitors, who can enjoy many activities including the full demonstration theatre and multiple product display areas, including a special space for close up examination of the newly launched products.
LED manufacturer Anolis - Robe's sister company - has its own dedicated area within the main Robe booth, integrated into the flow of the design.
The upper desk will be a calm relaxed and chilled out haven for meetings and business, and will also feature a full bar.
Other PLASA activities for Robe will include participation in the STLD (Society of TV Lighting Designers) LED Shootout, both in their Hands On Studio and Lecture Theatre spaces on Booth 1F-60. Robe's latest ROBIN LEDWash moving heads and other fixtures from its dynamic LED range will be holding their own against many other popular and well known brands.
Contact
For more press info. on Robe Lighting, please contact Louise Stickland on +44 (0)1865 202679/+44 (0)7831 329888 or Email 'louise@loosplat.com'. For more product and general info, check www.robe.cz or call + 420 571 751 510
E-mail:louise@loosplat.com
Web Site:www.robe.cz