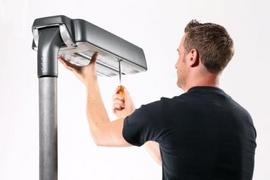 Date Announced: 23 Sep 2011
Lippstadt - Lighting expert HELLA is expanding its Eco StreetLine LED street lighting concept with the addition of the "Twin" luminaire. The new light is particularly suitable for illuminating service roads and bike paths. The Eco StreetLine "Twin" is a side-mounted and top-mounted post luminaire. It comes with two autonomous LED modules adapted to light classes S4 to S6. As the modules are already fully pre-assembled with connection cables and contain all the required technology, they can be replaced easily at any time – ensuring the technology can be continuously updated. Two module types provide demand-oriented asymmetric light distribution parallel or vertical to the lamp body. This flexible light orientation allows you to illuminate in a targeted and efficient way, thereby also reducing light smog.
Using "Twin" LED lights reduces energy consumption by up to 70 percent, which means a reduction in CO2 emissions as well. The Eco StreetLine is an eco-friendly alternative to conventional mushroom lamps. Dimmed mode reduces the power consumption by a further 50 percent. The LED modules have a long service life of around twelve years as well, surpassing traditional street lighting by a considerable margin and contributing to a significant reduction in maintenance costs.
HELLA is now offering four different models in the Eco StreetLine range with the addition of the "Twin" luminaire: the multi-award winning "Square" top-mounted post luminaire, which is used primarily in school playgrounds, sports facilities and at prestigious locations; the Eco StreetLine "Case" model which is used to illuminate major thoroughfares, commercial zones and industrial facilities; and the "Park" model which, as the "Twin" model, is used primarily to illuminate service roads and bike paths.
HELLA KGaA Hueck & Co., Lippstadt: HELLA is a globally positioned, independent family-owned company with 25,000 employees at 70 locations in more than 30 countries. The HELLA Group develops and manufactures lighting and electronic components and systems for the automotive industry, and also has one of Europe's largest trade organizations for automotive parts, accessories, diagnosis and services. Complete vehicle modules, air-conditioning systems and vehicle electrical systems are produced in joint venture companies. With more than 3,800 people working in research and development, HELLA is one of the most important innovation drivers in the market. In addition, with sales of 4.4 billion euros in fiscal year 2010-2011, the HELLA Group is one of the top 50 automotive parts suppliers in the world and one of the 100 largest German industrial companies.
Contact
HELLA KGaA Hueck & Co. Dr. Markus Richter Company Spokesperson Rixbecker Straße 75 59552 Lippstadt Germany Phone: +49 (0)2941 38-7545 Fax: +49 (0)2941 38-477545
E-mail:Markus.Richter@hella.com
Web Site:www.hella.com