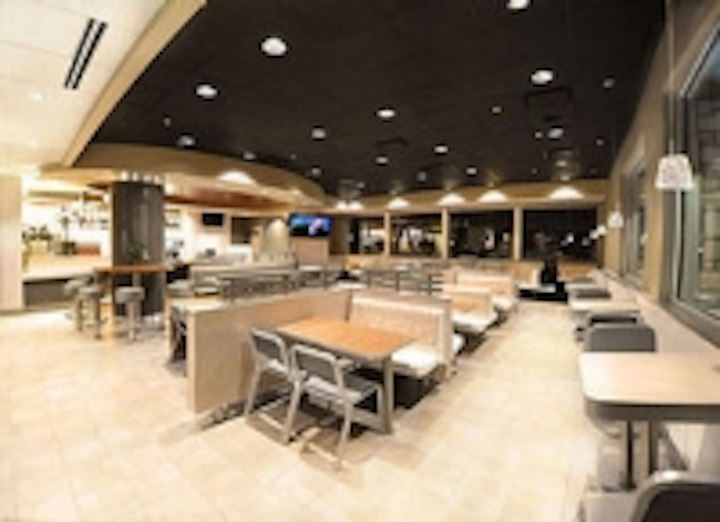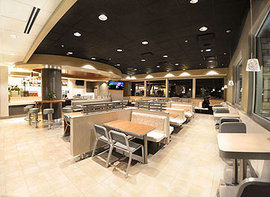 Date Announced: 28 Sep 2011
Baltimore, Md. – The new McCafé McDonald's® franchise in Dundalk, Maryland is using Xicato Spot Modules. With deployment of both Wila downlights and Duraguard wall packs selected by Energy One Corp.com, the store is testing the next generation of high quality LED lighting. The franchise owner wanted a sustainable, energy - efficient lighting solution while providing a warm and inviting look and feel to the newly built store.
The Xicato 2000 lumen, 3000 CCT XSM module in a Wila 621 LED downlight was selected by Energy One Corp.com, the company charged with specifying and installing the lighting for this store. Energy One also specified Xicato modules in the outside wall packs manufactured by Duraguard, making the entire store an LED installation, with the exception of the induction-lit parking area.
"The franchise owner has very exacting requirements and is known as a thought leader in the Baltimore area," said Gus Apostolou, technology engineer of Energy One Corp.com. "In order to provide energy savings, eliminate the mercury used in CFLs and provide a better quality of light, the natural selection was the Xicato module delivered in the Wila and Duraguard fixtures."
The original specification called for 54W CFL fixtures in the dining room and food delivery area. These were replaced with 36W Xicato modules, which yielded energy savings of 61,484.69 kWh/year. Additionally the Xicato module contains no harmful mercury that is present in CFLs and it is rated to last 50,000 hours, compared to a CFL's 10,000 hours, making Xicato a maintenance-free solution. Energy One Corp.com also procured rebates for the energy- efficient installation, resulting in a payback of $5,533.62 annually, excluding the additional savings that will accrue from the HVAC air handling system as a result of lower heat loads.
The quality of light is a critical component of this upgrade. As McCafé color schemes became warm and inviting, the lighting was selected to match. A 3000 Kelvin Color Temperature was employed rather than typical 3500 Kelvin. The tight color point consistency and natural light of the Xicato module provides a rich, warm look that helps accentuate the finishes and earth tones selected for use throughout the store.
"The store lighting has created an inviting atmosphere where customers feel comfortable and safe," said Chris Mann, franchise owner. "The quality of light delivers the right look and feel and the fixture design integrates perfectly into the store."
About McDonald's®
McDonald's USA, LLC, is the leading foodservice provider in the United States serving a variety of wholesome foods made from quality ingredients to millions of customers every day. More than 80 percent of McDonald's 14,000 U.S. restaurants are independently owned and operated by local franchisees. There are more than 136 McDonald's restaurants in the Greater Baltimore area. For more information on McDonald's visit www.mcdonalds.com or log on at any of the 11,000 Wi-Fi enabled McDonald's U.S. restaurants. Please visit us on Twitter at MCD_CharmCity and on Facebook at:
https://www.facebook.com/McDonalds?v=app_181546860796
About Energy One Corp.com
For more information, please visit www.energyonecorp.com.
About Wila
For more information, please visit www.wilalighting.com.
About Duraguard
For more information, please visit www.duraguard.com.
About Xicato
Xicato is a Solid State Lighting company founded by seasoned industry professionals with offices located in Silicon Valley, California (HQ), London and Tokyo.
Xicato develops, manufactures and globally markets LED modules that simply are functional replacements for traditional lamp technologies, offering all the life and energy-saving advantages of LEDs with no aesthetic compromises. Xicato provides industry-leading specifications via an open approach with a global circle of leading end-users, specifiers and luminaire manufacturers. Xicato is committed to address the whole broad sphere of the general illumination world, taking on segment by segment with its focus on continuous innovation.
Contact
Europe: Roger Sexton on +44 7525715497 (EU) Japan: Noboru Kaito on +81 50 5534 3168 (Japan) - noboru.kaito@xicato.com North America: Ron Steen on + 1 847 525 5048 (US) - ron.steen@xicato.com San Jose Office: +1 866 223 8395 (US)
E-mail:roger.sexton@xicato.com
Web Site:www.xicato.com