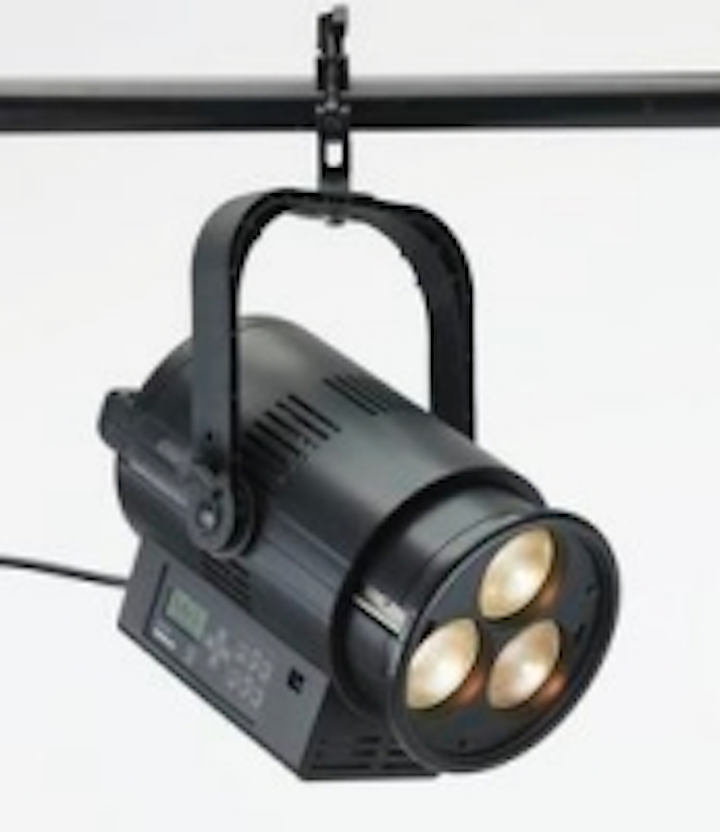 Date Announced: 01 Sep 2011
UK - Philips Entertainment, a Global Business Unit of Philips Lighting consisting of the Philips Selecon, Philips Strand Lighting and Philips Vari-Lite brands, will showcase a selection of its most innovative and successful products at this year's PLASA trade show in Hall 1, Earls Court - stand 1-F50 (11th – 14th September).
Two of the most revolutionary products on display are the Philips Selecon PL1 and PL3 LED luminaires. Driven by the award winning Philips Vari-Lite VLX LED light engine, the first light source to deliver full control of beam colour composition irrespective of intensity, the PL1 and PL3 have been described as 'a breakthrough in theatre and studio lighting'. These focusing luminaires feature an adjustable beam spread from 15-55 degrees, smooth colour mixing and stepless fades; ideal for any entertainment lighting application.
Philips Selecon's new generation of tungsten halogen ellipsoidal luminaires – the SPX range has been called 'evolutionary' and 'outstanding'. They lead the way in energy efficiency enabling customers to reduce electrical consumption by as much as 60 percent compared to prior generations of ellipsoidals. SPX features two zoom ranges (15-35, 25-50 degrees) and five fixed angle models.
Also being showcased, as part of Philips' commitment to sustainable product development, is the Philips Selecon PLTR2 RGBAW LED wash luminaires. These compact, 50 Watt sources offer incredible light output but low power consumption. They are ideal fill, effect and set lights and offer a broad palette from their five colour LED mixing system. Tuneable white models are also available.
The Philips Entertainment stand will be rigged using the Philips Strand eS21 LED Raceway; a new system designed to meet the critical power and data needs for the wide range of luminaires available to lighting professionals today. Configured to order, users may choose from a combination of dimmers for conventional loads, switched power and data modules for LED and automated luminaires along with low voltage power and data for our PLTR wash lights.
Philips Strand Lighting will be featuring its latest Vision.net touchscreen products, designed to bring exceptional control and flexibility to projects, whether it's the design of a single boardroom or an entire convention centre. Fully configurable and programmable, the Vision.net control system integrates touchscreen controls, traditional button and fader stations with photocells and occupancy sensors to help manage power consumption and meet the diversity of energy legislation around the world.
Philips Vari-Lite will also be showing off new products including the VL440 Spot, VL770 Spot and VL880 Spot. All three luminaires utilize the same small, full featured design and give the customers the choice of three lamps - the energy efficient Philips 400W or 700W MSR Gold MiniFastFit lamps or the revolutionary 800W Platinum 35R lamp, which yields a beam intensity equivalent to current 1200W automated luminaires.
Also new for PLASA, the compact VLX3 Wash, which combines the powerful VLX LED engines with the same optics used in Philips Selecon PL3 and PL1 to deliver stunning colours and intensity plus an amazing 15 to 55 degree zoom range. VLX3 utilizes replaceable 120-watt RGBW LED chipsets that are three times the efficacy of comparable tungsten sources. Colour temperature can be adjusted between 3000K and 9000K enabling the luminaire to behave like familiar arc or tungsten luminaires without the associated costs and inefficiencies.
Philips Entertainment Lighting accommodates a diverse range of entertainment applications including: event, stage, studio, film, broadcast and display lighting purposes. It also supports architectural lighting of performance venues, whether to enhance theatre lobbies or to create a dynamic exterior effect to coincide with performances.
About Philips Entertainment Lighting
With the acquisitions of Vari-Lite, Strand Lighting and Selecon brands, Philips dramatically expanded its entertainment lighting portfolio from specialty lamps to the industry-leading luminaries and control systems that are prevalent in the field today. Collectively, the group provides wide-ranging products from single luminaires to complete solutions designed with the specific needs of the entertainment market in mind.
About Royal Philips Electronics
Royal Philips Electronics of the Netherlands (NYSE: PHG, AEX: PHI) is a diversified health and well-being company, focused on improving people's lives through timely innovations. As a world leader in healthcare, lifestyle and lighting, Philips integrates technologies and design into people-centric solutions, based on fundamental customer insights and the brand promise of "sense and simplicity". Headquartered in the Netherlands, Philips employs 119,000 employees in more than 60 countries worldwide. With sales of EUR 25.4 billion in 2010, the company is a market leader in cardiac care, acute care and home healthcare, energy efficient lighting solutions and new lighting applications, as well as lifestyle products for personal well-being and pleasure with strong leadership positions in flat TV, male shaving and grooming, portable entertainment and oral healthcare. News from Philips is located at www.philips.com/newscenter.
Contact
Global Peter Rogers Senior Marketing Director, Philips Entertainment Telephone: +1 214 647 7969
E-mail:peter.rogers@philips.com
Web Site:www.philips.com/newscenter