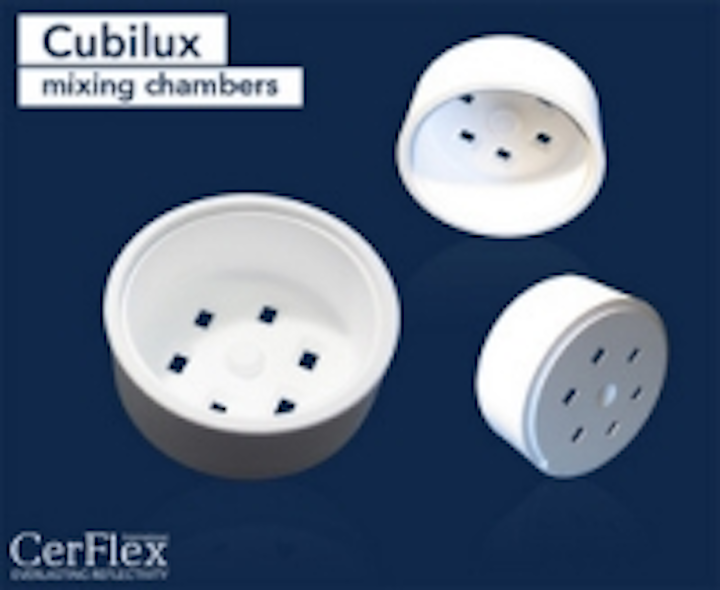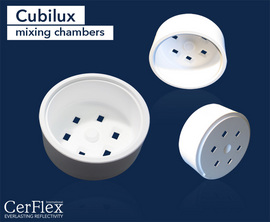 Date Announced: 28 Sep 2011
Helmond, The Netherlands - CerFlex International announced today that it has signed a worldwide and exclusive agreement with Future Lighting Solutions, a leading global provider of solid-state lighting solutions. CerFlex has developed ceramic material characterized by high reflectivity and diffuse reflection, specially designed to be used as optical material in the LED lighting industry.
CerFlex's current focus is on mixing chambers for remote phosphor LED lighting applications. The mixing chambers (named Cubilux) are being developed in alignment with Intematix, a leading provider of remote phosphor products (named ChromaLit™) which are also offered through Future Lighting Solutions.
"The Cubilux is the first ready-to-use mixing chamber in the market and demonstrates an unmatched efficacy," explained Jamie Singerman, Corporate Vice-President - Worldwide for Future Lighting Solutions. Singerman continued, "the new and unique ceramic material is the missing link between the blue LED and the remote phosphor, and will make adoption of these highly efficient and high light quality systems much easier."
"This agreement will increase the adoption rate of Cubilux in the lighting industry. With Future Lighting Solutions' global network of experts, our target customers have both the solution and the expertise on how to use it at hand," said Anthony Degenaar, Founder and General Manager of CerFlex. "CerFlex is committed to work with Future Lighting Solutions and Intematix to offer the LED lighting industry unmatched LED system efficacies."
The first products available through Future Lighting Solutions under this agreement will be launched during Hong Kong International Lighting Fair (October 27 -30, 2011) at booth 1D-D32 in the Hall of Aurora.
About Future Lighting Solutions
Future Lighting Solutions is a leading provider of solid-state lighting technologies, engineering expertise and online simulation and design tools to facilitate application development and accelerate customers' time to market. Our comprehensive portfolio includes a broad selection of LED system components, as well as integrated or customized solutions to enable cost effective, energy efficient lighting applications.
From retrofitting bulbs to building LED systems from the ground up, we offer industry leading LEDs, optical solutions, power modules and ICs, passive and active thermal solutions, light engines, modular systems, planar lighting and remote phosphor technologies.
Our world-class team of lighting experts, along with our global lighting resource centers, supply chain solutions and network of specialized partners, ensures the highest quality solid-state lighting solutions for customers.
The company is a division of Future Electronics. For more information visit:
www.FutureLightingSolutions.com.
Future Lighting Solutions Media Contact
Claudio Caporicci
T: 514.694.7710
Claudio.Caporicci@FutureElectronics.com
About CerFlex International
CerFlex International, owner of patented CerFlex®TECH, is a leading provider of ceramic reflectors which have the highest lambertian reflectivity of 99,2% in the industry. The ceramic reflectors increase system efficacy, offer unmatched light uniformity and have a guaranteed stable performance over time.
The portfolio of CerFlex exists out of mixing chambers, wide angle reflectors and glare protectors which are available as standard proven or as customized solutions to enable cost effective, energy efficient lighting applications.
Our world-class team consists of both lighting and ceramics experts and deliver, along with our partners, design, simulation, prototype and mass production services to maximize the value of our solution to our customers.
Contact
CerFlex International Media Contact Martijn Pieterse T: +31 492.780.027
E-mail:m.pieterse@cerflex.com
Web Site:www.cerflex.com