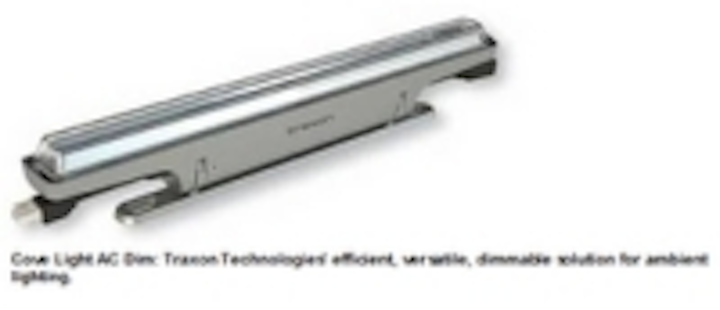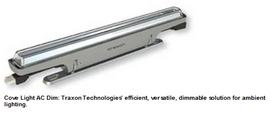 Date Announced: 22 Sep 2011
-- The efficient, versatile, dimmable solution for ambient lighting
Hong Kong, China and East Rutherford, NJ –- Traxon Technologies, a global leader in solid state lighting and control systems, introduces its Cove Light AC Dim. Powered directly with line voltage, Cove Light AC Dim is suitable for a wide range of applications in architectural, hospitality, and residential environments for general lighting, wall washing, and alcove illumination.
Cove Light AC Dim is a cost efficient, energy smart solution, with a high output of 315 – 450 lumens per foot for warm white and cold white applications, making it a versatile tool for ambient lighting scenarios. Featuring a Plug'n'Play system and powered directly with line voltage, Cove Light AC Dim eliminates the need for external power supplies or complex wiring, enabling extended run lengths and easy installation. Compatible with and controlled by leading/trailing edge phase-cut dimmers, Cove Light AC Dim offers a smooth 100% to 5% dimming resolution, without flickering.
Cove Light AC Dim is equipped with a 180° rotation axis and for flexible aiming, and is available with an open beam angle of 135° x 135°, or an integrated reflector, which allows 100 x 55° optics. Cove Light AC Dim is available in five dedicated color temperatures, ranging from a warm 2700K, to a cool 6500K.
About Traxon Technologies
Traxon Technologies, together with its control brand, e:cue, is a global leader in solid state lighting and control systems providing complete, sustainable and intelligent lighting solutions. Working with our extensive partner network, Traxon & e:cue transforms creative visions into unforgettable lighting experiences, elevating architectural, entertainment, hospitality, and retail environments around the world.
Flexibility, simplicity, and innovation are our guiding principles. From software and product development, customization competence and cutting-edge integrated lighting and building material solutions, to worldwide project management, planning and support services, to our dynamic and global team of outstanding professionals, these values drive and shape us within our ever-evolving industry.
Our customers and partners are the leading international lighting design, architecture and engineering firms, as well as the world's premier developers and brands. Together we have completed over 4,000 installations worldwide, including renowned architectural landmarks such as Lincoln Center and WorldWide Plaza, New York; The Yas Hotel, Abu Dhabi; International Commerce Center, Hong Kong; Tower Bridge, London and many other prestigious entertainment, hospitality, and retail interiors and facades.
Traxon & e:cue's innovative, integrated control, software, product and project portfolios have won many awards and accolades for their pioneering technologies and dynamic solutions, including LFI Innovation, iF Design, Red Dot Design, DDC, POPAI, and MELDA.
In 2009, Traxon Technologies entered into a joint venture with OSRAM, strengthening our position in the market by combining
Contact
Traxon Technologies USA, 20 Murray Hill Parkway, Suite 210, East Rutherford, New Jersey, 07073 P +1 201 508 1570, F +1 201 508 1589
E-mail:info@traxon-usa.com