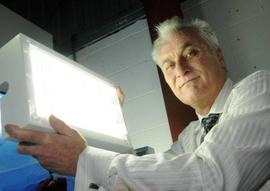 Date Announced: 06 Sep 2011
Press Release: Tuesday September 6 2011
Manchester lighting and electronics specialist opens Australian office.
MANCHESTER electronics specialist MHA Int-Elect has cemented its presence Down Under with a permanent office at Brisbane Technology Park (BTP).
MHA Int-Elect, who have been supplying their leading-edge Printed Circuit Boards (PCBs) to high-end discerning Australian customers for ten years, have taken permanent premises this summer and are set to triple their workforce this year.
MD Tom Harrison said MHA Int-Elect are actively developing their Australian market and are looking to recruit more skilled PCB designers to work at BTP.
MHA Int-Elect shares its Atherton head office in the UK with sister company MHA Lighting - an award-winning manufacturer of leading edge LED lighting solutions.
MHA Lighting design, manufacture and supply energy efficient LED lighting solutions to Public and Private sector organisations throughout the UK. They are gaining an un-rivalled reputation in the health sector for their revolutionary sealed lighting units which are helping hospitals slash infection rates.
Tom said the appetite for MHA Lighting's patented LED technology in Australia is huge and he is now looking into opening a manufacturing base in Queensland.
Tom said: "MHA Int-Elect is thriving in Australia and the appetite for MHA Lighting's leading edge lighting solutions is also very promising.
"We have held discussions with the UK embassy, various Australian Government departments and potential customers.
"The feedback we have received has been fantastic - we tick Government boxes on Carbon reduction and customer boxes on energy and financial savings and of course the quality of light our LEDs provide.
"There is a real hunger for energy efficiency in Australia and for quality products that deliver. They have been impressed with the high profile projects we have delivered for organisations like the NHS, Birmingham NEC and Manchester Airport in the UK.
"We have now received our first Australian lighting order and can see a real market for our lighting solutions.
"Obviously we will have to do the first few jobs in the UK but will eventually set up an Australian manufacturing facility – ideally in Queensland. Now we have committed to a permanent Australian office our expansion plans into the Australian market will accelerate considerably.
"This will create further jobs in a clean-tech manufacturing industry for both professionals and semi-skilled workers and will also cement MHA's presence in Australia."
ENDS
For more information about MHA Lighting and its patented award-winning technology please visit www.mhalighting.com
For further information or interview opportunities please call Caroline Aspinall at Active Profile on 0151 705 3675 or email caroline.aspinall@activeprofile.co.uk
MHA Lighting
MHA Lighting has been in operation since December 2009 and is a subsidiary company of MHA Int-Elect, which has more than 10 years' experience in designing and developing innovative electronic solutions. The company employs around 30 people at its facility in Atherton.
Fully approved and accredited, this unique and patented technology successfully delivers the advantages of 'traditional lighting' - uniformly distributed, glare-free and safe viewing, clean and fresh white light - from an LED lighting solution. MHA lighting uses award-winning patented Luminanz technology in the design and manufacture if all its products
Contact
For further information or interview opportunities please call Caroline Aspinall or Claire Gallagher at Active Profile on 0151 705 3675 or email caroline.aspinall@activeprofile.co.uk or claire.gallagher@activeprofile.co.uk
E-mail:claire.gallagher@activeprofile.co.uk
Web Site:www.mhalighting.com