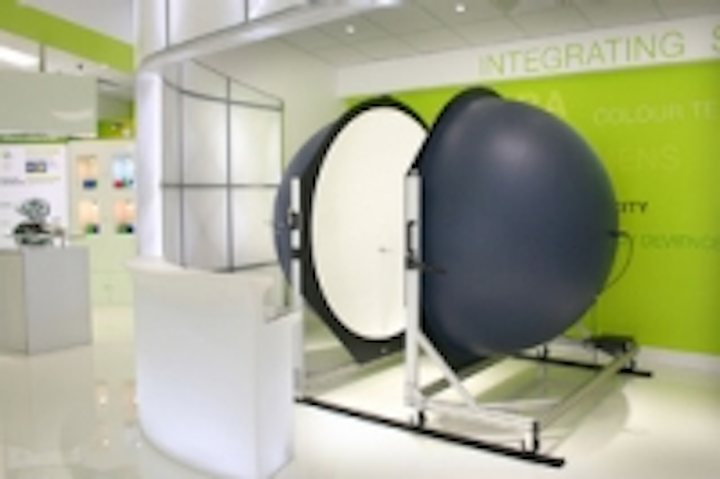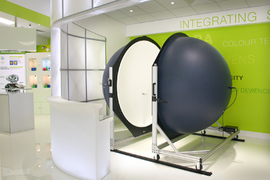 Date Announced: 29 Sep 2011
North Sutton, New Hampshire – Labsphere, through its exclusive UK distributor Pro-Lite Technology, has supplied a custom two-meter integrating sphere system to lighting manufacturer Aurora Lighting for use in its new light lab.
Aurora focuses on energy efficient LED lighting solutions. Pro-Lite and Labsphere provided a two meter integrating sphere equipped with a Labsphere spectroradiometer to provide precise LED measurement data. This system was custom designed to fit Aurora's specifications. More accurate than a traditional photometer, it reports lumen output, color temperature, color rendering index, chromaticity, and binning accuracy. The precision of the data provided allows complex lighting projects to be designed and tested with confidence in the final results.
Aurora has installed the Labsphere testing system in its state-of-the-art Light Lab A.L.E.X. 2.0 in Apex Park, Welwyn Garden City, England. This facility features an environment in which visitors can experience the differences between halogen, CFL, and LED light sources, including the color temperature of the different sources.
A video of the Labsphere system in use at the A.L.E.X. 2.0 Light Lab can be watched on YouTube: http://tinyurl.com/62g3ugu.
Aurora (www.aurora.eu.com) is an international manufacturer of a number of lighting solutions under the 'Aurora', 'A2', 'Luna', 'Sola', and 'Aura' brands. Additionally, the company develops and manufactures power, control, luminaires and lamps on an OEM basis for customers in more than 36 countries.
Pro-Lite (www.pro-lite.uk.com) provides test solutions for the UK lighting industry, offering manufacturers the opportunity to verify the efficiency of luminaires, helping to ensure products going to market are trusted and reliable.
Labsphere (www.Labsphere.com), a Halma company, is a world leading designer and manufacturer of precision radiometric and photometric test and measurement products addressing the specific needs of the aerospace, electronic imaging, LED, lighting, medical imaging and optics industries. The company offers a broad line of integrating sphere systems, uniform calibration sources, spectroscopy accessories and diffuse reflectance materials and coatings.
Contact
Labsphere Inc. 231 Shaker Street North Sutton, NH 03260 Tel: +1 603.927.4266 Fax: +1 603.927.4694
E-mail:labsphere@labsphere.com
Web Site:www.labsphere.com