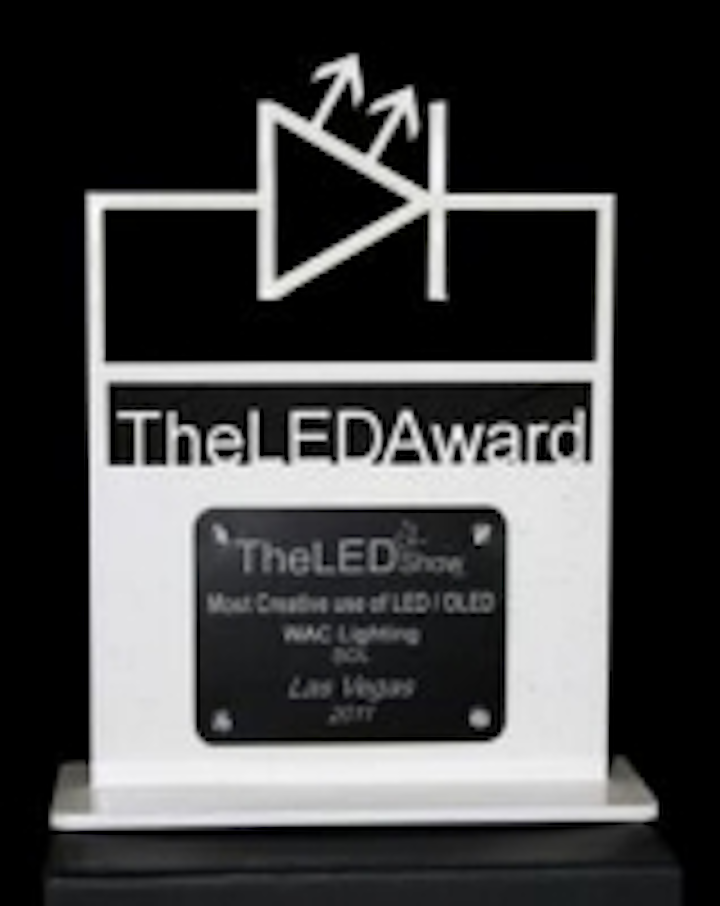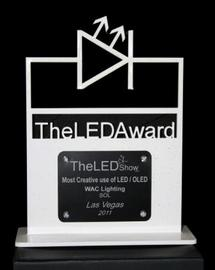 Date Announced: 12 Sep 2011
Garden City, NY– Continuing to be recognized for technological innovation, sustainability and a Responsible Lighting brand standard, WAC Lighting President Shelley Wald received The LED Award for the "Most Creative Use of LED/OLED" for the Sol Organic LED Chandelier, at theLEDshow which was held in Las Vegas. The LED Award is the fourth accolade that Sol has won this year.
Making its commercial debut in 20 lighting galleries across North America this autumn, Sol demonstrates comfortable light from naked OLED panels. This artist's piece is sculpturally representative of ancient symbols for the sun, energy source for life on earth. Each piece is hand signed and numbered.
Sol features upgraded ORBEOS OLEDs from OSRAM Opto Semiconductors panels, which now deliver a total light output of 420 lumens. Sol's seven, remarkably thin (2.1 millimeters) Organic LED panels employ the world's most revolutionary nanotechnology, creating tremendous attention from the industry. Each Organic LED panel distributes warm white light with optimal color rendering (CRI 80) and a warm color temperature (3900K.
Sol features adjustable light distribution for ambient mood lighting free of undesirable shadows or glare. Each reversible OLED panel is completely cool to the touch thereby inviting Sol allows users to interact with the light sources in order to experience Organic LEDs; expanding the possibilities around future lighting applications, and changing the way people think about lighting.
The circular satellite OLED panels rotate up for indirect lighting, or tilt down to comfortably illuminate the surface below or faces around a table. The central downlight also provides direct downward lighting. Soft, glare free light from the OLED panels is incorporated into the design and does not require the use of any additional lenses or reflectors to diffuse the light which would traditionally result in a 10 to 40 percent loss in efficiency.
"We are proud that Sol has been recognized for its creative use of OLEDs, " stated Mrs. Wald. "Sol demonstrates design made possible with advancements in nanotechnology; an expression of true sustainability with organic light sources that are also energy efficient."
The Sol chandelier is crafted of aluminum and finished in black nickel. It is 18.5 inches in diameter and 2.2 inches tall. The overall height of the chandelier, with a supporting metal rod, ranges from 12.25 to 40 inches tall
Sol is inherently sustainable, designed around energy efficiency and environmentally friendly technology. Each luminaire is individually crafted within WAC Lighting's wholly owned, Clean ISO 14001-certified manufacturing campus with in-house U.L. certified test labs. Sol was created without the use of heavy metals or other rare-earth materials commonly used in other energy-efficient sources, which have major environmental impacts in the mining process.
About theLEDshow
Many of the LED industry giants participated in theLEDshow in July, providing an extensive selection of products and services for the inquisitive and LED aficionado alike. Exhibitors featured demonstrations, product displays, technical support, design ideas, and comprehensive information on the latest LEDs. Industry experts offered their predictions and views of LED trends vs. fads and imparted their knowledge, techniques and advice.
About WAC Lighting
WAC Lighting is a leading global manufacturer and innovative designer of track, recessed, undercabinet, monorail and decorative lighting, with a new sustainable LED collection. WAC Lighting has developed a stellar reputation for upscale decorative and task lighting lines backed by an extraordinary level of service, an unprecedented shipping record, and a Five Year Product Warranty. To reflect Green energy saving strategies, social progress and community involvement, WAC uses the brand standard "Responsible Lighting."
WAC offers a broad range of award-winning products: stunning artisanal glass pendants; Low/Line Voltage Track Systems; Line and Low Voltage Recessed Downlights; Line/Low-Voltage Single and Two-Circuit Monorail Systems; InvisiLED®, LED tape systems for both indoor and outdoor applications; Wall Sconces; Mono and Multipoint fixtures; Counter Balance Adjustables; SMART Transformers; and other specialty lighting items. Nearly 90% of WAC Lighting products are fabricated, including components, at its state-of-the-art manufacturing campus in China.
WAC Lighting is headquartered in Garden City, New York, and operates a West Coast office and distribution facility in City of Industry, CA. WAC may be reached at 1.800.526.2588 or by visiting www.waclighting.com
Contact
Christopher Pica T. 631.262.0374
E-mail:cpmediarelations@gmail.com
Web Site:www.waclighting.com