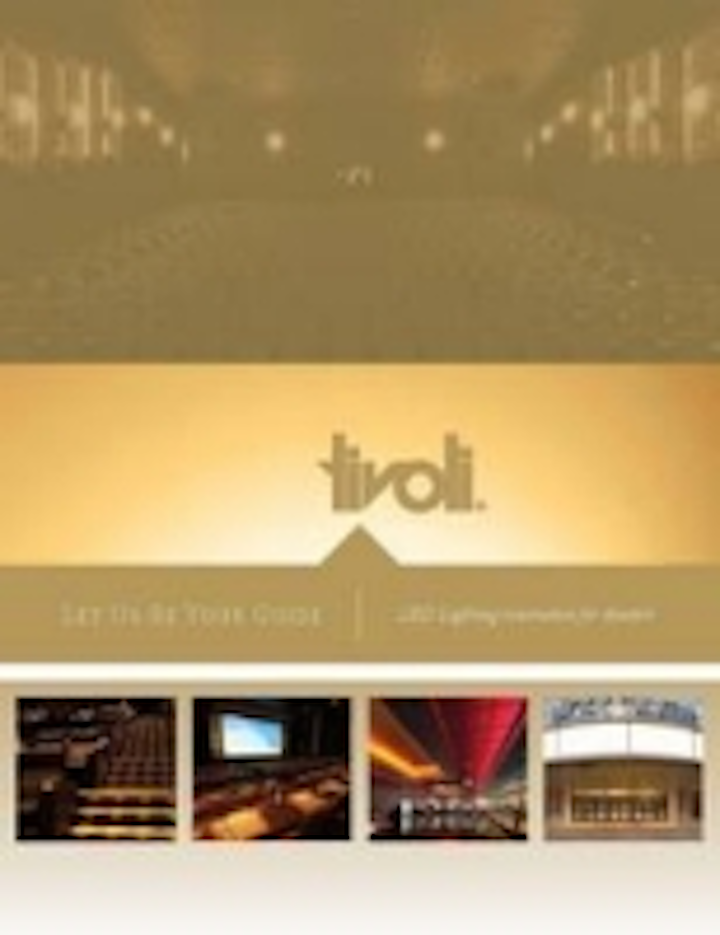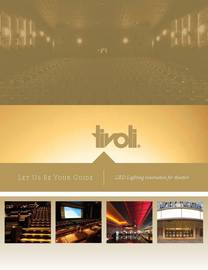 Date Announced: 17 Nov 2011
Tivoli, LLC announces the publication of a new comprehensive venue and auditorium catalog. Featuring a variety of specific wall, row, step, seat and guide lighting solutions for today's venues and theaters, the 32-page, full-color glossy catalog is a complete resource guide with recommended solutions for today's popular VIP illumination solutions.
The catalog, which includes Tivoli's ADA, Life Safety Code and ETL compliant systems, is formatted for easy product look-up, and is organized by application such as "VIP Venues," "When Color Matters," "Shining Star,", "Supporting Cast" and other LED illumination solutions. The new Venue catalog features a detailed overview of Tivoli's Patent Pending Platinum Series which is an innovative replaceable LED lighting system that delivers the industries most effective and reliable lighting system in one versatile solution. Tivoli's Platinum Series is designed specifically to deliver a powerful and flexible illumination solution for versatile applications including; wall, seat, rail, guide, step, cove, counter lighting and more.
As the first manufacturer to introduce indicator type LEDs into tubing, aisle and step lighting products, Tivoli, LLC continues to lead the market in emerging LED linear lighting solutions in the commercial, theatrical and specification market. The catalog is available on the Tivoli Web site in PDF format at www.TivoliLighting.com and a digital flip book at the following link: http://issuu.com/tivoli_lighting/docs/tivoli_brochure_101911_finaloopt/1
For more information, visit www.tivolilighting.com.
Contact
ABOUT TIVOLI Tivoli is the original innovator in LED based linear lighting products, with over 40 years experience in low voltage and LED based linear lighting products. When Color Matters --Tivoli is the choice. Uniquely focused on 'the right light' – color temperature and output for low ambient cove and niche applications. Most other commercial manufacturers in US are focused on higher output led illumination. Tivoli is focused on low wattage, highly energy efficient, linear led fixtures for accent cove and niche lighting applications. We specialize in small source applications that create the sparkle to delineate a project.
E-mail:ilovit@tivolilighting.com
Web Site:www.tivolilighting.com