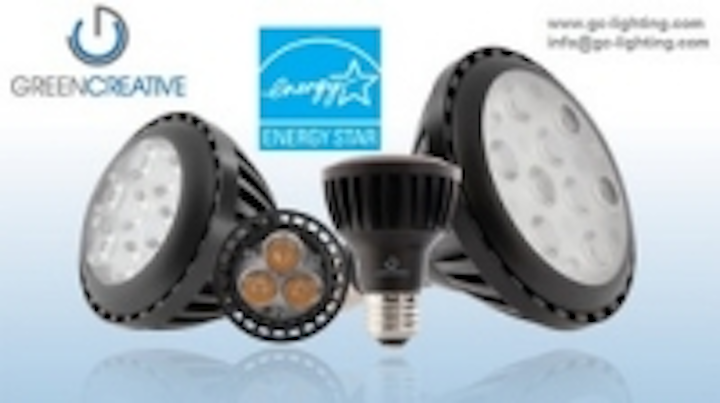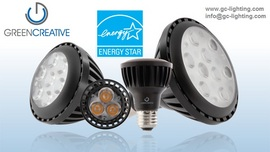 Date Announced: 03 Nov 2011
SAN FRANCISCO, CA, November 1st 2011, GREEN CREATIVE LLC, a major LED lighting manufacturer announces that its TITANIUM series of PAR's and MR16 LED replacement lamps have completed ENERGY STAR qualification.
To ensure both performance and reliability, the TITANIUM line has been tested under the rigorous ENERGY STAR standard by an independent laboratory approved by the U.S. Department of Energy.
Testing covered lumen and color maintenance over thousands of hours, as well as efficacy, color rendering index, color spatial uniformity and light distribution. The testing also controlled the in-situ temperature of LED and performed extensive function tests.
Having qualified for ENERGY STAR, the trusted, government-backed symbol for energy efficiency guarantees that the TITANIUM LED lamps meet the highest quality, reliability and energy saving standard for commercial and residential applications.
This latest quality recognition ensures that the lamps qualify for all utility rebates nationwide without exception. In order to help reduce the initial investment of switching to energy efficient LED lighting solutions, the company has a dedicated team to help evaluate and process all rebate applications making it one of the most active players in the US. For more information on the rebate program available to you, please email us at: rebate@gc-lighting.com
In addition to ENERGY STAR, all TITANIUM lamps are dimmable, UL listed, FCC compliant, and backed by a 5 year warranty, making it the best choice for your retrofit project. The products are available through GREEN CREATIVE distributors nationwide as well as directly from the company. For more information on where to purchase the products near you, please contact us at: info@gc-lighting.com
About GREEN CREATIVE LLC
GREEN CREATIVE is a major solid state lighting development sourcing and manufacturing company specialized in providing high quality LED lighting products. The company is committed to provide only relevant high performance products that have been rigorously engineered, manufactured and tested for the demanding commercial market. More information about GREEN CREATIVE and the TITANIUM series is available at www.gc-lighting.com
Contact
577 Shotwell Street, Unit 100 San Francisco, CA 94110, U.S.A.
E-mail:info@gc-lighting.com
Web Site:www.gc-lighting.com