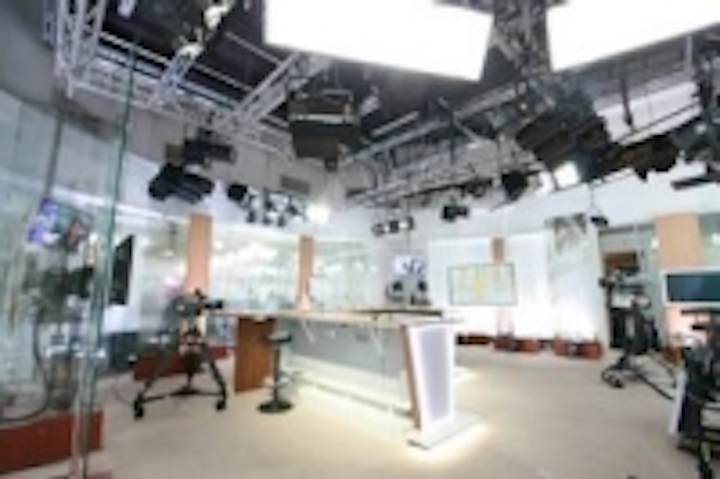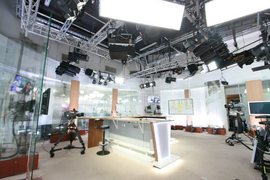 Date Announced: 15 Nov 2011
One year after its release, the worldwide success of Robert Juliat's Aledin LED zoom profile spot within the realms of television has shown it to be the fixture the studio market has been waiting for.
Growing pressure to cut energy consumption has seen many TV studios turning to LED lighting. Aledin has come into its own, brilliantly delivering powerful output with no loss of projection quality. Not only does Aledin retain all the famous features, functionality and optical precision of the Robert Juliat brand, but its lower energy use (85W) and lower heat output simultaneously decrease running costs whilst taking the heat out of the studio itself.
Aledin's long LED life means fewer hours spent on maintenance, while superb optics and sharp shutter cuts give clean gobo projection and the precise control needed to provide perfect key light on presenters or when highlighting features on set.
Plastic gobos can be printed on site using a standard printer and projected in Aledin's cool beam, granting an immediacy not possible with conventional lighting. This simultaneously gives economic savings whilst increasing green credentials – all with the same great projection performance and ergonomic features you would expect from a Robert Juliat fixture.
A choice of warm or cool LED sources and a silent, flicker-free, dimmable electronic ballast complete Aledin's versatility within the studio environment and account for its huge popularity.
To date Aledin has been installed in countless television studios worldwide with Europe and Canada – both renowned for their environmental awareness - leading the way. These LED-savvy studios include i>Tele, Canal+ and France Televisions in France, Television Suisse Romande of Geneva, Star Academie of Montreal and CTV Toronto.
CBC Television of Toronto has currently taken the largest consignment to date with 124 pieces of Aledin 631CSX and 634 CSX warm white LED profiles.
"CBC/Radio-Canada is an industry leader in using LED lighting for broadcast studio environment," comments Ruthie Calarco, Senior Manager for Media Operations & Technology at CBC English Services. "We have been using LED lighting in our studios across Canada for several years, but have made a greater step with this technology recently at our Broadcast Centers in Toronto, Montreal, Quebec and Vancouver.
"We have seen the development of LED lighting to fixtures that mimic standard studio tungsten fixtures rather than units that resemble architectural fixtures. This has been a great plus for CBC/Radio-Canada.
"The Robert Juliat Aledin units have given us the ability to push forward with LED lighting while allowing us the light control, creativity and range that was previously only available in tungsten fixtures. While it is possible to use LEDs as a general wash lighting for on-air talent, the Aledin unit allowed us unique isolated definition for each on host position. With this control we can cater the lighting to each on-air talent which is crucial when lighting studio environments that require a number of hosts at a single news desk."
For more information on the award-winning Robert Juliat Aledin – which has now been augmented by the Aledin LED Wash launched at PLASA 2011 – visit www.robertjuliat.com. Alternatively, for a demonstration at your own studios, contact your local Robert Juliat distributor, a worldwide list of whom can be found on the Robert Juliat website.
Contact
Julie Harper Mob: +44 (0)7990 974388 Tel: +44 (0)1323 416810
E-mail:julie@joolzharper.co.uk
Web Site:www.robertjuliat.com