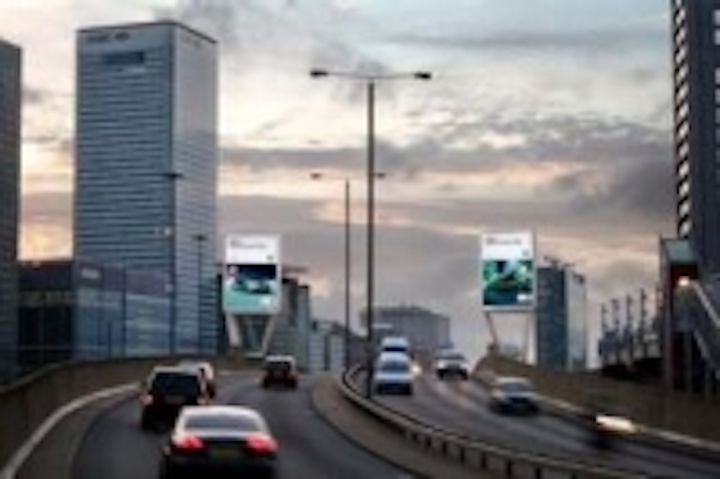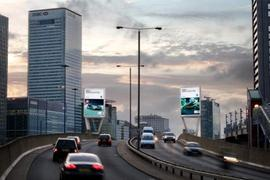 Date Announced: 28 Nov 2011
Ocean, the boutique UK outdoor media owner, has launched The Two Towers East after winning a competitive tender from Tower Hamlets Council, London.
The iconic advertising structures, which are located in the shadow of Canary Wharf, are designed to target high net worth employees working in London's financial district. BMW has secured The Two Towers as the launch commercial advertiser.
The £1million digital advertising structures are an exact replica of the award-winning Two Towers West which are located on the premium route from Heathrow Airport to London's West End.
The Two Towers East command an equally prestigious position at the gateway of Canary Wharf, The City of London and London's exclusive City Airport.
"The Two Towers East have their own clear proposition in the market place, but the synergy between The Two Towers West and East is clear. We are now able to create one of the strongest sales propositions afforded by any combination of digital sites in Europe, dominating both the Western and Eastern routes into London," says Richard Malton, Marketing Director, Ocean Outdoor.
Tim Bleakley, Ocean CEO, says: "This is a fantastic addition to Ocean's portfolio of iconic digital sites and absolutely fits the definition of what an Ocean site is; simply put, best in class.
"The Two Towers East present advertisers with an opportunity that was previously missing in East London. It is fitting that Tower Hamlets has a prestigious advertising offering that reflects the inward investment that has been attracted to the area. The location of these sites is absolutely critical for top tier brands wanting to communicate with a high value audience and the location for the Olympics is perfect."
About Ocean Outdoor
Founded in 2005 and backed by private equity firm Smedvig Capital, Ocean Outdoor www.oceanoutdoor.com is the UK's leading specialist digital out-of-home advertising company, with an unrivalled portfolio of large format digital screens, banner and landmark advertising sites.
Ocean's portfolio is focused in London and the key UK cities of Birmingham, Manchester and Leeds. It includes Britain's largest advertising site at London's IMAX; the Two Towers, which dominates the main arterial corridor of London's A4; the Liverpool media wall; the UK's largest full-motion advertising site opposite Liverpool's Lime Street Station; and the Axis @ Hacienda in Manchester. In addition, Ocean has the exclusive rights for the largest urban shopping mall in Europe, Westfield London, which has over 23 million shoppers with spending power nearing £1billion.
Contact
Susann Jerry Integrated Communications Consultant - strategy. delivery. change. 07725 091814
E-mail:susannjerry@hotmail.com
Web Site:www.oceanoutdoor.com