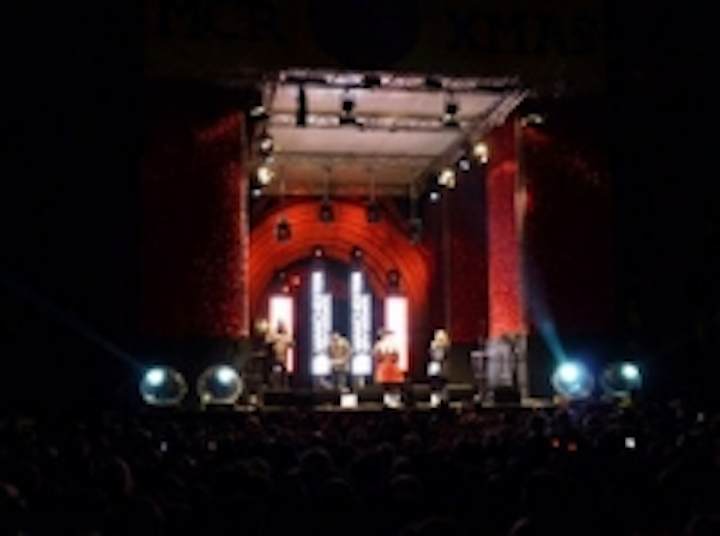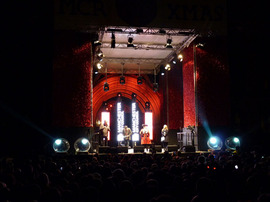 Date Announced: 20 Nov 2011
Manchester, UK based lighting rental company dbn provided lighting and LED screens for the official Switch On of the City's Festive lights, for which 20,000 enthusiastic revellers packed into Albert Square outside the Town Hall to watch Tinchy Stryder hit the button!
dbn has lit the event for the last 10 years and the company's Nick Buckley was extremely happy to do the honours again - both project managing and lighting designing - working directly for Manchester City Council.
A six metre wide temporary stage was set up beneath a giant Father Christmas structure which is staying in place for the whole Festive period. Above this, the dbn crew installed a sloping box truss, which facilitated positions for all their overhead lighting, and was covered with a stretched fabric canopy for weather protection.
Lighting fixtures on the truss included ARRI 2K fresnels, a selection of Molefey blinders to highlight the audience and four Clay Paky Alpha Wash 700 moving lights. Four CP Alpha Spot luminaires were attached on baby-arm drops at different heights from one of the horizontal cross bracing sections of the box truss.
On the deck, either side of the front edges of the stage were four Alpha Beam 700s encased in custom dbn weather domes. These were used for bright searchlight style effects.
dbn also supplied 18 panels of 18mm pitch Hartwell Media LED screen, configured as four vertical columns, placed upstage, attached to the front of four 12 inch truss towers. On the top of each of the towers was an Alpha Spot 700 for strong back-lighting effects.
The lighting rig was completed with two 1.2K follow spots at the front of house position, and Buckley operated the show using a Jands Vista S3 console. A Hippo Critter media server was used to feed content to the screen columns, triggered via the desk.
Others artists performing included Nicola Roberts from Girls Aloud, plus a selection of actors/singers from current Manchester based theatre shows.
The main challenge was designing the canopy to fit over the stage and within the Father Christmas structure, and rigging all the lights in an expedient space, but the results were excellent, with local media reporting the event as among the 'best ever' Switch On shows.
Buckley's crew were Moss Everhard, Mark Lynch, Dave Mercer, Jamie Mather, Nick Buckley and Col Emerson.
Says Buckley, "It's always great fun working on this project, and I am particularly proud of the way it looked this year. It's the first time we have also supplied scenic LED, which worked really well, bringing additional depth to the stage and filling the upstage area nicely".
Contact
For more press info on DBN Lighting, please contact louise Stickland on +44 7831 329888, +44 1865 202679 or EMail : louise@loosplat.com. To contact DBN direct, please call +44 161 273 4297 or check www.dbn.co.uk.
E-mail:louise@loosplat.com
Web Site:www.dbn.co.uk