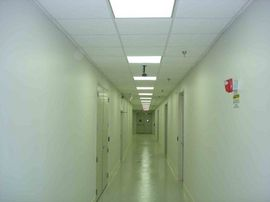 Date Announced: 03 Nov 2011
Birmingham, Alabama - When TekLinks featured Edge Lit LED Flat Panels by MaxLite in its new data center, their executives did not anticipate the impressive reaction received from clients, employees and strategic partners who toured their new facility. TekLinks performs colocation, hosted and managed services, network security, data storage, IP telephony, and IT engineering services to businesses throughout the southeastern region of the United States.
MaxLite, a leading, global manufacturer and marketer of energy efficient luminaires and lamps, manufactured 120 2'x2' Edge Lit LED Flat Panels that were installed by Birmingham-based Mayer Electric Supply in TekLinks' main hallway and electrical room. The Flat Panels illuminate the state-of-the-art high-density equipment that powers public and private cloud systems and provides multiple levels of security, uninterruptible power, fire suppression and around-the-clock monitoring and management capabilities, with brilliance and precision to allow their engineers to view vital data where ample light is required.
Part of the FlatMax family of products, the LED Flat Panels create a cool industrial look, while also illuminating equipment and racks. This enables TekLinks' engineers to have full visibility throughout the aisles, on the racks and backs of systems.
"Colleagues and clients are overwhelmed when they see our fixtures," said Ed McLain, Director of Operations for TekLinks. "When they walk into the hallway, they just say, 'Wow'! Everyone that comes into the building is greatly impressed with the color of the light and the look. When our management team compared MaxLite's fixtures to others, MaxLite was the unanimous choice. MaxLite LED Panels combined dimmability, long lasting life and energy efficiency with high quality shadow-free lighting and excellent color quality."
The state-of-the-art data facility was built utilizing some of the most current green approaches available today. MaxLite's energy efficient LED Flat Panels follow that approach, with high performance and a potential life of 50,000 hours – at L70 standards – for more than 13 years of long life, based on 10 hours of use per day. This delivers a significant reduction in energy consumption, costs and maintenance. The panels are highly compatible with the center's control systems and are programmable, so they can be switched on/off and even dimmed to meet user preferences. Perfectly suited for high-tech data centers, the LED Flat Panels are RoHS compliant and constructed without carbon emission, heat, UV or IR radiation or hazardous materials.
"In the past few years, we have seen an unprecedented demand for data space, and this facility allows us to continue to meet the needs of our clients," said Don Monistere, Vice President of Sales at TekLinks. "In addition to providing a data center for clients, this new space allows TekLinks to increase our offerings around managed services and continue to be an industry leader in all cloud computing infrastructures, including public, private, and hybrid clouds, in a high density computing environment."
The data center space requires controlled temperature and humidity levels, made possible by redundant HVAC systems that maintain the appropriate temperature and humidity levels in the data centers, to keep equipment performing at the optimal level; the LED Panels operate at a cool temperature without emitting heat.
TekLinks' executives said they are so pleased with the light output, energy efficiency and extraordinary look of the lighting fixtures, that they plan on specifying more units in the Hattiesburg, Mississippi facility, as well as in the current headquarters and the new building, as they continue to expand.
"Our customer came to us about TekLinks and advised that they needed a state-of-the-art lighting system for an old building that they were purchasing," said Paul Berkessel, a MaxLite sales representative. "The customer loved our demo of the LED Flat Panel and thought it would be a great fit. TekLinks executives really liked the solid look and the color rendering."
MaxLite's LED Edge Lit Flat Panels deliver dimmable, energy efficient, high quality lighting with even, shadow-free distribution, and an excellent 85 CRI (Color Rendering Index). Tied together in a grid, the LED panels are pre-programmed to operate effectively within TekLinks' building control system. The new luminaires project a high level of clean, bright and white light. The fixtures create a cool, contemporary environment with pleasing aesthetics. Occupancy sensors allow fixtures to illuminate as employees walk through different areas.
About TekLinks
With a commitment to lead the market in technical excellence, TekLinks is a leading provider of desktop support, data center services, IP telephony, IT and managed services, network security, data storage, disaster recovery, and hosting services, in the Southeast. TekLinks is Gold and Master Certified by Cisco Systems, Microsoft Gold Certified, and also partners exclusively with other market leaders including, EMC, Citrix and VMware.
The firm's vastly experienced and highly knowledgeable engineers provide best-in-class IT support with an emphasis on service, for a broad range of businesses, from community banks and law firms, to retailers to medical and real estate companies. TekLinks is dedicated to keeping their clients' IT infrastructures up and operational while making recommendations to drive revenues and cut costs.
About MaxLite
Founded in New Jersey in 1993 as the U.S. branch of SK industries, a leading South Korean manufacturer of energy efficient lighting products, MaxLite inherited a true tradition of energy efficient lighting manufacturing that dates back to 1955. Since its founding, MaxLite has worked to develop a reputation as a leading global manufacturer and marketer of energy efficient and environmentally friendly lamps and luminaires. MaxLite offers an extensive line of indoor and outdoor lighting fixtures including LED and fluorescent luminaires. MaxLite established the MaxLED™ brand which includes: Edge Lit Flat Panels, Direct Lit Flat Panels, Dark Sky compliant Wall Packs, Garage and Canopy Luminaires, Nightlights, Exit Signs, Optical Panels, Lightbars, and LED light sources. MaxLite is headquartered at 12 York Ave in West Caldwell, New Jersey 07006. Tel. 1.800.555.5629 Website: www.maxlite.com
Contact
Christopher Pica T. 1.631.262.0374
E-mail:christopher@cpmediarelations.com
Web Site:www.maxlite.com