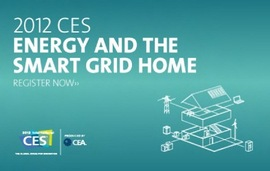 Date Announced: 28 Nov 2011
UL is pleased to announce the 'Energy and the Smart Grid Home' knowledge track, presented at The International Consumer Electronics Show 2012.
"Smart Grid" and "energy efficiency" are attractive concepts to a variety of stakeholders. But what do these terms mean to your business and to you as an individual? How can you maximize any benefits? How can you participate safely in the Grid? And, are there any red flags? Join UL and other thought leaders as they explore energy savings and generation and the hot topic of LED transformation.
"We are extremely excited to have industry leaders share their vision of the future of home technology.", said Clyde Kofman, UL's SrVP of Commercial Operations, "Clearly, energy generation, energy efficiency and LEDs will drive the smart home evolution."
Three sessions will be presented :
The LED Transformation
1-2pm Thursday, Jan 12 LVCC, North Hall N262
With LED, technology in lighting can now come to your home. American Lighting Association leaders will showcase the future of LED lighting in the home at CES 2012. Residential Lighting will be the theme and attendees will learn about LED lighting trends in the home, the impact of new legislation and LED lightbulbs, and how smart home technology will allow the control of lighting and energy usage in new and exciting ways. Finally, participants will be shown how they can transition to LEDs in their home in 60 seconds using a new smart-phone app from UL. Moderator: Mr. Matt Sallee, global business development manager for LED, UL
Panelists:
• Mr. Terry McGowen, director of engineering, American Lighting Association
• Mr. Todd Mangold, marketing manager for LED lamps, Philips
• Dr. S Pekka Hakkarainen, vice president, Lutron Electronics Co. Inc.
Energy Generation: How to Play in the Space
2:30-3:30 p.m. Thursday, January 12 LVCC, North Hall, N262
Creating energy through PV panels, windmills and other alternative sources is something more people are talking about, but significant confusion still exists. UL's experts help demystify the process and discuss what providers need to think about to stay ahead of trends and benefit from opportunities. Moderatored by Mr. Jeff Smidt, vice president and general manager of energy and industrial systems, UL
Panelists:
• Mr. Thomas Kimbis, vice president of strategy and external affairs, Solar Energy Industries Association
• Mr. Brewster McCracken, executive director, Pecan Street Inc.
• Mr. Kevin White, senior market development Manager, solar & smart energy systems division, Sanyo Energy (USA) Corporation
Energy Savings: Shaping the Future
4-5 p.m. Thursday, January 12 LVCC, North Hall, N262
"Energy Efficiency" continues to generate big buzz. UL and its partners share how manufacturers and retailers can support and benefit from the ongoing transition to a more efficient world. Learn about product design, the safety implications of energy efficiency and how you can be a leader in the transition. Moderator: Mr. Mike Shows, global business development manager of energy efficiency, UL
Panelists:
• Mr. Mike Moss, director of corporate and environmental Affairs at Samsung Electronics, Inc.
• Ms. Katharine Kaplan, ENERGY STAR product development, U.S. Environmental Protection Agency
• Mr. John Taylor, vice president of public affairs and communications, LG Electronics USA, Inc.
• Mr. Ken Salaets, director of global policy and executive director, Information Technology Industry Council
Attendees to CES can sign up for the entire Smart Grid Home Knowledge track or can just attend the LED Transformation session.
Contact
Sign up at : http://www.cesweb.org/conferenceProgram/conference-track.htm?track=ul
E-mail:matthew.sallee@ul.com
Web Site:ul.com/ces