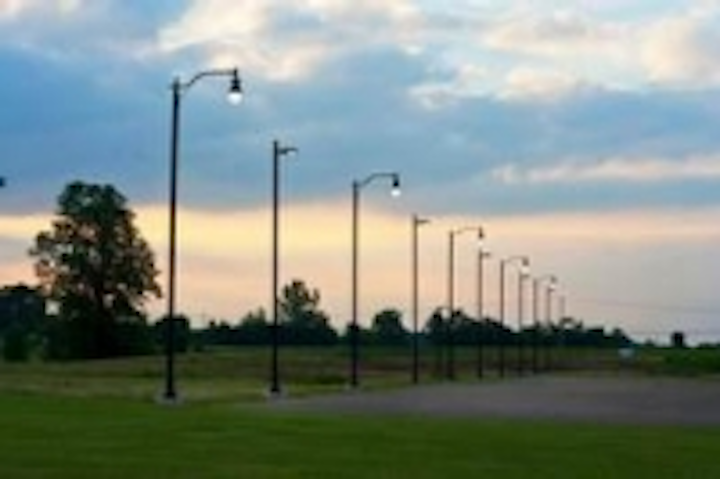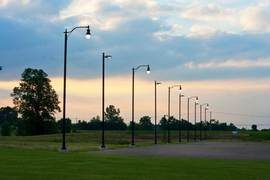 Date Announced: 22 Nov 2011
Unique demo site allows customers to experience a complete portfolio of outdoor lighting in real world settings
Acuity Brands, Inc. (NYSE:AYI), a market leader in innovative energy-efficient lighting, controls and daylighting solutions, announces the introduction of the Night Time Demo by Holophane®. The Night Time Demo is a unique demonstration program that enables customers to increase their outdoor lighting knowledge by walking through a series of outdoor lighting environments and experiencing first-hand the quality of different outdoor lighting technologies.
The Night Time Demo includes dozens of outdoor lighting solutions displayed in multiple environments – walkways, parking lots, streets and roadways – throughout the Acuity Brands campus located in Granville, Ohio. The demonstration site allows customers to view product performance, observe lighting effects, compare different lighting sources, and survey multiple luminaire styles.
"It is an extremely efficient and productive way to experience outdoor lighting technologies in real applications," said Greg Subisak, Director of Lighting Education for the Granville facility, "In many cases, an instantaneous comparison of systems can be viewed. For example, a comparison of a road lit with luminaires using an LED light source and the same road lit with luminaires using a high pressure sodium light source can be made at several viewing stations."
The Night Time Demo is a one-of-a-kind lighting experience and an invaluable asset for specifying engineers, architects, lighting designers and anyone else who specifies outdoor lighting products. As an educational tool, the display helps customers better understand both the advantages and challenges of various light sources, distributions and technologies.
"Every luminaire in the Night Time Demo is outfitted with a ROAM® node," said Subisak. "This allows us to show how luminaires can be grouped and turned on/off and dimmed with the use of a tablet computer wirelessly connected to the Internet and the ROAM network operations center."
The Night Time Demo allows visitors to walk among 2000K, 3000K, 4000K, 5000K and 6000K color temperature sources, providing a unique opportunity to evaluate visual clarity and color rendering in a single location. Customers can also examine and evaluate the lighting quality of LED, high pressure sodium and various types of metal halide sources.
To learn more about the Night Time Demo, visit www.holophane.com. To schedule a tour, contact a Holophane Factory Sales representative or call Greg Subisak at (740) 587-6098.
About Acuity Brands
Acuity Brands, Inc. is a North American market leader and one of the world's leading providers of luminaires, lighting control systems and related products and services with fiscal year 2011 net sales of $1.8 billion. The Company's lighting and system control product lines include Lithonia Lighting®, Holophane®, Peerless®, Mark Architectural Lighting™, Hydrel®, American Electric Lighting®, Gotham®, Carandini®, RELOC®, Antique Street Lamps™, Tersen®, Winona® Lighting, Syner gy® Lighting Controls, Sensor Switch®, Lighting Control & Design™, Dark to Light®, ROAM®, Sunoptics®, acculamp™ and Healthcare Lighting®. Headquartered in Atlanta, Georgia, Acuity Brands employs ap proximately 6,000 associates and has operations throughout North America, Europe and Asia.
Contact
Jennifer Manocchio 910.772.1688
E-mail:jennifer@sweeneypr.com
Web Site:www.holophane.com