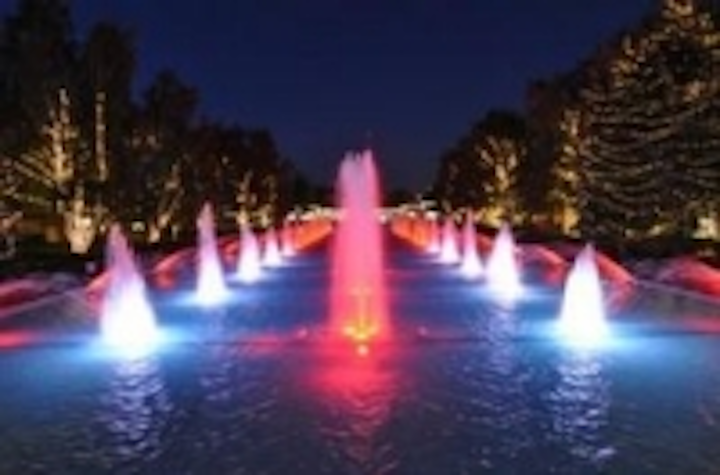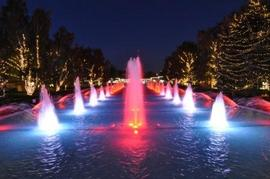 Date Announced: 01 Nov 2011
Crystal, a world leader in water feature technology, has completed the first refurbishment of the spectacular Royal Fountain at Canada's Wonderland, Canada's largest theme park.
To help celebrate the park's 30th Anniversary, Crystal replaced the water feature's halogen lights with LED Lights for multi-coloured effects, and specially developed the first of its kind, a Pure White and RGB LED Combo Light from one fixture.
The light allows "pure", highly intense White Light and RGB coloured light to be created from the same fixture. It was specially developed because Crystal's client, required a LED Light that would allow for dazzling effects, but help save on space as well as reduce maintenance and power costs.
Previously White Light was created by individual white LED Lights, or by using an "approximation" by blending RGB, which didn't allow for a pure white colour.
Simon Gardiner of Crystal commented: "The Combo Light was specially developed for this project. It has very sharp effects but immediately reduces costs on future maintenance and energy bills. Canada's Wonderland estimates the conversion took them from 255,000 watts of power to 18,5000 watts of power and the reduction will allow them a payoff in six years or less. The product brings real benefits and is now part of our submersible LED Lighting product range."
The Royal Fountain creates outstanding, "dancing" water and light shows utilising rows of LED Lights that line the pool measuring 325'(99m) x 80'(24m). Located at the foot of "Wonder Mountain", the park's central feature, the water feature's show displays a spectacular canvas of colours with a backdrop of original animated effects and 3D images, projected on "Wonder Mountain".
Guests experience have been experiencing the water feature's show nightly. The fountain is the last thing many visitors see before they depart the theme park, and its incredible effects leave visitors with a long lasting impression.
As part of the park's 30th Anniversary celebrations management also introduced the WindSeeker, a thrilling new 30 storey high swing ride. Canada's Wonderland is located near Toronto and is spread over 330 acres and is one of the world's most visited theme parks.
Contact
James Carnegie Aylwin Communications Tel. 0207 553 9330
E-mail:James@aylwincom.co.uk