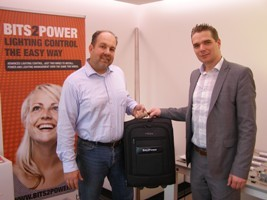 Date Announced: 18 Nov 2011
Yesterday Marcel Wamsteker handed out a Bits2Power demo set to Alcom electronics, the technical distributor and manufacturers' representative for electronic components, embedded modules and industrial computing/communications in Benelux.
Alcom electronics is Bridgelux distributor in the Benelux. The Bridgelux family of LED Array products delivers high performance, compact and cost-effective solidstate lighting solutions to serve the general lighting market. These products combine the higher efficacy, lifetime and reliability benefits of LEDs with the light output levels of many conventional lighting sources, like downlights, tracklights and spotlights.
Alcom electronics is convinced that Bits2Power enables installers to use LED's without any computer programming, minimum on wiring and easy installation. Moreover Bits2Power has an added value mainly because of its superb smooth and deep dimming. Not only its superb dimming is a main benefit, but also the fact that Bits2Power can be tailored to many lighting protocols and connecting 2 wires is all that it takes.
Contact
Bits2Power De Ambachten 12 4881 XZ Zundert The Netherlands Tel +31 (0)76-599 599 5 E-mail info@bits2power.com Website www.bits2power.com Alcom electronics Rivium 1e straat 52 2909 LE Capelle aan den IJssel The Netherlands Tel +31 (0)10-288 25 00 E-mail info@alcom.nl Website www.alcom.nl
E-mail:info@bits2power.com
Web Site:www.bits2power.com