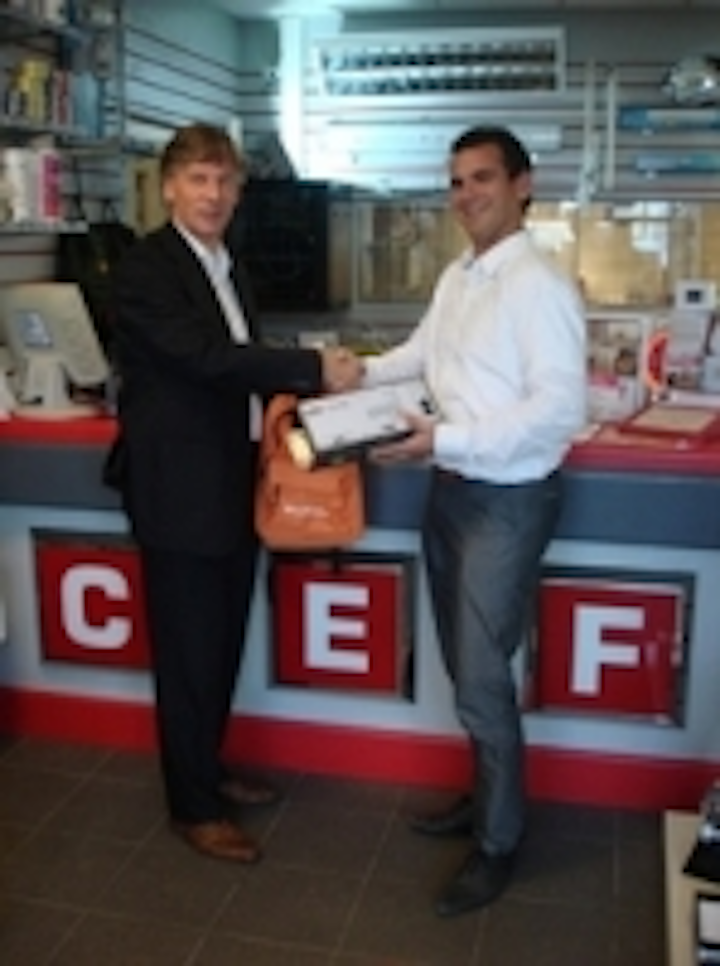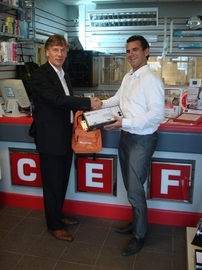 Date Announced: 16 Nov 2011
November 11th 2011 at 11:11 we have presented the Bits2Power backpack to the first electrical wholesaler, CEF Dordrecht. This brings Bits2Power within the reach of local electricians.
CEF (City Electrical Factors) is a no-nonsense organization where service is paramount and focuses primarily on the smaller installers. To further optimize their service CEF adds Bits2Power to the assortment. Patrick Snoek, the LED specialist within CEF, is very pleased with this addition. "I can show my clients what Bits2Power can do: dimming LED lights to 0% and you can easily address drivers. The good dimming behavior allows the installer to sell the product to the end user. In addition, Bits2Power is a total solution that is not as expensive as other systems".
Bits2Power is a cheaper overall solution because its concept of choice: Bits2Power has a central power supply. This is in contrast to other systems in which each driver has its own power supply.
The Branch Manager of CEF Dordrecht also states that the use of Bits2Power is very simple. "The installer can install this system without a computer. If you consider that 90% of our customers do not have a computer, this is a very big advantage".
Contact
Bits2Power Sales & Marketing Manager: Maarten Koster De Ambachten 12 4881 XZ Zundert The Netherlands Tel: +31 (0)76-599 599 5 E-mail: info@bits2power.com Website: www.bits2power.com City Electrical Factors BV Branch Manager: Patrick Snoek Toermalijnring 310 3316 LC Dordrecht The Netherlands Tel: +31 (0)78- 617 989 8 E-mail: cefdordrecht@cefnl.com Website: www.cef.nl
E-mail:info@bits2power.com
Web Site:www.bits2power.com