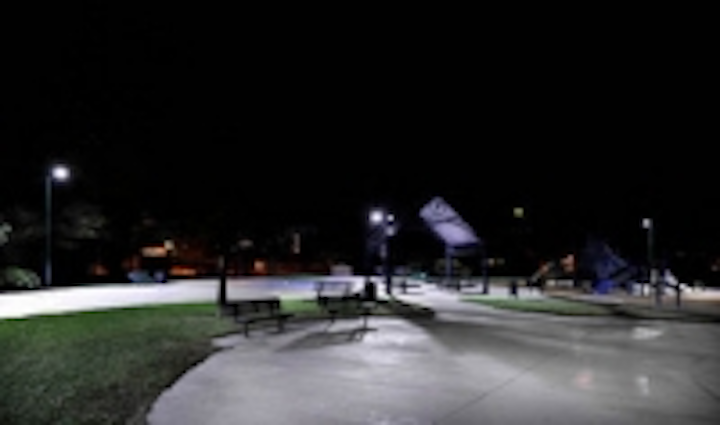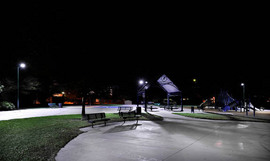 Date Announced: 22 Nov 2011
Residents and children of the Linden-Grove neighborhood in Reno, Nev., are enjoying a brighter, safer place to play in Yori Park, where exterior LEDway luminaires were installed this past year. Through a survey of residents [in the Linden-Grove area] results indicated it was a high priority for them to have the existing vandalized light fixtures in the neighborhood park repaired.
Yori Park's previous light fixtures were always dark due to vandalism, and prevented residents and children from enjoying the playground. The new fixtures are vandal resistant, as the LEDs will continue to illuminate the area even if several are intentionally damaged.
"These lights are a huge safety enhancement for the officers and residents of the area," said Officer Russ Stewart of the Reno Police Department.
For additional safety, the city purchased luminaires with integrated motion sensors to increase light levels when there is activity in the park after dark – something the police say has been extremely helpful in reducing area crime. Both residents and police have commented on the lights being a tremendous safety enhancement.
"We are making the park safe for everyone, and these lights will be around for years and years to come," commented Barbara DiCianno, community liaison for the City of Reno.
The lighting project, which totaled $30,000, was paid for using Community Development Block Grants and Community Pride Grants approved by the Reno City Council and Ward 2 Central Neighborhood Advisory Board. The city council as a designate for a neighborhood revitalization program also targeted Yori Park's Linden-Grove area. The revitalization program focuses on assisting efforts for families to engage in positive community gatherings and improving community esteem along with reducing blight and crime in the area.
Product
• LEDway Streetlights with 60 LEDs, Type II medium optics with backlight control, 525mA, UL Listed, Two-Level Sensor, Color Temperature: 6000K. LEDway streetlights replaced 250-watt high-pressure sodium fixtures.
Benefits
• The City of Reno anticipates energy and maintenance savings of approximately 60% per year by retrofitting to LEDway luminaires.
• The two-level integrated motion-detecting sensor option has allowed the city to deter crime in Yori Park while at the same time aid the city in reducing energy consumption. At night during periods of inactivity within the park the luminaires provide lower light levels to help maximize energy savings, but once the sensor identifies motion it immediately raises the light levels for improved safety.
• According to feedback, city police and residents prefer the clean, white light emitted from LEDway fixtures. Colors appear more realistic and have helped to easily identify vehicles and pedestrians at night.
• LEDway luminaires are International Dark Sky Association approved, reducing light pollution and allowing residents to preserve the beauty of Nevada's night sky.
• The City of Reno utilized funds through a Community Development Block Grant and additional funding through a Community Pride Grant to convert the park's lighting systems to LED technology.
Contact
Gianna O'Keefe Marketing Manager 800-236-6800
E-mail:Gianna.OKeefe@Cree.com
Web Site:www.LEDway.com