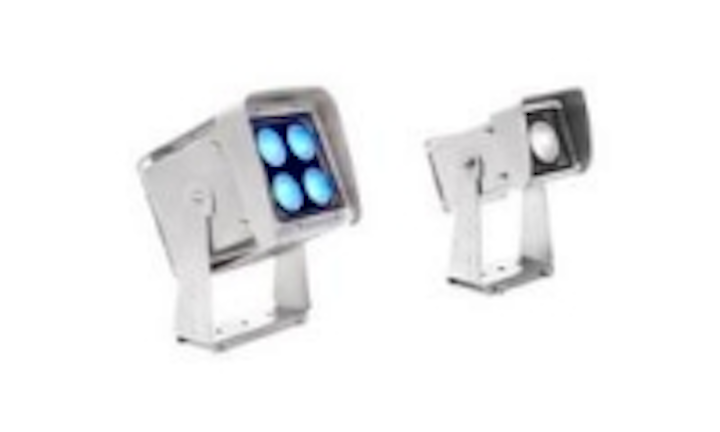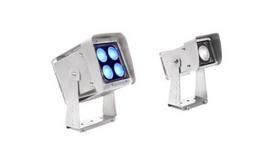 Date Announced: 18 Nov 2011
The Exterior 100 IP68 and Exterior 50 IP68 from Martin Professional are compact, fully weatherproofed luminaires built to withstand extreme outdoor and underwater environments. These super-rugged LED luminaires are designed for applications requiring superb color mixing or high quality white light for narrow to medium flood and spot lighting applications.
Outstanding light quality
The Exterior 100 and Exterior 50 emit a quality of light that traditional RGB systems can't match. The addition of white in the RGBW color mixing system allows for a wider color palette for washes of vibrant shades to subtle pastels. When high quality white light is required, cold, neutral and warm white fixtures are also available.
Color calibration
A color calibration system - a unique feature for lighting fixtures of this size and power – eliminates the uneven color projection associated with many LED lighting fixtures. The Exterior 100 and 50 emit like colors across all fixtures right out of the box, ensuring maximum color consistency and uniform colors for seamless overlapping.
No color separation, no color shadows
The Exterior 100 and 50 use pre-mixed LEDs, a superior color mixing system compared to single-color chips. Color is fully blended before it leaves the lens so that individual source colors are not seen, very important for close-to-surface lighting applications such as wall grazing.
Fully pre-mixed color also eliminates the problem of color shadowing when lighting objects or uneven surfaces, as well as the unsightly multi-color look on the face of the fixture, both problems with single-color LED fixtures.
Under, in or out of water
Built to survive the toughest conditions and any type of weather, the Exterior 100 and Exterior 50 feature an extremely durable, weatherproof construction for use in all outdoor environments. An IP68 housing allows for use underwater, or semi-submerged, and because the luminaires are designed to stay cool out of water as well, they can be mounted completely exposed.
This versatility in operation makes the Exterior 100 and 50 useful for a wide variety of applications such as fountains, pools, waterfalls, building facades, landscaping, cruise ships, or any environment where conditions are harsh.
Discreet design and low-voltage cabling
An ultra-compact housing means the Exterior 100 and 50 can be easily tucked away to discreetly highlight architectural details. Designed to disappear into their surroundings, a choice of light shields provides for glare control, further reducing the visibility of the luminaires.
Additionally, thin, low-voltage cables are not only easily hidden, they also make for a safer installation.
Martin Professional
Founded in 1987 and headquartered in Aarhus, Denmark, Martin Professional is a world leader in the creation of dynamic lighting solutions for the entertainment, architectural, and commercial sectors. Martin lighting solutions are industry standard on top tours and events, grace prestigious theatres, energize nightclubs, and decorate major television studios around the globe. Other important areas of application are indoor and outdoor architecture and commercial applications where Martin products are increasingly being used to transform spaces through dynamic light. Martin also offers a range of advanced lighting controllers and media servers, as well as a complete line of smoke machines as a complement to intelligent lighting. The company operates the industry's most complete and capable distributor network with local partners in nearly 100 countries. For more information please visit www.martin.com
Contact
Larry Beck Tel: +45 40 80 57 03 Fax: +45 87 40 00 10
E-mail:larry.beck@martin.dk
Web Site:www.martin.com