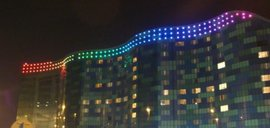 Date Announced: 28 Nov 2011
-- Integrated LED façade lighting – managing very high ambient temperatures, 85 degrees Celsius!
Amongst the many luxury hotels that appear along the Abu Dhabi skyline, none other is as striking as the new landmark in the emirate – the Rocco Forte Hotel. Built from curved gleaming blue and green glass panels, its wavy mosaic structure is an architectural triumph.
The use of LED dots to accentuate the architectural form of the curtain wall is a lighting technique that has been pioneered and refined by Illumination Physics and is now quite commonly used. In moderate climates, using LED dots is not overly problematic, provided that the light fixture designer has the ability and agility to customise the fixture design to suit the façade system design.
In the Gulf however, the extreme temperatures require a unique engineering approach such as that used for the Rocco Forte Abu Dhabi.
Illumination Physics created a custom version of the popular 'SPECK', a compact high powered LED fixture designed for insertion into Curtain Wall panels. The 'Rocco Forte' Speck has special qualities to cope with the harsh Middle East Climate. Designed to withstand non-operating temperatures of 90 degrees Celsius and operating temperatures of 75 degrees Celsius, the IP SPECK is extremely robust. Six Rebel LEDs were used (RGB), driven at 350 milliamps.
The lighting design called for a matrix of ultra-bright LED pixels which were to be mounted in the curved facade of the hotel as a 'crown effect'. LED fixture needed to be mounted on a number of different curtain wall finishes, including mounting on a glass spider wall system, mullion curtain wall system and to a concrete facade.
The SPECK series of products have domed lenses that provide high visibility, even from shallow viewing angles. This is of particular benefit as the hotel has an undulating wave form and the domed lens ensures that the apparent brightness appears the same regardless of the curvature of the façade.
The light fixtures, special cables, drivers and control equipment were provided as a total solution.
The contract was managed by Illumination Physics agent in the UAE, Cinmar Lighting.
For further details on illumination Physics involvement, products used and to view more photos visit the "Rocco Forte Abu Dhabi" under the 'Projects' section of our website.
Contact
Jenny Fotopoulos Illumination Physics Pty Ltd 42 Springthorpe Boulevard MACLEOD, VIC 3085 Australia Ph. +61 (0)3 9455 0761 Fax +61 (0)3 9455 0764
E-mail:jenny@illuminationphysics.com
Web Site:www.illuminationphysics.com