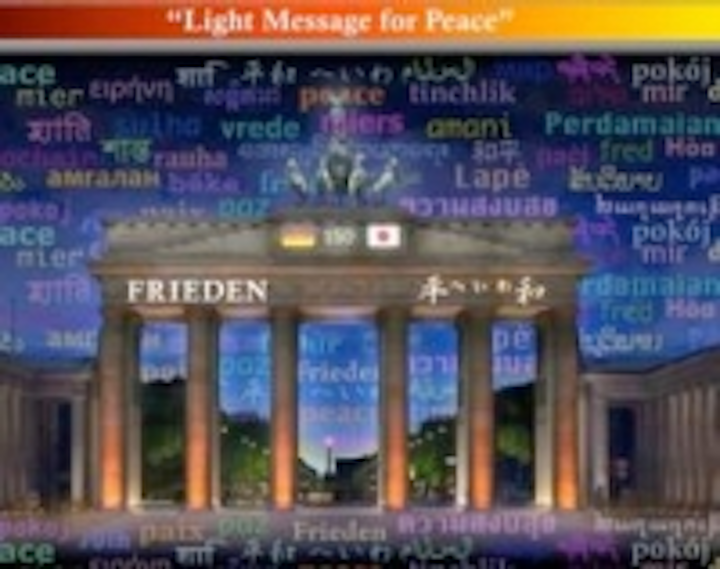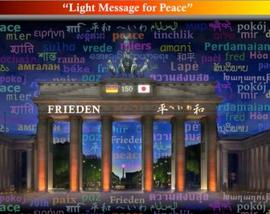 Date Announced: 18 Nov 2011
Commemorating the 150th anniversary of the relationship between Germany and Japan, the word 'Peace' was projected onto the gate in many different languages.
As a tribute to those who sufered and died in the Tsumami this year - additional messages including 'Future' and 'Life' were also projected.
Fittingly - Japanese company Stanley supplied the white LED spots for the illumination of the top of the statues.
About Stanley Electric.
Stanley Electric Co., Ltd., was established in Tokyo, Japan in 1920 by Mr. Takaharu Kitano.
The company was named after the intrepid 19th-century explorer Sir Henry Morton Stanley, who was renowned for the vision and courage he had so abundantly demonstrated during his exploits on the continent of Africa.
Stanley Electric has carried on that spirit of challenge, constantly responding to the demands of the times. Through our dedication in the pursuit of the potential of light, we have grown in influence, ability, and knowledge.
Stanley Electric has maintained a position as leader in the automotive-equipment industry, developing cutting-edge products for use in automobiles.
Through the application of original technologies, we have brought forth many innovations in the design and production of lighting equipment, accessories, and also for electronic components, where our investment in the research and development of value-added products such as semiconductors, parts for information/communications devices, and of course lighting devices has enabled us to offer a broad range of high quality products.
Contact
For additional product and company information, please refer to www.stanley.co.jp/e.
E-mail:sales@stanley-electric-eu.com
Web Site:www.stanley-components.com